Who needs open-mic night when Twitter's everywhere?
Twitter's a comedy hotbed: Stars like Rob Delaney are emerging from the rabble thanks to witty, clever one-liners, but there are dozens of other, lesser-known people sharing blazingly funny, off-kilter tweets.
After we published our list of Twitter's funniest people aspiring comedians, some of our readers sent the names of tweeters they felt should be on the list. After checking some of those people out, we have to agree.
1) @dril // 23,681 followers
Darkly funny, @dril shares odd, provocative, and clever tweets. His subject matter veers from trees being bullshit to the woe of misplaced money. Reading his tweets as his Jack Nicholson avatar grins in amusement simultaneously brings a sense of head-scratching wonder and slightly uncomfortable chortles.

2) @000___000 // 7,557 followers
000___000 nominated himself for inclusion as the secret 11th member of our previous list. Intelligent non sequiturs about the war on drugs, free speech, and old friends abound. He occasionally strings thoughts across a number of tweets, each of which are amusing, but add up to a greater whole: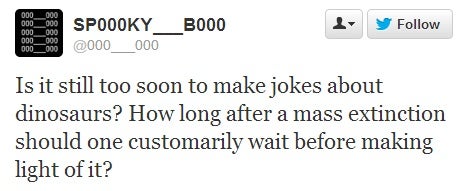 3) @Two_Minute_Man // 4,057 followers
Dan Quixote, as this person is otherwise known, is another surrealist, offering thoughts on the attire of Mumford and Sons, glory holes, and what Bill Murray really said at the end of Lost in Translation. The feed's a sparky, excellent blend of pop culture humor, not-safe-for-work jibes, and observations about the world.

4) @knifesex // 3,389 followers
With tweets about murder, S&M, and parasites, @knifesex is like a better, more interesting version of Salad Fingers for Twitter. The account's certainly an acquired, often-NSFW taste, yet offers biting satire on drastic weight loss and the future of home entertainment in America. Ballsy, bleak, and great.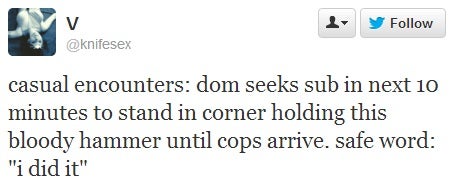 5) @jake_dot // 569 followers
From the second I saw a Jurassic Park/Barney The Dinosaur mashup joke, I was sold on @jake_dot. The Seattleite curiously resists life's finer pleasures, as he suppresses "the urge to squeeze mashed potatoes in your fists until they ooze from between your fingers." Let's not hold that against him. His pun-filled, quirky jokes are punctuated by really useful life tips and observations: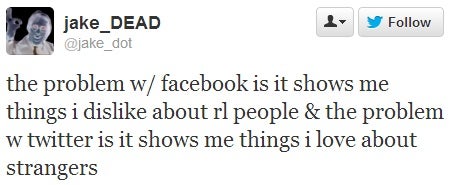 Many thanks to @elainesmithelai, @000___000, and @Jonny_Swags for the suggestions.
Photo by Robert Bejil Photography/Flickr