Streaming has become the dominant form of music consumption, offering listeners convenience and accessibility to the history of recorded music. One downside to this new method, however, has been a loss of audio quality, as songs are compressed into digital files that strip the recordings of their luster. One streaming service hopes to fix that: TIDAL HiFi, which allows users to stream music in lossless quality. Launched in 2014 and acquired by Jay-Z the following year, TIDAL is the first artist-owned streaming service and claims to pay the highest royalties of all its competitors. But it's also a smart choice or audiophiles who don't mind shelling out extra money for a higher-quality listening experience.
How does TIDAL HiFi work, and is TIDAL HiFi worth your money? Read on to find out.
What is TIDAL HiFi?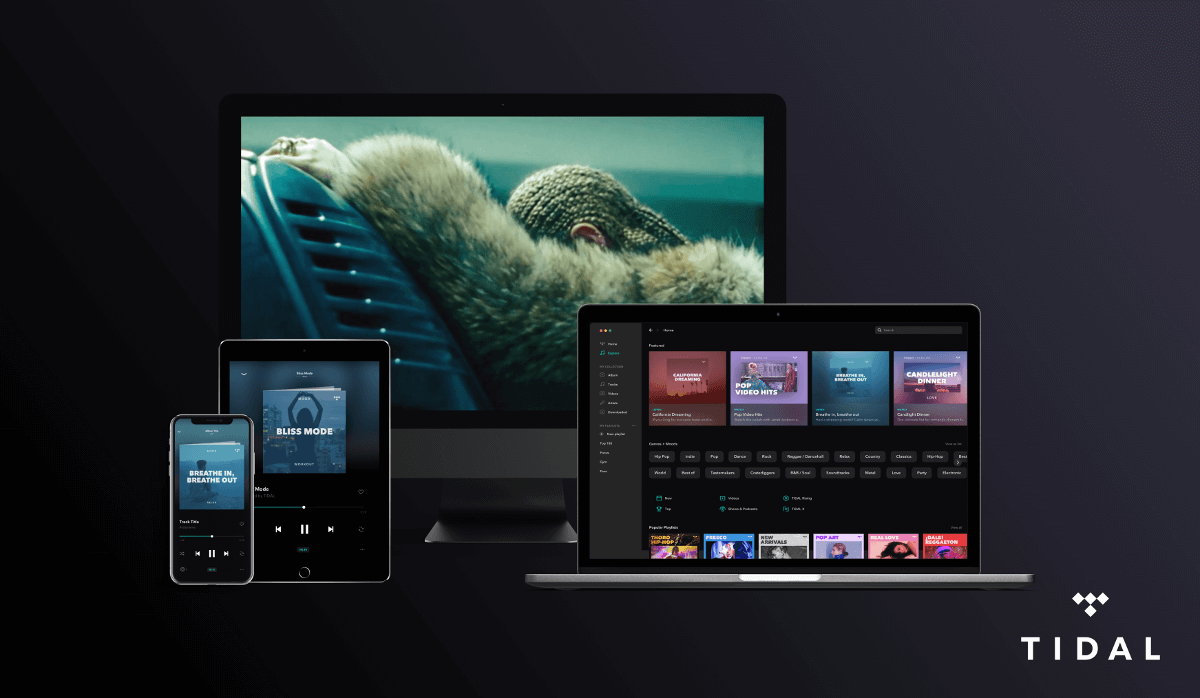 TIDAL HiFi uses FLAC-based audio files, which offer a fuller and more realistic sound than mp3 files, which are compressed and cut out much of the nuances of a sound recording. But TIDAL HiFi's real secret weapon is Tidal Masters, which utilizes Master Quality Authenticated technology to allow users to stream digital music in the highest possible resolution. These files have the quality of original master recordings—in other words, you're hearing the closest version of these songs to the ones that came out of the studio.
Songs available as TIDAL Masters will have an "M" logo next to them. In order to see which albums qualify, click the "Home" button and scroll down to find a catalog of Master Quality Audio Albums.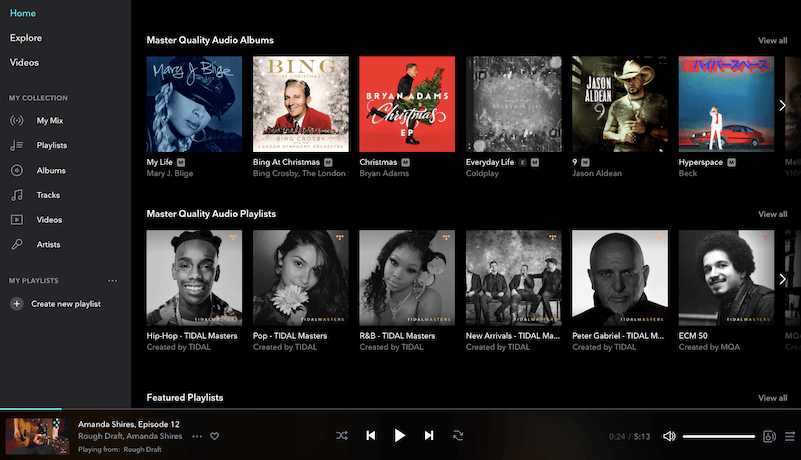 How does TIDAL work?
Music fans who have used any major streaming service should quickly get the hang of TIDAL's sleek interface. The home page shows featured tracks and live streams, playlists, a "Recently Played" tab, suggested new tracks/albums, and the aforementioned Master Quality Audio albums and playlists. The TIDAL Rising playlist showcases up-and-coming talent, which gets further broken up into the TIDALRising: Global playlist and Rising playlists for various genres. The Charts section also includes playlists for various Billboard charts and TIDAL Top 100 charts separated by country, which is a nice expansion on Spotify's U.S. and Global charts.
Similar to Spotify and Apple Music, TIDAL allows users to make their own playlists and favorite tracks and artists. Users can also download music to listen offline.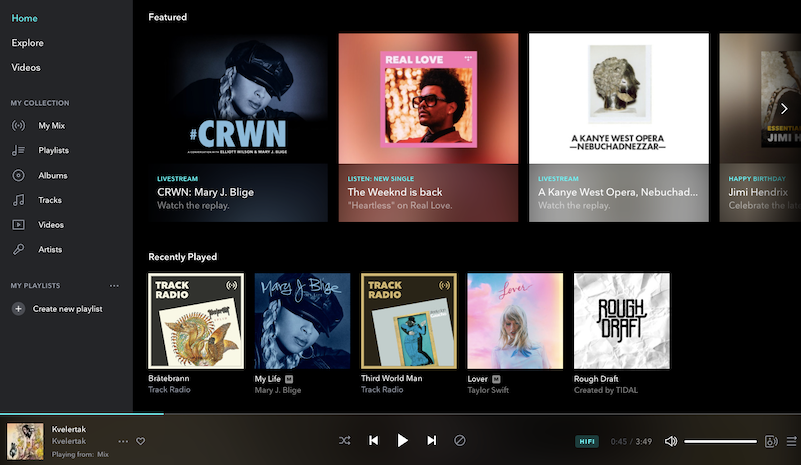 TIDAL HiFi features
The best sound quality in the world would mean nothing without a robust catalog of music. Thankfully, TIDAL has this base covered, offering more than 60 million songs, according to its website. That's even more than the roughly 50 million songs available on both Spotify and Apple Music. TIDAL also has access to more than 250,000 high-definition music videos, live performances (like TIDAL X Rock the Vote), and original series (like "Rough Draft," in which artists discuss the story behind the first song they wrote). In addition, the platform offers podcasts, curated playlists, and an editorial section that includes interviews, reviews, and genre guides.
Another unique TIDAL feature that will excite true music nerds is its "Credits" option. Click on the ellipses next to whatever song or album you're listening to, and TIDAL will pull up a list of people involved on the project, including producers, composers, lyricists, engineers, and more. Albums also include brief reviews that run about 200 words.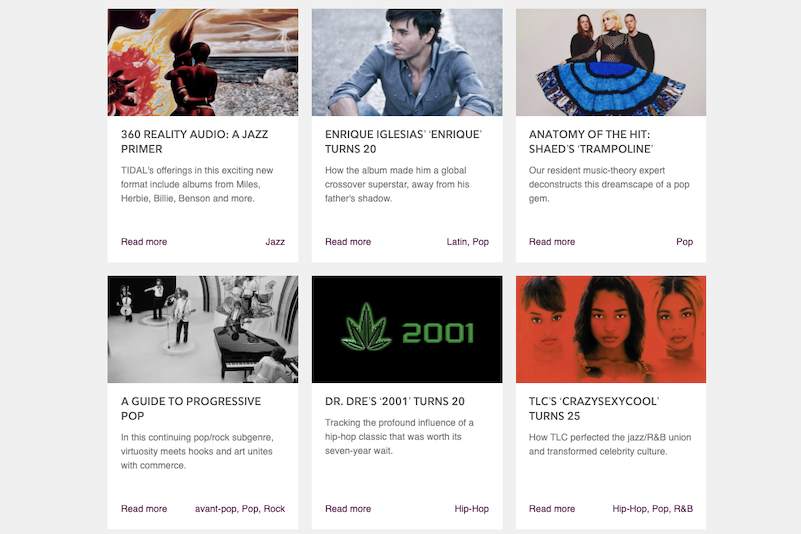 TIDAL HiFi exclusives
TIDAL is the first artist-owned streaming service in the world, with Jay-Z and a handful of other superstars owning part of the company. As a result, Jay-Z's discography is almost exclusively available on Tidal. Previously, Rihanna's Anti, Beyoncé's Lemonade, and Kanye West's The Life of Pablo were also TIDAL exclusives. West's new opera, Nebuchadnezzar, is now streaming exclusively on the platform as well. On the other hand, Metallica's discography is not available to stream on TIDAL, so even this artist-owned platform offers some give and take.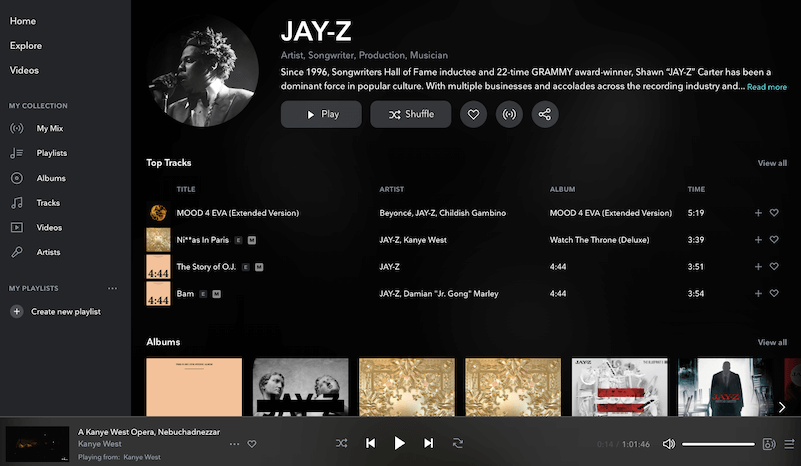 How much does TIDAL HiFi cost?
TIDAL offers a few different subscription packages depending on how you want to stream your music. The Premium plan—a bit of a misnomer, as it's actually the most basic plan—costs $9.99 a month and allows you to stream music in standard quality, watch high-definition music videos, and read TIDAL's editorial page. However, audiophiles will want to spring for the TIDAL HiFi subscription, which costs $19.99 a month and allows users to stream music in high fidelity and TIDAL Masters when available.
TIDAL also offers two tiers of family plans. Its Premium Family plan costs $14.99 a month and allows up to six family members to stream standard-quality music, high-definition music videos, and access editorial content on the same account. The $29.99 Family HiFi plan offers the same perks but allows users to stream in high fidelity.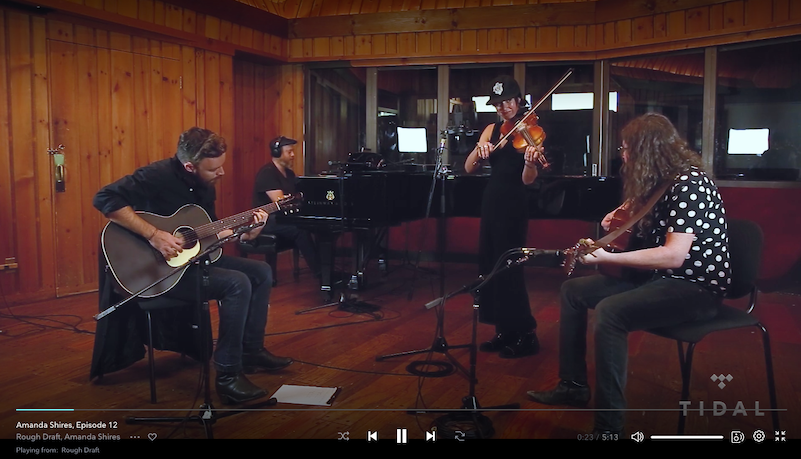 TIDAL HiFi vs. Spotify
TIDAL Premium and Spotify Premium both allow users to stream at a rate of 320kbps, or roughly CD quality. (Apple Music trails at 256kbps.) Upgrading to TIDAL HiFi does give a definitive edge in sound quality. Using Taylor Swift's "Lover" and Steely Dan's "Hey Nineteen" as comparison tracks (both available as TIDAL Masters), TIDAL HiFi offers a crisper high end, more vocal clarity, and a less intrusive bass than Spotify's muddier, more bass-heavy mix. But honestly, this difference only became clear after switching between TIDAL and Spotify to play the same song snippet multiple times. Non-audiophiles or listeners who stream primarily on their phone, laptop, or cheap headphones or speakers may find the difference in sound quality imperceptible.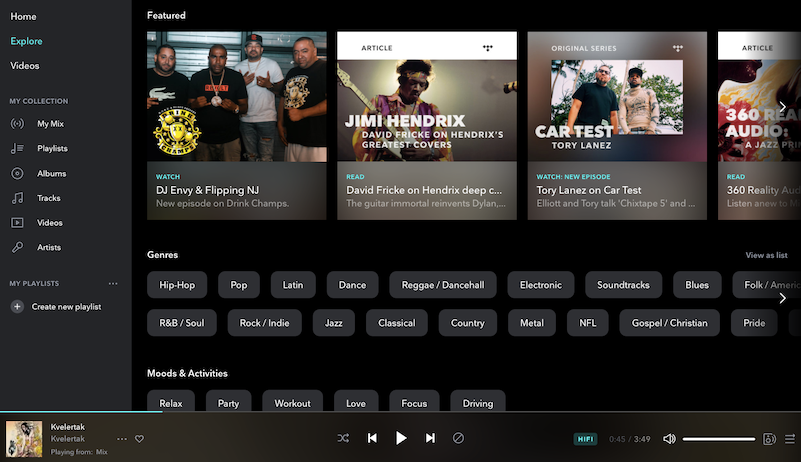 Is TIDAL HiFi worth it?
If great audio quality is your top priority (or if you're a huge Jay-Z fan), then TIDAL HiFi is worth splurging for. Its TIDAL Masters and lossless, FLAC-based audio files offer a crystal-clear listening experience. However, if convenience and budget are your main concerns, you're better off sticking with Spotify or Apple Music. Both services are half the price of TIDAL HiFi, and their music discovery tools and exclusive content make them great streaming options in their own right. TIDAL HiFi can hold its own in the streaming wars, but it doesn't necessarily do much to stand out from the pack for non-audiophiles.
The Daily Dot may receive a payment in connection with purchases of products or services featured in this article. Click here to learn more.