Before you make a television show, you need to consider who is going to watch it.
The World According to Jeff Goldblum
RELEASE DATE:
11/12/2019
CREATOR:
Brian Lovett
STREAMING:
Disney+
Even Jeff Goldblum can't save this superficial infotainment effort.
This was not always the case. In the heyday of basic cable, you could get by making a show that people would happen upon and just decide not to change the channel. For example, when I was a kid, I probably watched 200 hours of American Gladiators. 
The World According to Jeff Goldblum feels like infotainment from a bygone era. This is the sort of show that you might find on TBS or TNT at 3pm or 3am in 1997. In each episode, Goldblum picks a general topic like "Sneakers" or "Ice Cream" and offers a cursory examination of it through various interviews and experiences. 
While shows like this bill themselves as educational, they seem to sometimes have the opposite effect. The audience is meant to feel like they are learning about a subject as Goldblum careens through various angles on the week's material, but you come away without having learned very much at all. The half-hour you spent watching the show would have been better spent on a more in-depth and knowledgeable documentary, podcast, or book on the subject. 
For example, in the pilot episode, "Sneakers," Goldblum gets a custom shoe made, talks with a YouTube unboxer, attends a sneaker conference, discusses the dopamine release that accompanies exercise, learns how Adidas tests sneakers, and muses on the nature of capitalism. 
In "Ice Cream," Goldblum interviews Ben and Jerry, attends a vintage festival and flirts with a sexy pin-up girl, tours Salt & Straw's flavor kitchen, learns about discontinued flavors, and ends the episode sharing ice cream with Naval soldiers aboard an aircraft carrier in a bit of Disney-sponsored jingoism.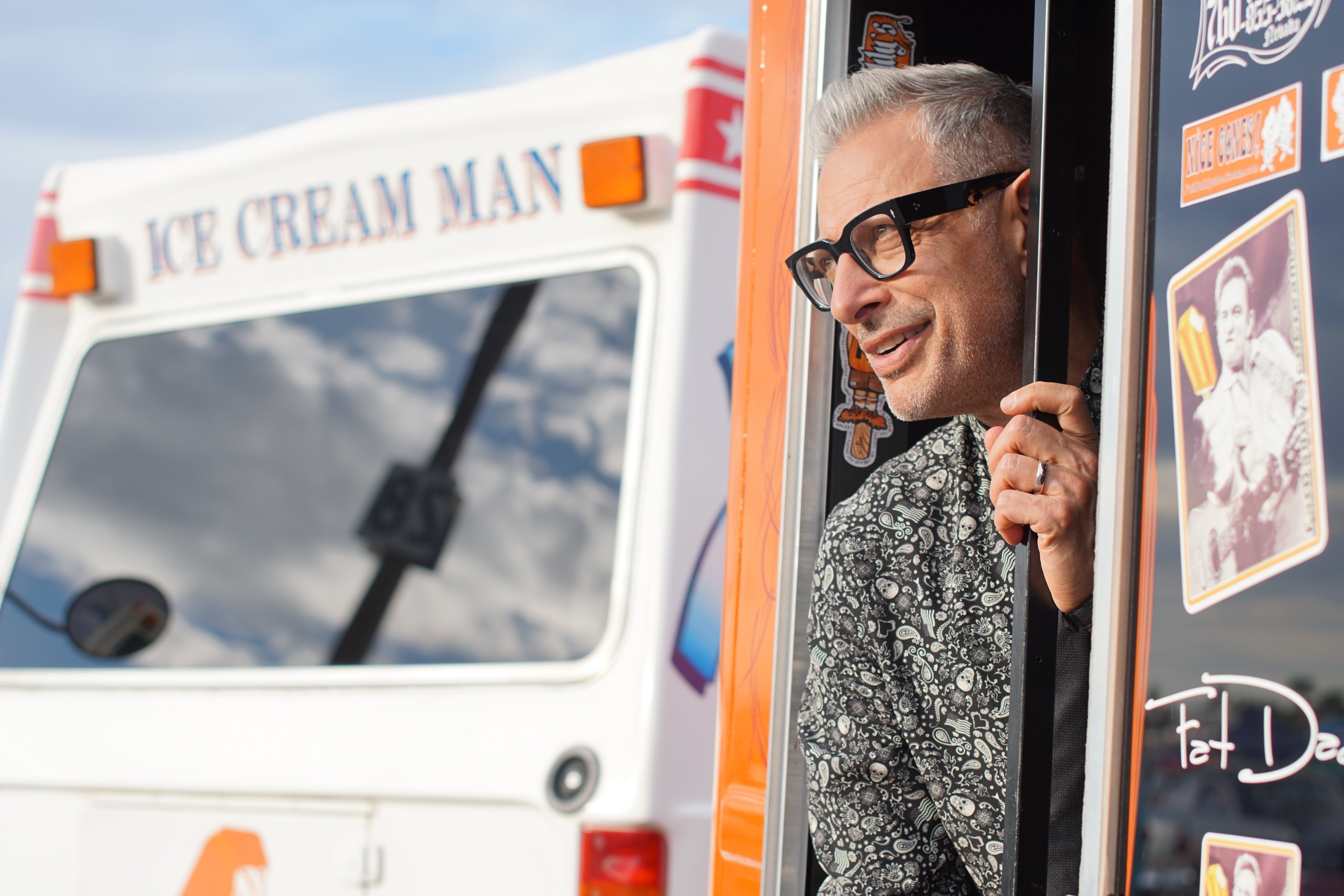 All of this is further diluted by the apparently contractual decision to insert little details about Goldblum's biography. In one episode, we meditate on one of Jeff's family members who almost played professional basketball. In another, Goldblum attends "Jeff Goldblum Day" in Pittsburgh. The "Ice Cream" episode takes long, meandering detours into his childhood with the justification that Goldblum ate ice cream as a child. 
It's hard to imagine The World According to Jeff Goldblum competing in the streaming world. This is the kind of show you watch idly in a waiting room or fall asleep to after a night of mind-numbing indulgences. It is the kind of show that worked when you would flip the channels looking for something to watch, but it's hard to imagine who, besides the people with Goldblum tattoos featured in episode three, would seek this out. 
This show isn't as in-depth as the documentaries you might see on Netflix or HBO. It is not as disciplined or focused as the better work on the History Channel. It isn't particularly child-friendly, but it is a bit too dumbed-down for even a bright teenager to become enthralled with. 
The World According to Jeff Goldblum is content. It is 30-minute chunks of programming designed to fill airwaves pleasingly and harmlessly. Goldblum is his ever-charming self. The guests are generally interesting. The visuals are competent. But, all of it is in service of something that lacks vision, coherence, or even earnest curiosity about the subject matter.
Who is this show for? The ideal audience for The World According to Jeff Goldblum is probably a curious 12-year-old who is interested in one of the given topics and isn't sure what books to look for. But, beyond that hyper-specific instance, this is a series for people that want to hang out with Goldblum. Like Home Shopping Network, VH1's Pop Up Video, or American Gladiators, this is the kind of background noise that television doesn't really make anymore because that space has been forever lost to YouTube.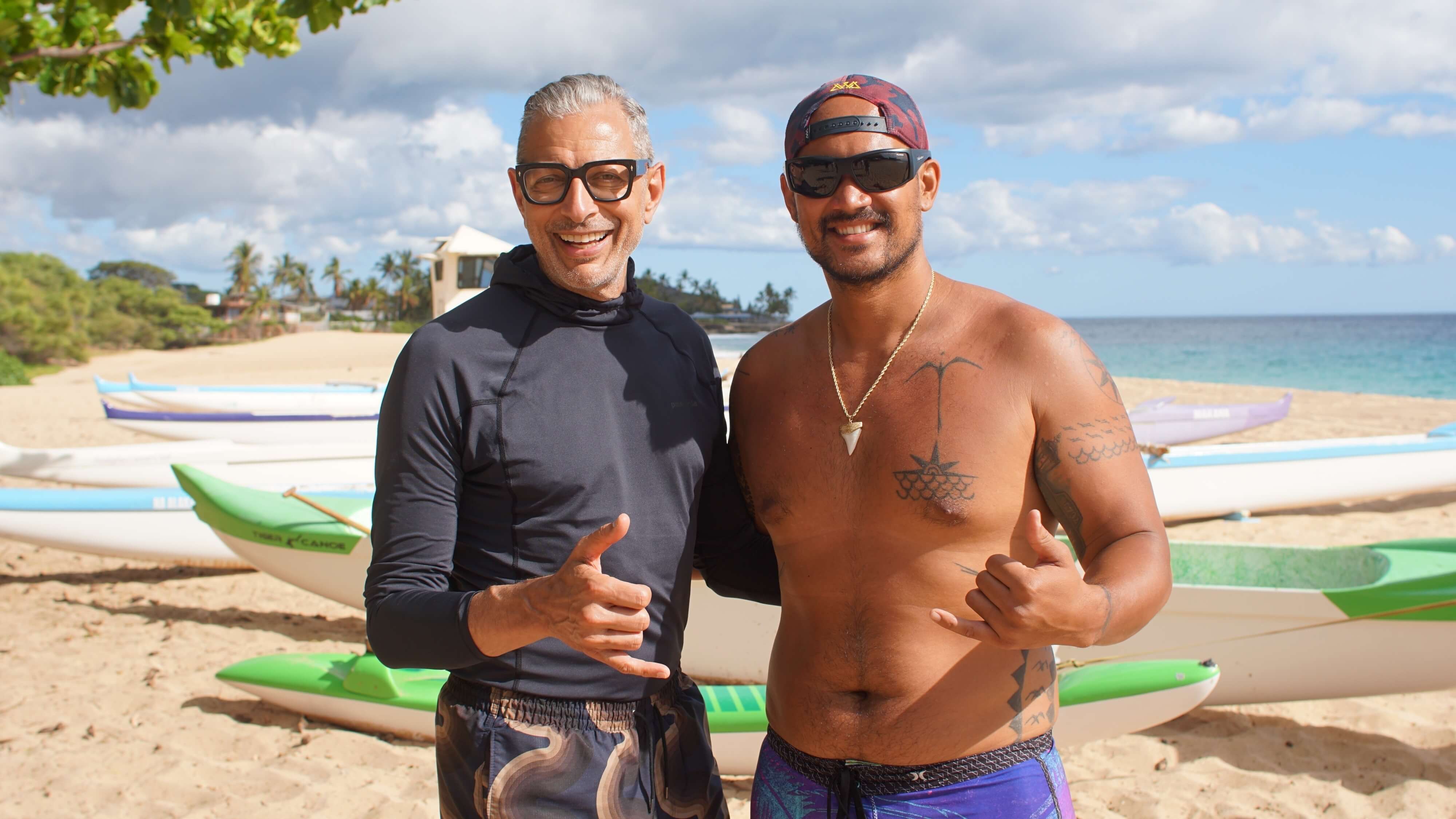 It is too early to tell who will win the streaming wars, but it is already obvious that shows like this are one of the clear losers. No longer is it going to be enough to create a show of general, vague interest that can ensnare a million or so channel-surfing viewers who have nothing better to do. The future is all about specific niche programming: In a world where AppleTV+'s Dickinson, a show about an introverted nineteenth-century teenage poet with modern dialogue and undertones of both lesbianism and magical realism, can succeed, an empty big tent amusement like this is doomed to fail. 
This is not to suggest that Goldblum has lost his charm. He is sure to remain a host, curiosity, elder statesman, and man about town as long as he wants to, so long as he can keep his comments defending Woody Allen to a minimum. There is still no match for the glint in his eye and that rakish, disarming smile. It's just that even the mighty Goldblum can't save a show that was made for channel surfers in an era when there aren't any more channels. 
Not sure what to watch on Disney+? Here's every title available at launch. Expand your streaming options with the Disney+, Hulu, and ESPN+ bundle. Looking for the rest of the Marvel Cinematic Universe? Here's when they'll be available for streaming.