The review aggregator Rotten Tomatoes has become a ubiquitous part of the movie experience, both to the delight and detriment of movie studios. It's by no means a perfect system, but it's a starting point for some viewers and can potentially make or break a movie, particularly whenever the film debuts at historic highs or historic lows.
The Emoji Movie, the animated film about emoji located on your smartphone, falls into the latter category. Although it's certainly not the first movie to receive a poor Rotten Tomatoes ranking, the Emoji Movie has managed to accomplish a feat that not even the 2017 Mummy film, Batman v Superman, Baywatch, or Suicide Squad has reached: a 0 percent debut on Rotten Tomatoes. It now joins the ranks of Adam Sandler's The Ridiculous 6.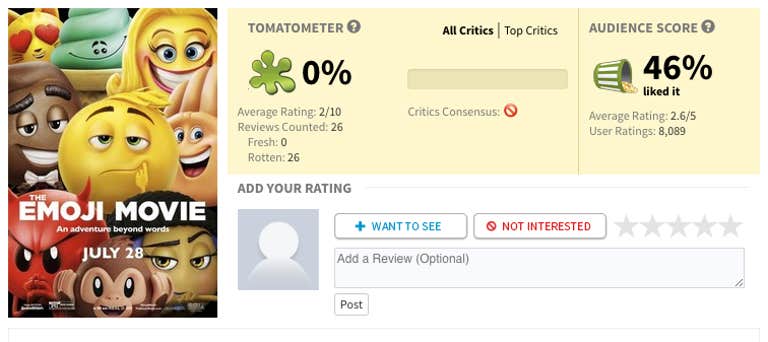 If you ask the critics who've seen it, yes, it's that bad. Though some reviewers were prepared for the movie to be terrible—after all, it's a film where much of the marketing was focused on a poop emoji voiced by Patrick Stewart—it didn't even clear some of their lowest expectations. As Variety's Owen Gleiberman put it, it was a "witless Inside Out knockoff."
"In the mock tradition of countless superior Pixar films before it, it's attempting to sell a sense of childlike wonder and fascination with an ordinary, everyday object: your smartphone," Vulture's Emily Yoshida wrote. "And in doing so, it is one of the darkest, most dismaying films I have ever seen, much less one ostensibly made for children."
It's been called a "callous cash grab," "a waste of time, resources, and a bunch of comedians' voices," and "almost as bad and brutally depressing as everything else in 2017." The Los Angeles Times told its readers that they should probably spend the 86 minutes needed to watch The Emoji Movie doing something else. More than one reviewer described the movie as simply "meh," a reference to the film's main character voiced by T.J. Miller.
"It would be fitting if there were no words to describe The Emoji Movie; if the ephemeral experience of consuming this unique entertainment could only be summarized in a couple of small pictures dashed off in a text message," Screen Crush's Matt Singer wrote. "But, no, there are plenty of words that can describe The Emoji Movie. Here are a few of them: Unfunny. Saccharine. Nonsensical. Painful. And, of course, crappy. (If you prefer the poop emoji, that works too.)"
In the past, movie studios have accused Rotten Tomatoes of sinking poorly rated movies while others took their frustrations out on the critics who reviewed them. But The Emoji Movie, reviews notwithstanding, is still expected to do well. Box office estimates are around $20 million to $30 million for opening weekend, and no matter what critics say about the film, some of its younger and intended audience—children—will want to see it anyway.
Update, 11:30am CT, July 28: The Emoji Movie has inched its way up the Rotten Tomatoes charts to a 3 percent rating—but it will always maintain its standing as a 0 percent debut.
#TheEmojiMovie finally got one good review and is now at 3% on RottenTomatoes. Thank you @SenJohnMcCain! #hero pic.twitter.com/CKSinX3FQm

— Eric Haywood (@EricHaywood) July 28, 2017