At the height of their superstardom and perilous drug addiction in the late '80s, it seemed unfathomable that Mötley Crüe would survive long enough to write a scandalous tell-all memoir. It seemed even less likely that said book, 2001's best-selling The Dirt, would ever get its long-rumored film adaptation. But after nearly a decade in production limbo, The Dirt debuts on Netflix today, a swashbuckling, two-hour marathon of rock n' roll decadence with all the triumphant highs, devastating lows, and shattered relationships that term entails. To hear director Jeff Tremaine describe it, the finished product is positively tame compared to where the film started.
"It was hard, man. It was really hard," Tremaine tells the Daily Dot, who made his directorial debut with Jackass and has since helmed several affiliated TV shows and all three Jackass films. "The book doesn't even tell their story in a linear way. And we inherited Rich Wilkes' script, which had a lot of great scenes but it was also non-linear. To me, it was hard to get to the heart of the story if it was gonna be like that. So we kind of broke apart Rich's script, saved a lot of his scenes but restructured it."
Indeed, you could make a whole miniseries of all the Crüe's airport brawls, acrimonious divorces, bloody legal battles, controversial sexual hijinks, and epic post-rehab drug benders—and that's just in the '90s. Factor in the dalliances, drug spirals, and in-band feuds of their peak years—and then make some room for, uh, their actual music—and cutting down Mötley Crüe's story into a tidy, two-hour package proves a Herculean effort.
"It was just going over the book and trying to figure out, how do we end this?" Tremaine says. "They have a 30-year career. I really felt the important part was telling the first basically 15 years. The story found itself. We started with a million stories and kept paring it down to the ones that added up, and by the time you see it, that's what we ended up with."
The Dirt originally hit Tremaine's radar when the book came out in 2001 and made the rounds among the Jackass cast and crew. When MTV Films and Paramount bought film rights in 2006, Tremaine expressed interest in helming the project to MTV Films' David Gale. But production stalled for years, and MTV Films and Paramount ultimately dropped it. Tremaine signed on as director in 2013, and Focus Features picked up the film rights in 2015. Still, nothing came to fruition, and it seemed like The Dirt was doomed to become an industry punchline. That changed in 2017 when Netflix bought distribution rights.
But Tremaine still needed one thing before he could tell his depraved rock n' roll tale: a band. "I didn't want the faces to be so familiar that you get knocked out of this movie by looking at an actor wearing a wig," he says. "So for me, it was really important to find the right up-and-coming guys." Tremaine says he assembled the fictional band in the same order that Mötley Crüe actually materialized: bassist Nikki Sixx, drummer Tommy Lee, guitarist Mick Mars, and finally singer Vince Neil.
British actor Douglas Booth plays Sixx, the band's de facto leader and chief narrator of The Dirt. Tremaine was encouraged by Booth's performance as a young Boy George in the 2010 BBC biopic Worried About the Boy. Booth was originally slated to play Lee, but Tremaine recast him after he submitted a strong audition tape for Sixx. It proved the right move, as it made room for Colson Baker (rapper Machine Gun Kelly) to deliver a frighteningly, hilariously accurate portrayal of the band's hyperactive drummer.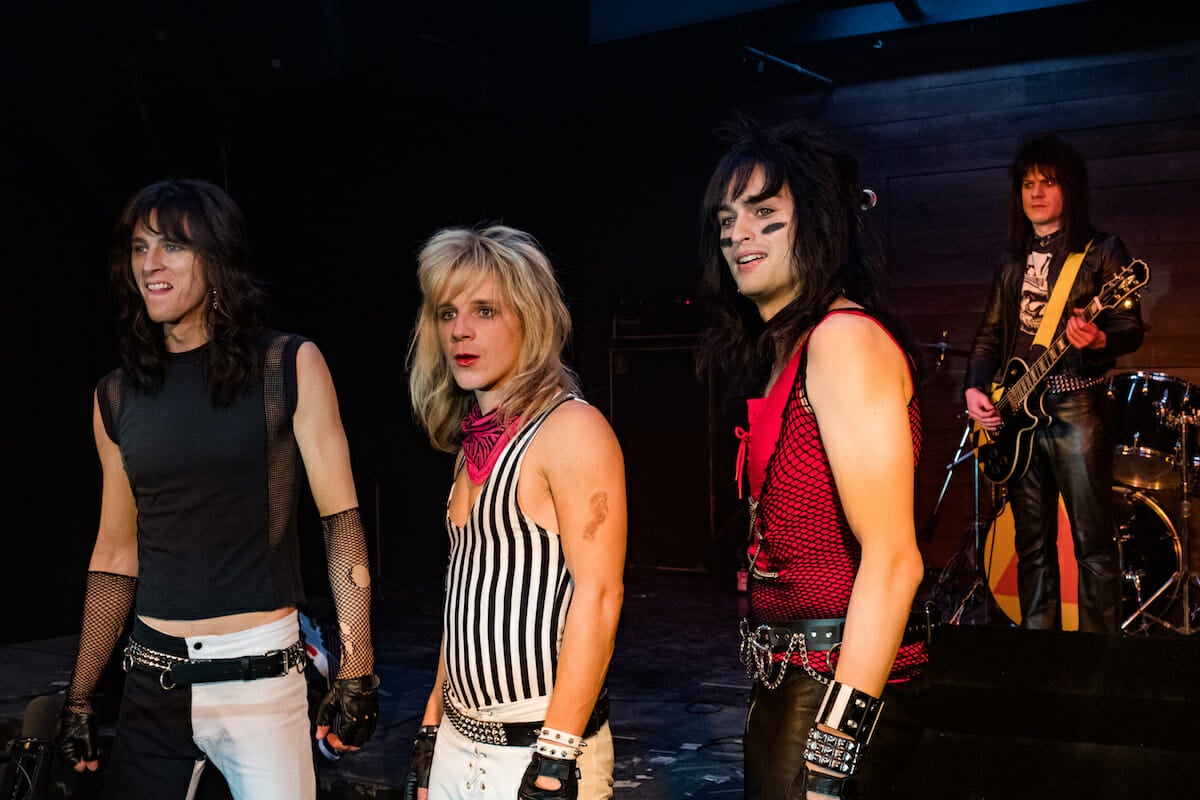 I was like, 'This guy isn't reading it as Tommy Lee. This guy is Tommy Lee,'" Tremaine says of Baker's audition tape. "So he was a no-brainer. I always wanted someone from the music world. I wanted a real rock star, at least one of the guys, so he would have an influence and a bullshit meter that would keep it all real. So Colson became that guy." Tremaine, a professed Game of Thrones fan, cast Iwan Rheon (GoT's Ramsay Bolton) as the glowering, deadpanning Mick Mars almost immediately. After casting the swaggering, sneering Daniel Webber (who plays Wilson Lewis in Marvel's The Punisher), the lineup was complete.
Tremaine finally had a script, a distributor, and a band. He also had the life experience from years working with the Jackass crew to tell Mötley Crüe's story. "By the time it came back to me, I had lived all aspects of it, and that's when I felt like I should be the one to tell this story," he says. "Once I got a cast to it, I committed that this is gonna be my first scripted narrative, not realizing it was gonna take goddamn nine years. But I stayed true to it."
The Jackass cast members have encountered their own share of tragedy, including drug addiction and death (Ryan Dunn died in a car accident in 2011 at the age of 34). Mötley Crüe's lifestyle may have looked glitzy on the outside, but privately, the band members battled similar demons, which Tremaine wanted to portray on-screen. "We've gone through a ditch and all the bad stuff too," he says. "So when I say I'm connected to it, it's more than just the fun and entertainment and boys acting naughty. It's heavier than that. It's more personal."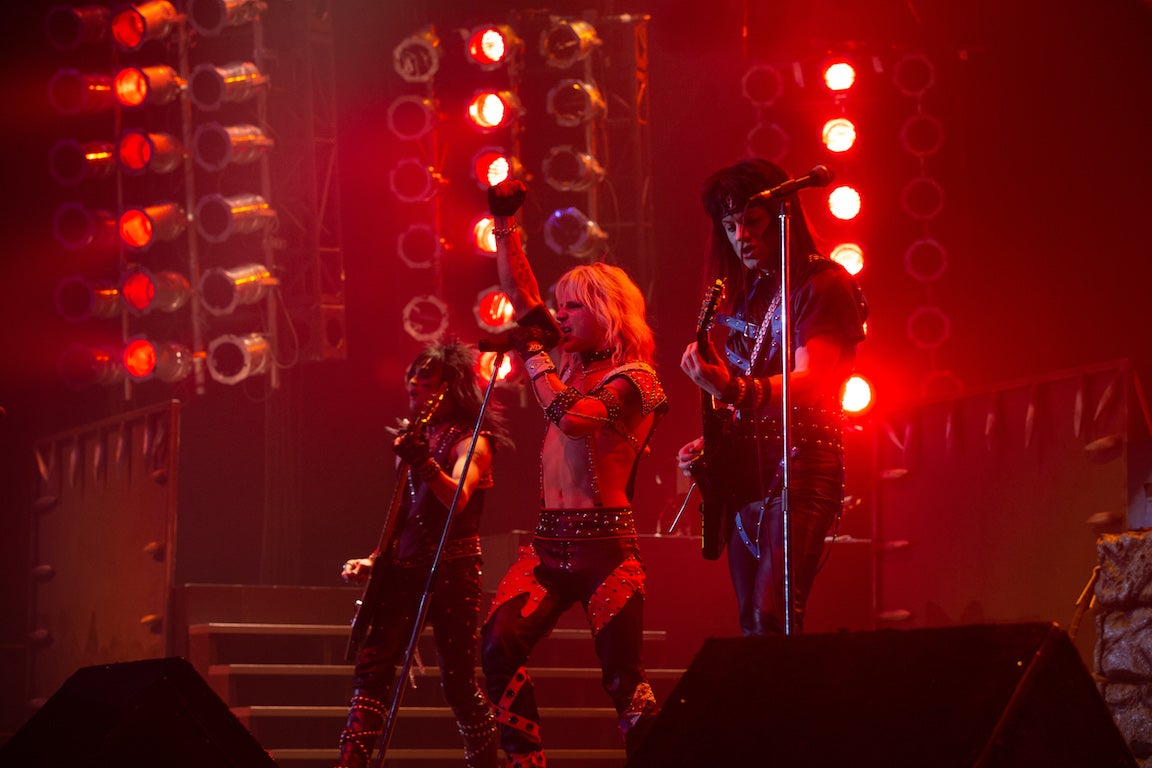 Of course, this is a big-budget biopic with the band members serving as co-producers, which means The Dirt ultimately ends by putting a bow on Mötley Crüe's tumultuous career. It glosses over or erases several key relationships, whizzes past the band's mid-'90s wilderness period, and omits the story of a possible sexual assault which recently resurfaced. (Sixx has subsequently denounced the story and apologized for telling it.) That said, The Dirt is still more graphic than most contemporary music biopics, and if it plays like a conventional superhero origin story, it's an often thrilling and wickedly funny one anchored by many of the band's greatest songs.
"We did have to consolidate certain characters and certain moments. We've taken a few liberties with time, but overall, these are all true stories," Tremaine says. Ultimately, the director wants viewers to take away two things from The Dirt: "One is, how are these guys even alive today? It's a miracle. Two is, their music has proven to be evergreen. Hopefully, there's a whole new generation that's gonna discover this raw music that came out of a really specific time and a really specific place."