After months of radio silence, Teen Wolf showrunner Jeff Davis has emerged to answer fan questions via the Teen Wolf Tumblr. Billed as a tongue-in-cheek (and rather more feminist) alternative to Twilight, the show has gained a hugely enthusiastic online fanbase thanks to its combination of Buffy-esque horror pastiche, snappy dialogue, and upfront support for queer characters.
Davis seems very adept at keeping the balance between close-mouthed mystery and fandom-friendly behind-the-scenes hints, so it's no surprise that this Q&A includes references to Sterek (a nickname for the enormously popular Stiles/Derek pairing, which has yet to actually appear on the show), jokes about threatening to sue to protect Season 3 spoilers, and — inevitably — the show's mysterious lack of shirts for its male characters.
While we imagine that the Teen Wolf publicity team probably had to delete a great deal of Sterek-related messages — not to mention requests for cast member Dylan O'Brien to finally film a shirtless scene — the fan questions were interestingly varied. Some of the best were purely logistical. For example, do werewolves need to go to the dentist?


(source)
And how does the apparently homeless werewolf Derek Hale manage to look like a supermodel at all times?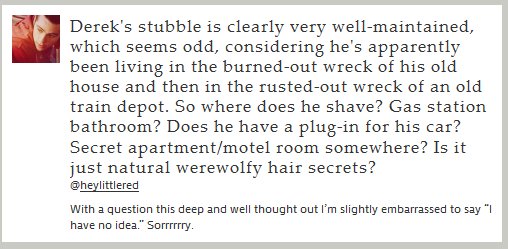 (source)
In terms of plot developments for Season 3, fans will be pleased to hear that there will be absolutely no vampires whatsoever (although Jeff Davis is hoping for a unicorn at some point). With 24 episodes to work with, there will be far more time for character development including team-ups among the human characters, information about werewolf Boyd's home life, and a backstory episode about the fire that killed Derek Hale's family. In addition to dropping these storyline hints, Davis also attempted to whet fandom's appetite for continuity details:


(source)


(source)
For concerned Sterek fans, the rumors about a possible love-interest for Derek remain inconclusive. Jeff Davis' comments on the matter are that he "doesn't pay attention to rumors" and that there won't be a "new girl." However, since Davis is known for teasing his viewers, this still leaves the field open for Sterek — or a different love-interest such as a girl who has already appeared on the show, or another male character. Either way, Davis had nothing but good things to say about Sterek fandom in general: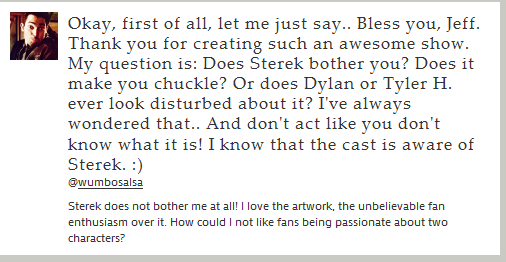 (source)
As for the rest of the Q&A, there were a lot of hints but no real spoilers. Sadly, no one asked the "Nairwolves" question: Why do none of the werewolves have any chest hair, even when they're half transformed? But aside from that, here are some of our favorite answers:
Photo via Teen Wolf/Tumblr