Between Icarus, The Keepers, or most recently Resurface, Netflix has offered a wealth of quality documentaries in 2017. Add Yance Ford's Strong Island to the list and put it up in the top two or three.
It's a wrenching look at the 1992 murder of Ford's brother William and the injustice that followed. But it's much more than just a story of shoddy investigative work. At its heart Strong Island is about the Ford Family and who they were before Will's murder—and what became of them in their grief afterward.
The impetus for Yance to make Strong Island is to reclaim her brother's story. To reclaim his name and offer a corrective to the narrative that law enforcement attributed to him in death. If the system is not going to do right by the Ford family, Yance will do it herself. She says so right off the bat, in a close-up shot of her face. She lets you know (and she speaks directly to you) what her intent is and that it will be uncomfortable. And it is, as it should be. Despite being decades removed from Will's death, the rawness of the wounds is on the face of everyone interviewed.
Yance takes us back to her parents, Barbara Dunmore and William Ford, meeting and making the move to Long Island. The film looks at the segregation the parents faced in the Jim Crow South and some of the parallels the Fords found up north. The Fords were determined to make a better life for their children, William Jr., Yance, and Lauren. Despite the strain of work and economic demands, the Fords were making it work. Then, in April 1992, Will Jr. was shot by a 19-year-old mechanic over a car accident dispute. As told by Will's best friend Kevin, a simple, but heated conversation turned deadly in seconds. Almost as fast, Kevin saw the narrative develop that would eventually lead to Will's killer getting away with murder. Not only that, but Will would be blamed for everything.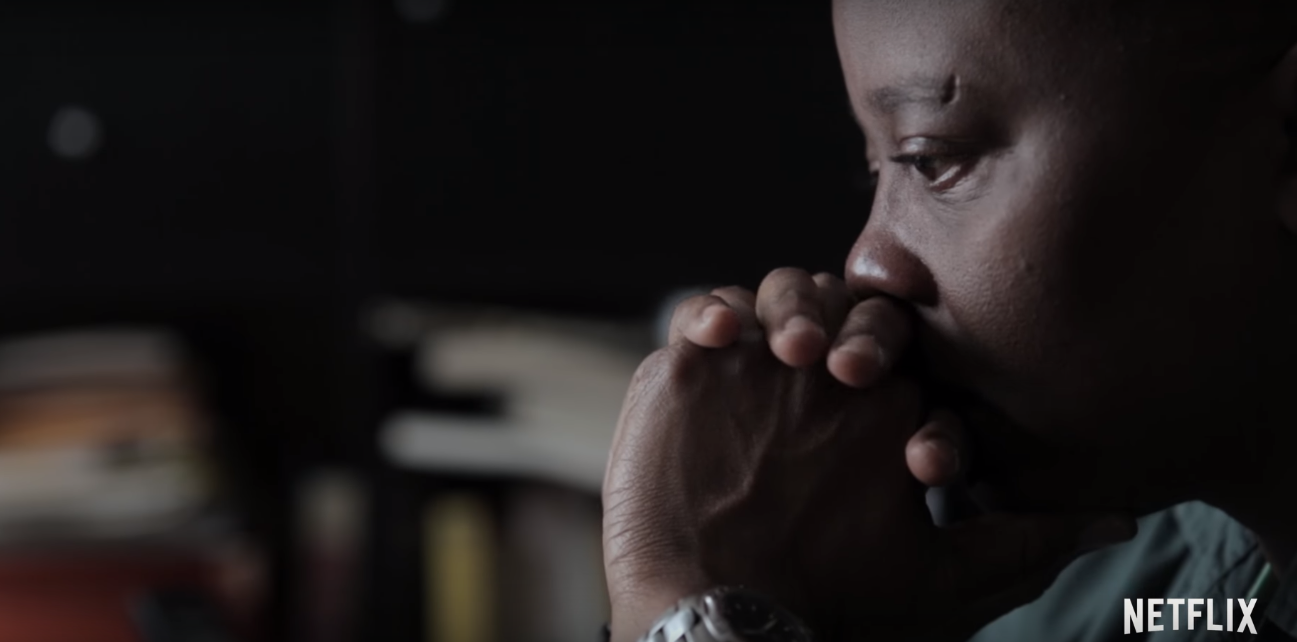 Once a grand jury decided the shooting was justified, the file was closed and Will's story was written. A Black man dead and the hands of a white man who would be acquitted by an all-white jury. Another injustice destined to fade away into a sea of similar perversions of justice. It's a story told far too often at the expense of dignity and humanity.
Grief overtook the family and wore the remaining Fords down. That's where Strong Island hits the hardest. It's a treatise on grief. A murder would be a family-defining event for any clan. To watch Barbara, Yance, Lauren, and Kevin talk about Will Jr. is to see pain personified. The smiles and laughs that accompany a funny anecdote about Will land like a punch in the gut. The moments of straightforward explanations of Will's death are numbing. But when someone breaks, the big man getting choked up, the anguished mother wiping away tears, the primal scream of a sister, it's as devastating as if you knew Will yourself. That palpable sense of loss is haunting.
Through his diary, Yance learns more about her brother than ever. About his doubts and goals, how he spent two years trying to get a job as a correctional officer. It's a cruel cosmic joke that six weeks after his death the Fords received a letter informing Will he got the gig. Through an interview with a different man, David Breen, we learn even more about Will's character. After witnessing Breen being robbed and shot, Will chased down the attacker on foot. The point isn't to inflate Will's stature or provide hagiography. The point is to help humanize Will and show the kind of impact he could have on people.
Strong Island becomes an indispensable text. It rewrites history, or rather corrects it. The film is an act of defiance. It gives Will his life back. Yance takes back her brother's story from an indifferent institution and gives it back to her family. It took Yance 10 years to make Strong Island, and 25 years to live it. The film carries that emotional weight, but is clear-eyed in its goals. In a year of full of strong documentaries it's one of the best.