Puede que estés listo para cortar el cable, pero hay una característica que querrás retener: DVR, que te permite grabar tus series y deportes favoritos para verlos más tarde. Afortunadamente, Sling TV ofrece DVR, pero incluye algunas sorpresas.
Aquí tienes todo lo que necesitas saber sobre DVR de Sling TV: cuánto cuesta, cómo funciona y sus limitaciones.
Costo de DVR de Sling TV
Aunque varios servicios de transmisión de televisión en vivo, como YouTube TV, PlayStation Vue y FuboTV, ofrecen cierto nivel de DVR, es un complemento opcional de Sling TV.
50 horas de almacenamiento DVR en la nube en Sling TV cuestan $5 al mes. Por el momento, no hay forma de comprar espacio adicional.
Si ya tienes una cuenta de Sling TV y quieres añadir DVR en la nube, puedes hacerlo accediendo a tu cuenta en sling.com/account y pulsando "Cambiar suscripción". A partir de ahí, DVR en la nube aparecerá en "Extras". Si creaste tu cuenta a través de Amazon, puedes añadir la función DVR desde la aplicación Sling TV en el dispositivo de transmisión de Amazon que elijas: Amazon Fire Stick, Fire TV o Fire tablet.
Algunos usuarios, entre los que me incluyo, pueden llegar a 100 horas de almacenamiento de DVR en la nube disponibles. Esto es aparentemente un remanente de las primeras pruebas beta del DVR en la nube de Sling, que hace tiempo que han concluido. El hecho de que el espacio adicional aún esté disponible para algunos usuarios puede sugerir que el servicio está sopesando un aumento en el almacenamiento en el futuro.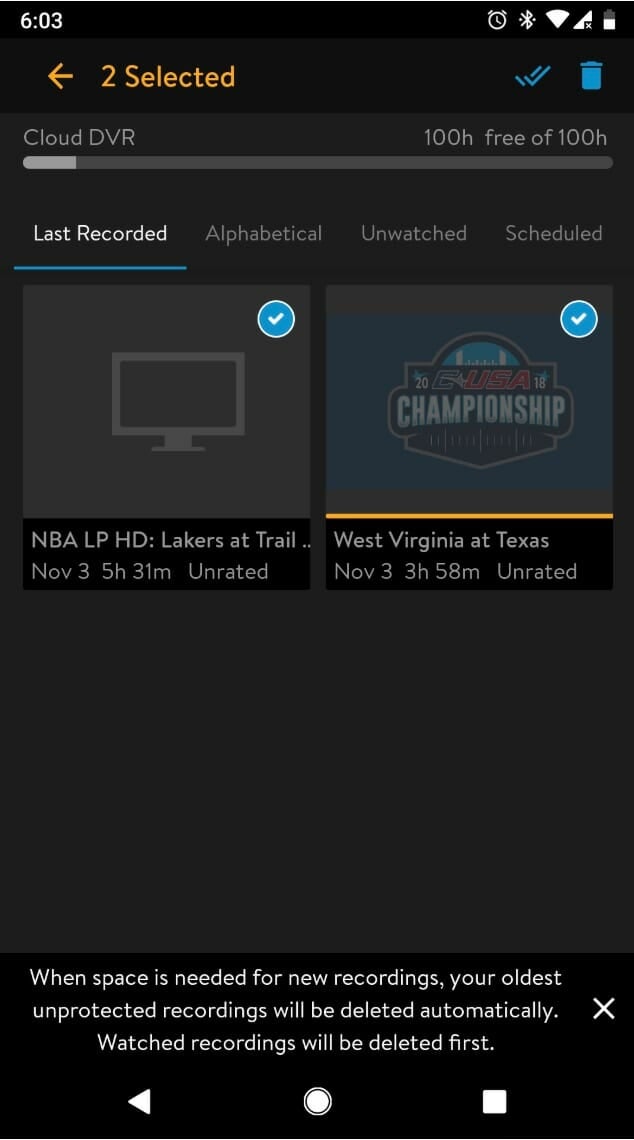 Cómo funciona DVR de Sling TV
Con algunas excepciones (que se indican a continuación), puedes grabar casi cualquier cosa en Sling TV. Todo lo que tienes que hacer es seleccionar "Grabar" en las opciones de la tarjeta de título de la serie o evento que quieres ver. Puedes grabar varias series a la vez y ver un canal diferente mientras lo haces. Si se trata de una serie que guardas, como This Is Us o The Walking Dead, tendrás la opción de grabar todos los episodios cuando se estrenen, de modo que no tendrás que acordarte todas las semanas.
Consejo profesional: si se trata de un evento deportivo que estás grabando, también querrás grabar la serie que sigue inmediatamente a tu evento. De esta manera, si hay un retraso o dura más de lo previsto, no te perderás el final si se agota. Actualmente, Sling TV no te permite ampliar el tiempo de grabación programado, así que esta es tu mejor solución.
Cuando alcances el límite de 50 horas, Sling TV eliminará automáticamente la grabación más antigua que hayas visto (se hace hincapié en "visto"). Sin embargo, si hay algo en concreto que te gustaría guardar, puedes hacerlo seleccionando "Administrar" en la configuración de Mi DVR, que también te proporcionará un desglose de cuánto espacio de almacenamiento te queda.
Puedes usar VDR en la nube en casi todos los dispositivos compatibles con Sling TV, entre los que se incluyen Roku, Apple TV, Google Chromecast, Amazon Fire Stick, Xbox One y aplicaciones de Android e iOS. (La excepción es la plataforma Xfinity X1.)
Limitaciones del DVR de Sling TV
Aunque DVR de Sling TV funciona en la gran mayoría de los canales, existen algunas limitaciones. No puedes grabar nada en canales bajo demanda como Local ahora, y todos los canales de Disney y ESPN están fuera de los límites. Eso incluye: Freeform, Disney Channel, Disney XD, Disney JR, ESPN, ESPN2, ESPN3, ESPN Deportes, ESPN Goal Line, ESPN Bases Loaded y SEC Network Extra.
La mejor ventaja del DVR es poder pasar los anuncios rápidamente en tus grabaciones. Sin embargo, no podrás hacerlo en el caso de las "grabaciones seleccionadas" en los canales de Fox, entre ellos FX, FS1, FS2 y National Geographic. "Para estas grabaciones seleccionadas", señala Sling TV, "FOX exige que Sling te muestre una versión de video bajo demanda de tu grabación, lo que no te permite pasar los anuncios rápidamente".
No puedes descargar grabaciones para verlas sin conexión.
The Daily Dot puede recibir un pago en relación con las compras de productos o servicios que aparecen en este artículo.
Este artículo fue escrito originalmente por Austin Powell en inglés.