It's been less than three full days since Steven Moffat announced the mysterious keywords that serve as clues for the episodes featured in Season 3 of his hit BBC mini-series Sherlock.
But fans have kept busy trying to deduce the meaning behind the cryptic words: rat, wedding, bow.
Moffat tweeted the words late Friday night, in keeping with his similar hint last year, when the words "woman, hound, fall" proved predictable: Episode 1 introduced Irene Adler, famously known as "the woman" in Conan Doyle canon; Episode 2 was a version of The Hound of the Baskervilles, and, sure enough, Episode 3 was the famously cliffhangery "Reichenbach Fall."
This time, though, the clues aren't so straightforward. Is "rat" a reference to "giant rats of Sumatra," which makes an appearance in "The Adventure of the Sussex Vampire?" Is it "rat" as in "traitor," possibly indicating the arrival of the evil Sebastian Moran? Or something else altogether?
Is it "bow" like the final collection of stories, His Last Bow, meaning the episode could be the conclusion of the entire series? Or bow like the violin Sherlock famously plays?
And could "wedding" possibly refer to anything other than a reference to The Sign of the Four, the canonical story in which John Watson marries Mary Morstan?
It's a three-patch problem for Sherlock fans, a reference to Sherlock's tendency to stock up on nicotine patches when a particular conundrum presents itself. With no immediate answers in sight, Sherlock fandom has been digging through Sherlock Holmes canon for clues, expounding upon theories, sussing out word meanings and anagrams, and generally freaking out.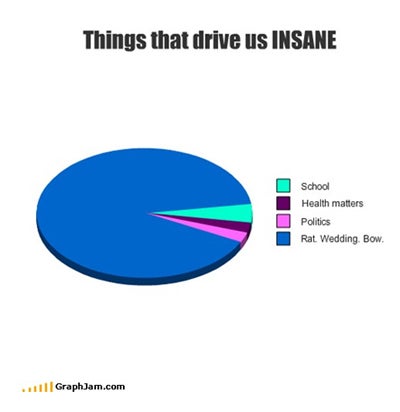 Three points of major anxiety abound for Sherlock fans:
1) With hints about the entrance of Moran, popular villain Moriarty has subsequently been confirmed dead. Since we saw him shoot himself in the head, this shouldn't be a huge surprise, but many fans held out hope anyway, given the general Holmesian penchant for fake deaths.
2) The possibility that the show will end. Stars Benedict Cumberbatch and Martin Freeman have seen their schedules fill with other commitments, such as the Peter Jackson Hobbit trilogy in which they both play significant parts, Freeman as the lead role of Bilbo Baggins and Cumberbatch as the villain Smaug. Could their rise to international fame lead to the end of the show that brought them there? There's no confirmation either way, but the hint that the final episode could be connected to the final volume of Holmes canon is making it hard for fans not to jump to conclusions.
3) The "end" of the John/Sherlock ship for fans who held out hope for their ship to become canon.
Steven Moffat, who once emphatically denied that Sherlock could be gay, has also generally insisted that Sherlock is only interested in women, though he prefers to sidestep the question of sexuality altogether. This hasn't stopped a huge core of Sherlock fandom from shipping John/Sherlock, a.k.a. Johnlock.
However, the show's penchant for dropping in gay jokes and overt hints about the queer nature of London's most famous roommates—at one point Irene Adler calls the two a "couple," to be met with flat non-denial from Watson—has led to ongoing accusations of queerbaiting. If the show were to actually marry off Watson, it would likely enrage fans who feel exploited by all the tongue-in-cheek gay jokes.
"I cannot tell you how goddamn offended I am that my queerness is used for laughs and money by BBC Sherlock," wrote orbitingasupernova on Tumblr, "and at least, if they actually gave a shit about queer rep, they wouldn't let Moffat say that Sherlock can't be anything but 100% straight because NO HOMO!!1!!1! and also asexuals are boring as fuck."
Slash fans don't need their ships to become canon, and the Sherlock/Watson pairing is perhaps literally the oldest pairing in fandom history. But a John/Mary wedding would be a bitter pill for some fans to swallow, given that it would make this Sherlock franchise the second in recent years, after the Guy Ritchie Sherlock Holmes films, to tease out a bromance and then deny the possibility of more.
But all this consternation hasn't stopped fans from getting creative over the puzzle, however: fanart of rats in wedding attire has been making the rounds. And, of course, there's already fanfic.
There's even a t-shirt.
Photos via littleandfierce/Tumblr, movealong127/Tumblr.