My apologies, guys, but I'm gonna have to burst your bubble. Ryan Gosling has not adopted a baby. Sorry.
It sounded so perfect. The Internet is a cruel and capricious mistress, but there are a few choice subjects that can can reliably turn Netizens' hearts to putty: kittens, Jennifer Lawrence, bacon—and, of course, Ryan Gosling. So enamored is the Web with the movie star that memes spring up like weeds about him, from Feminist Ryan Gosling to Ryan Gosling Won't Eat His Cereal.
And so the Internet positively exploded with excitement when everyone's favorite heartthrob announced on Facebook—on Father's Day, no less—that he had adopted a child, and what's more, he'd managed to keep it a secret for a year.
"This little guy was only 9 months old when I became his dad," the post read, alongside a photo of Gosling holding a child. "His mom and I were great friends before she passed away from cancer. I promised her, I'd always look after him. So, I had decided to step up and become his dad."
"1 year later after the adoption, his biological father wanted him," it continues; "Of course, I put up a fight, but he won. That 1 year of being his father taught me how to love unconditionally."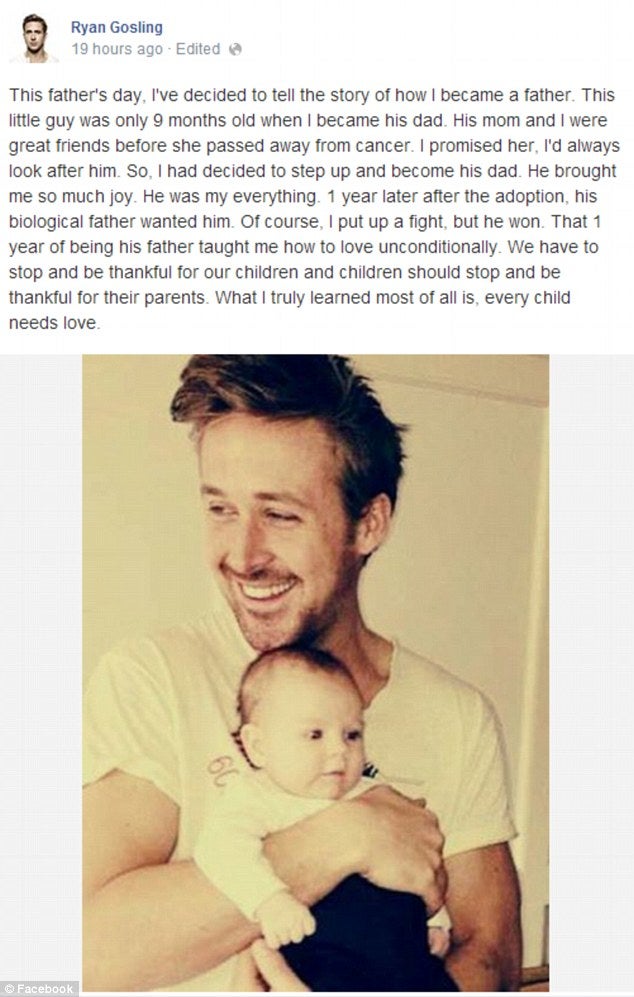 The reaction was overwhelming, with the photo racking up almost 1 million likes and gushing comments like "my ovaries just exploded," before Facebook took it down. Why? Because it's just not true.
For one, the now-deleted Facebook page that posted it, RealRyanGosling, is fake. For the record, RyanGoslingOfficial is also not affiliated with the movie star, nor is Ryan-Gosling: If in doubt, look for the blue verified check mark.
Despite almost 650,000 followers, Instagram account Ryan_Gosling is not official either. Gosling does have a verified Twitter page, @RyanGosling—though it's rarely used. 
There's also the sheer implausibility of the story: In the modern 24-hour news age, it's inconceivable that a high-profile celeb like Gosling could adopt and keep a child for a year without someone getting wind of it. If the Croatian football team can't take a bath without paparazzi around, what chance does one of the world's sexiest men have of going through a lengthy custody battle in perfect secrecy?
As Luke O'Neil wrote for Vice recently, "life isn't an endless series of highly bloggable coincidences"—if a story seems "SO PERFECT… [if it] inspires you to think, or tweet, "ALL OF MY THIS"? It's fake. If it seems too good to be true, then it is." However, The Independent reports that U.K. gossip rag Closer wasn't able to apply even this basic level of critical reflection, and ran the hoax as a story—though they've since pulled their report. 
Then what's the rationale behind the fake story? While trollish, self-congratulatory ego-stroking is no doubt is a strong driving force, there is a more prosaic motivation: money. Refinery29 points out that the post linked Gosling aficionados to a page where they could buy T-shirts purporting to support the Orphanage Home Foundation, along with the chance to meet Gosling.
As you've probably already guessed, the Orphanage Home Foundation does not exist.
The 33-year old Gosling has reportedly been dating model and actress Eva Mendes since 2012 (although no one's quite sure what's going on), but there's definitely no hint of the pitter-patter of tiny feet. But if this hoax is anything to go by, should that day ever come, it may well push the Internet into total catastrophic meltdown.
H/T Refinery29 | Photo via AndyRobertsPhotos/Flickr (CC BY 2.0), Ryan Gosling photo via JJ Georges/Wikimedia Commons (CC BY SA 3.0) | Remix by Jason Reed