Pete Davidson on Monday purged his Instagram account of all its photos and videos, People reports. Even though the move came after fans criticized him for a comment on Ariana Grande's feed, Davidson insists "there's nothing wrong" and "nothing happened."
The Saturday Night Live actor wrote a message to fans on his Instagram Story on Monday explaining why he's pausing his Instagram activity.
"No there's nothing cryptic about anything," Davidson wrote. "I just don't wanna be on Instagram anymore. Or on any social media platform. The internet is an evil place and it doesn't make me feel good. Why should I spend any time on negative energy when my real life is fucking lit. The fact that I even have to say this proves my point. I love you all and I'm sure I'll be back at some point."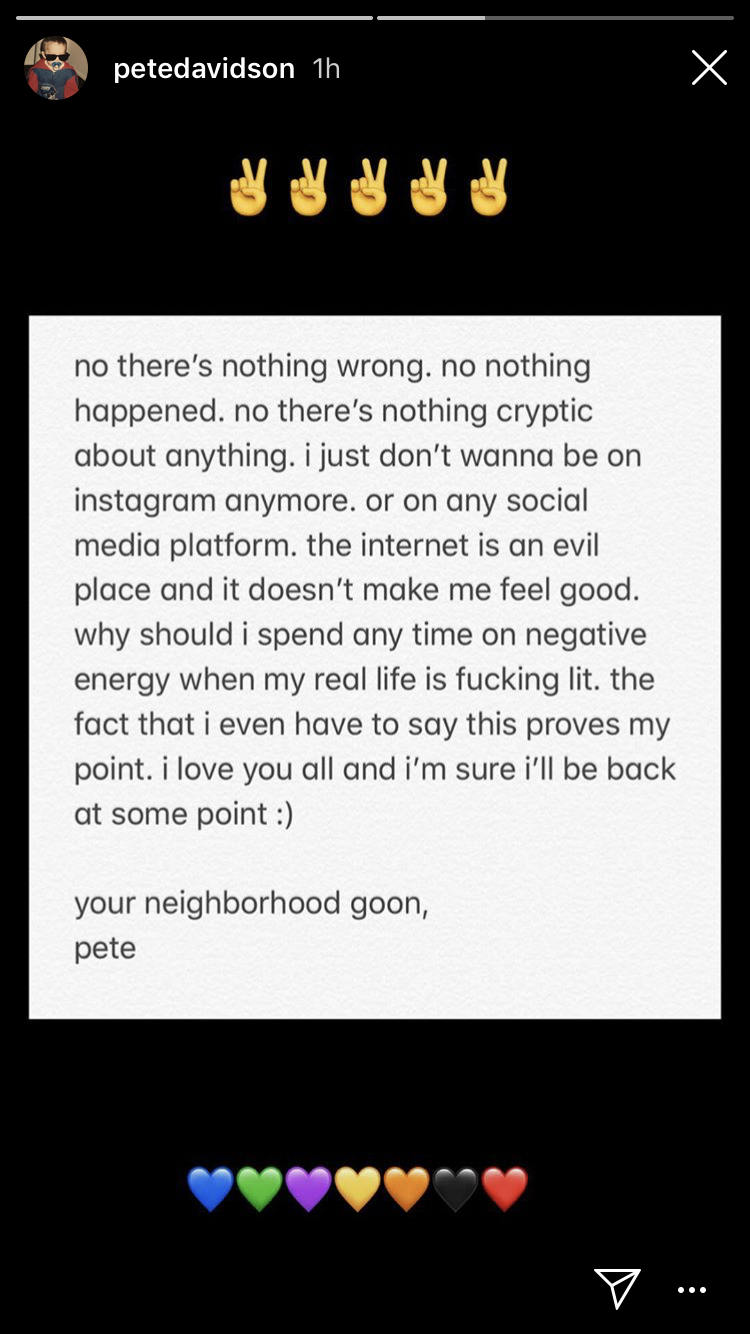 But just a day before, Davidson was bashed for commenting "omg what a cutie" on a photo of Grande, his fiancee, posing with her late grandfather.
Fans thought he was referring to Grande as a "cutie" and condemned the comment as ill-timed and inappropriate.
https://www.instagram.com/p/BlkZJB7AAX0/?utm_source=ig_embed
"Are you guys all insane?" Davidson fired back. "I was talking about how cute her grandpa is. What's wrong with that? You guys will really look for anything to attack people. It's sad."
He continued commenting on Grande's posts—he wrote "goals" on a now-deleted photo she posted of her grandparents—but the next day, his Instagram was cleared.
Meanwhile, Grande disabled comments on her feed and tweeted a message to fans: "The energy u put out is exactly what u get back," she wrote, "Please create a beautiful life for yourselves."
the energy u put out is exactly what u get back,
please create a beautiful life for yourselves

— Ariana Grande (@ArianaGrande) July 23, 2018
H/T People