Olympics fever is taking hold of the world, though there's a remedy for those who want to avoid it on Twitter.
Twitter doesn't provide a way for you to filter out terms you don't want to see, but a number of third-party apps allow you to do so. Taking the Twitter-owned TweetDeck as our example, here's a quick guide on how to filter out Olympics-related tweets without unfollowing anyone.
1) Identify which words and hashtags you don't want to see
This requires a little work, since you'll need to know what hashtags and words the people you follow are using in their Olympics tweets. Keep an eye on those hashtags and note which ones you want to hide over the next few weeks.
Here are some you'll certainly need to note: Olympics, Olympic, Olympics 2012, Olympics2012, London2012, Olympic Games, London Olympics, 2012Games, 2012 Games.
Depending on where you're from, you might wish to block country-specific hashtags too:
#TeamUSA, #TeamUS, #TeamGB, #TeamAUS, #TeamNZ
2) Change TweetDeck settings
Both old TweetDeck and new TweetDeck have ways to filter terms you don't want to see. Here's how to do that, step-by-step.
First, click through to the settings (the wrench icon in old TweetDeck, the cog in the top-right corner in the new).
Access the global filter option and enter all the terms you wish to hide. Click the "Add filter" or "Save settings" button and you're done.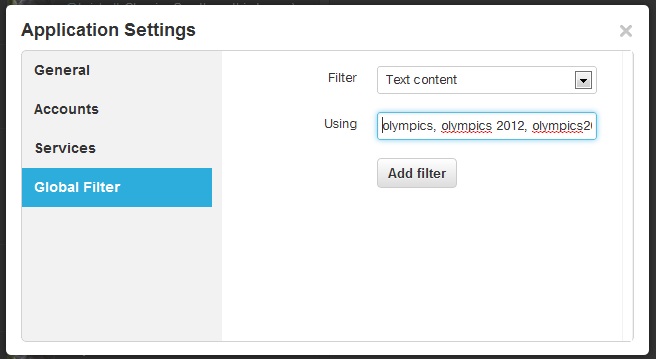 Old TweetDeck has a few more options, like the option to hide tweets from specific sources or people without needing to unfollow them, though the basic idea is the same.
There are other apps and clients which offer similar features, like Tweetbot, Filttr, Tweet Agora, and TalkingPuffin. Chrome extension Slipstream is one of several which lets you hide tweets on the Twitter website.
Filtering hashtags and keywords have uses beyond the Olympics, like helping you avoid movie spoilers and blocking sensitive terms you may not wish to view.
We should note that you can't block every single Olympics-related tweet without missing out on messages you actually want to see, but hopefully this will help you filter the noise.
Photo by trazomfreak