This story contains images that may be NSFW.
Nicki Minaj spent most of yesterday posting pictures of butts on Instagram. Not just her butt—lots of butts. But[t] why?
Her new single, "Anaconda," comes out on Monday. To promote the track, Minaj released artwork for the track yesterday that is—you guessed it—mostly Minaj's butt.
Subsequently, Minaj posted fan remixes of the image, including one that incorporates her buttcheeks into the Google logo. But then she posted several images of scantily clad white models in swimwear, their butts turned toward the camera in poses similar to her own. Most of these photos appear to be grabbed from issues of Sports Illustrated's notorious swimsuit edition, and to each Minaj appended the caption "Acceptable."
She then reposted the art for her single with the caption, "UNACCEPTABLE," as if to comment on the contradictory standards and expectations applied to women of different races.
Indeed, Minaj had tweeted just a day before that "racism is alive & well," before going on to make a veiled comment seemingly about white privilege.
some people have to put in work. others get to cut corners. we see it but don't say it. welcome to the real world.

— PillsNPotions (@NICKIMINAJ) July 23, 2014
Fans speculated that Minaj was making reference to Iggy Azalea's rapid rise to stardom, as compared to Minaj's own years-long journey. 
Coverage of the Butt Incident has so far mostly been limited to obscure blogs. According to them, Minaj is reacting to critics who have called the album art "trashy and unacceptable."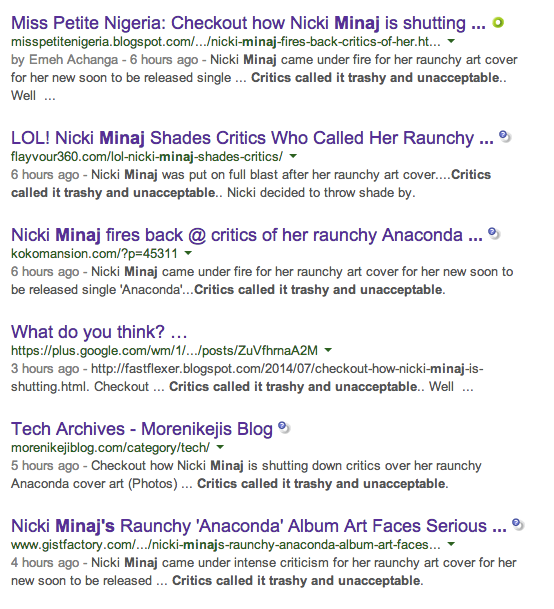 The repetition of that phrase ("Critics have called it trashy and unacceptable") seems to indicate, however, that there's something a little bit weird going on here. What critics? None of these blogs links to anyone else. Though they're talking about and around a controversy, no one seems to be able to point to the controversy itself. While it certainly seems likely that someone, somewhere—perhaps in the comments?—called Minaj's cover art "trashy and unacceptable," it seems a little strange that Minaj would take such a small fry's words to heart. She'd have to wade through a lot of words to find it: There are currently 27,000 comments on her original Instagram post.
Spin's take this morning was that it was in response to mainstream media's focus on the NSFW or objectionable qualities of the art rather than the single's release; the Guardian suggested it was "too racy for its own good." Again, though, Minaj does not make reference to such criticism herself.
Minaj's press contact did not immediately respond to a request for comment.
Minaj's posts are still remarkable for the fact that such a prominent figure has been able to bring such an important idea to so many people so succinctly—not just the people who live this issue every day but fans of Minaj's who perhaps had never considered these kinds of things before.
Even if that is the case, though, she's still got something to sell.
Photo via Nicki Minaj/Instagram