Here's one way to get funding for journalism: Replace chain smoking reporters with cuddly wuddly kitties.
News Cat GIFs is a Tumblr that imagines the newsroom as a feline playground—to adorable results.
The hugely successful site is the brainchild of real-life reporter Ivan Lajara, who came up with the idea for the blog while camping in June.
"I was ruminating over how to make things go viral after the Slate piece on Buzzfeed.  I'm part of Digital First Media's Idealab, after all, and I like to experiment with things on the side," Lajara wrote on his blog. "I didn't just want to quite mimic something from Reddit, though. But I figured if I had potential if it was something that was niche enough (journalism)."
The result was a Tumblr dedicated to cat-related reaction GIFs based on newsroom scenarios. For example, one of his most popular posts featured the title "When I Have Five Deadlines Looming" and the following animation: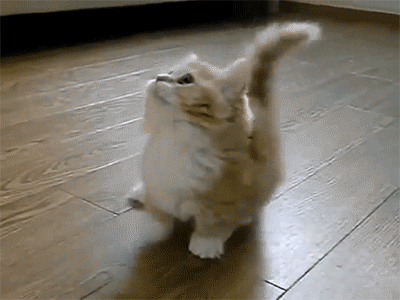 "Since July 3 at around noon, the blog has had more than 239,000 hits, and close to 93,000 unique visitors. The average return visits as of now are 1,271 a day," Lajara wrote. "The blog has an average of 19.50 note-to-post ratio. [Tuesday] it went viral in France and Australia, so it picked up a healthy 47,823 hits."
Lajara also noticed that the Tumblr received a visit from IP address of a U.S. Senate office in Auburn, Maine.
The GIFs, which Lajara gathers from around Tumblr and Google, have really struck a chord with the news community. His Tumblr has been mentioned or reblogged by Reuters, NPR, Mother Jones, and USA Today. The experience has been unforgettable, said Lajara, who is an editor  at the Daily Freeman in Kingston, New York.
"I spent about an hour a night scheduling eight to 10 posts for the next day. I posted one over the weekend," he said ."The posts were not all just my experiences. It was more of a collective newsroom experience.. I'm glad many enjoyed it and related to it as I did."
Photo via seasideshe