Streaming service Acorn TV is our favorite hub for top-shelf programming from the U.K. From sweeping costume dramas to surgical BBC documentaries, it's an elite option for anyone who loves thoughtful, gripping, and flat-out hilarious entertainment. June revs up the year with a crammed month of additions, and here's what's swimming down the English channel to your screens. Make plans.
New on Acorn TV: Editor's pick
The Churchills
Even if you stayed awake during all your history classes, chances are most wouldn't think to connect Britain's WWII leader Winston Churchill with his 18th-century forebear, John Churchill, the First Duke of Marlborough. But the three-part 2012 documentary The Churchills, now available to stream on Acorn TV, highlights an extraordinary number of parallels between not only these two Churchills, but the larger state of the world during their reign. Whereas the 20th century Churchill defended his nation against Hitler and the Nazi war machine, John helped lead Britain against the expansionist King Louis XIV of France.
In The Churchills, historian David Starkey not only explores the remarkable similarities between these two men, he argues that Winston Churchill's years spent writing an exhaustive biography of his ancestor John gave him crucial insights he would need to face down the Nazi threat. Seamlessly blending centuries-old portraits, 20th-century footage, and the latter Churchill's own written insights, The Churchills is a fascinating demonstration of that old adage about history repeating itself. —David Wharton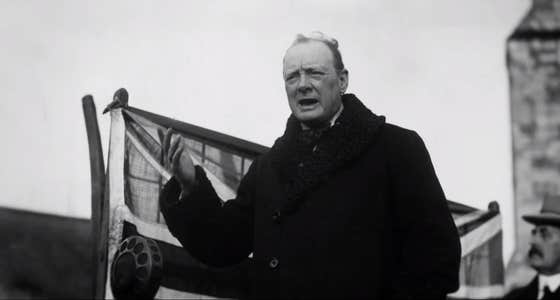 New on Acorn TV in September 2018
TV summaries courtesy of Acorn TV.
Sept. 1
A Place To Call Home: The Final Chapter (season 6)
Acorn TV's addictive Aussie period drama returns for its final season starring Marta Dusseldorp (A Place to Call Home, Jack Irish) and Noni Hazlehurst (Little Fish). Against the backdrop of post-World War II Australia, A Place to Call Home follows Sarah Adams, a nurse who becomes involved in the affairs of the wealthy Bligh family. Dealing with themes such as anti-Semitism, sexuality, and social class, this rich and meaningful, high-quality production has been hailed as one of the best television series of the year by the Wall Street Journal.
Sept. 3
Echoes
This classic Irish hidden gem stars four-time BAFTA nominee Geraldine James in a compelling and evocative story of love, friendship, and obsession, set in a small Irish town between 1952-1962, based on Maeve Binchy's novel. Castlebay in the 1950s is a typical, small Irish seaside town. Its peoples' ambitions and expectations are generally limited and easily achieved. But there are two children who dream of another life—Clare O'Brien (Siobhan Garahy) is determined to better herself and make education her escape route with the help of her teacher (James), while David Power (Robert Hines) is going to be a doctor with a practice far away from his domineering mother.
The Last Dukes
Dukedoms are created by the Monarch—for reasons ranging from a grateful nation rewarding a major war leader to a king acknowledging his illegitimate son. The last Dukedom to be created was by Queen Victoria. Their influence once extended beyond the merely ceremonial. For centuries, they were a crucial part of the architecture that supported the monarchy. Only 24 noble dukes now remain and this BBC documentary will show what it is to be one of them in the 21st Century with unique access to the dukes of Norfolk, Argyll, Montrose, and Marlborough.
Sept. 5
800 Words, Season 3
The second half of season 3 of this hugely popular and award-winning New Zealand family drama. Logie winner Erik Thomson (Packed to the Rafters, The Code) returns as George Turner, a man making a home for himself and his family in a beautiful and quirky New Zealand coastal town.
Sept. 10
Jack Irish, season 2
Popular film and Emmy-winning TV star Guy Pearce (Iron Man 3, Memento, When We Rise, Mildred Pierce, The King's Speech) returns again to his Aussie roots as the late Peter Temple's antihero in a new six-part thriller. Jack stumbles into the world of manipulative Pharmaceutical companies, corrupt educational institutions aimed at international students, and fatal clinical trials. The apparent suicide of a foreign student triggers a chain of events that will see Jack risking his life to uncover the truth.
The Rector's Wife
Based on the bestselling novel by Joanna Trollope, one of the most memorable British adaptations of the 1990s stars Lindsay Duncan as a spirited woman caught in a stultifying marriage. After 20 years of meeting the demands of her husband and his parishioners, she realizes she has to save herself. The miniseries co-stars Pam Ferris (Rosemary & Thyme, Harry Potter and the Prisoner of Azkaban), Jonathan Coy (Horatio Hornblower TV series) and Prunella Scales (Fawlty Towers).
Sept. 17
Wire In the Blood, series 1 and 2
The popular British crime drama stars Robson Green (Grantchester, Strike Back, Touching Evil) as a psychologist who gets inside of the minds of both killers and victims to aid the police in solving gruesome serial killings in Northern England. Co-starring Hermione Norris (Cold Feet, Kingdom, Spooks).
Sept. 24
Ackley Bridge, series 2
From the creators of the BAFTA best drama winner Shameless and BAFTA best miniseries winner National Treasure comes the return of the school-based British drama.  Set in a 50/50 multicultural school in West Yorkshire, Ackley Bridge offers a character-driven, gritty, funny, truthful, and mischievous angle into the daily drama of the teachers, teenagers, and families whose lives and cultures collide in a fictional 21st-century Northern town.
Love Hurts, series 3
The final season of the '90s BBC One comedy-drama series starring Zoë Wanamaker (Harry Potter, Agatha Christie's Poirot, Girlfriends); Adam Faith (Stardust, musician); and Tony-winner Jane Lapotaire. When Tessa Piggott (Wanamaker) goes through a difficult breakup (her married ex-lover and ex-boss left her for a younger mistress), she looks for a new job. Deciding to leave the rat-race, she finds herself a position in a charitable organization with an old college friend, Diane Warburg (Lapotaire). Tessa finds a new boyfriend in Frank Carver (Faith), a roguish entrepreneur who's learning how to live with his college-age daughter. The series follows Tessa and Frank's romance and the stories of their friends and families.
This article is regularly updated for relevance.