Considering the fact that it's literally two hours of old men talking about organized religion, The Two Popes is shockingly fun. Arriving with a spring in its step, it offers a witty script delivered by two iconic actors at the top of their game, directed with warmth and sly humor by Fernando Meirelles (City of God).
The Two Popes
RELEASE DATE:
12/20/19
DIRECTOR: Fernando Meirelles
STREAMING:
Netflix
Two IRL popes meet and greet.
Writer Anthony McCarten adapted the screenplay from his 2017 play The Pope, and although he's written extensively for the stage and screen, he's best known for his work on middle-of-the-road biopics: Bohemian Rhapsody, Darkest Hour, and The Theory of Everything. These three films are thoroughly conventional Oscar vehicles, so The Two Popes' deceptively casual structure comes as a pleasant surprise. Starring Anthony Hopkins and Jonathan Pryce, it covers the ascension of Pope Benedict XVI (Hopkins) and his eventual retirement and replacement by Pope Francis (Pryce), told through a series of fictional conversations leading up to Benedict's resignation in 2013.
They're an immediately compelling odd-couple duo. Benedict is conservative, isolated, and socially awkward. A lonely and often tactless 86-year-old who swivels his head with a birdlike twitch to look his conversational opponent in the eye. Cardinal Bergoglio (the future Pope Francis) is charming yet self-effacing, a kindly figure who champions the poor and hopes to retire as a simple parish priest in his home country of Argentina. He's also rather critical of Benedict's harsh commitment to conservative doctrine, so it's something of a surprise when Benedict refuses Bergoglio's request for retirement and instead invites him for a private meeting at his summer residence in Italy. Benedict, of course, is secretly planning to retire himself, and he's scoping Bergoglio out as his successor.
It feels almost unfair to say The Two Popes is easy to watch because that implies it's shallow or overly simple. But it is easy viewing, while also being much more sophisticated than the many Netflix Originals that are basically designed to be played in the background while doing something else.
There's intrinsic humor to the awkward interactions between these two men, both equally stubborn in their own way. Benedict has age and power on his side, allowing him to steamroller Bergoglio's increasingly unsubtle requests. He's the pope, so Bergoglio has no choice but to stick around. Meanwhile, Bergoglio is unfailingly polite and kind, but continues to stick to his guns. They clash fundamentally on religion and politics, sharing friendly chats and outright arguments while walking slowly around the pope's beautiful private gardens and the later through the Vatican itself. They talk about the past and future of the church, and about their childhoods, and their favorite music, and their relationship to God. These debates have the natural humor of any intimate conversation, along with the unintended comedy of Benedict's personality. Along with being understandably detached from pop culture and everyday life outside the Vatican, he's an utterly humorless individual. Which, thanks to Hopkins, becomes very funny in itself. Once he's more comfortable around Bergoglio, he even admits to a hint of self-awareness. "I was making a little joke," he explains at one point, after being met with blank confusion by Bergoglio. "A German joke; it doesn't have to be funny."
The Two Popes really is a textbook example of using fiction to humanize distant figures, because you can't get more distant than a pope. And herein lies the ethical problem at the heart of the film, because while I enjoyed the experience of watching The Two Popes, by the end it almost felt like pro-Francis propaganda. McCarten certainly doesn't shy away from the darker side of the Vatican, but the contrast between Benedict and Francis becomes very one-sided in the film's quest for a happy ending.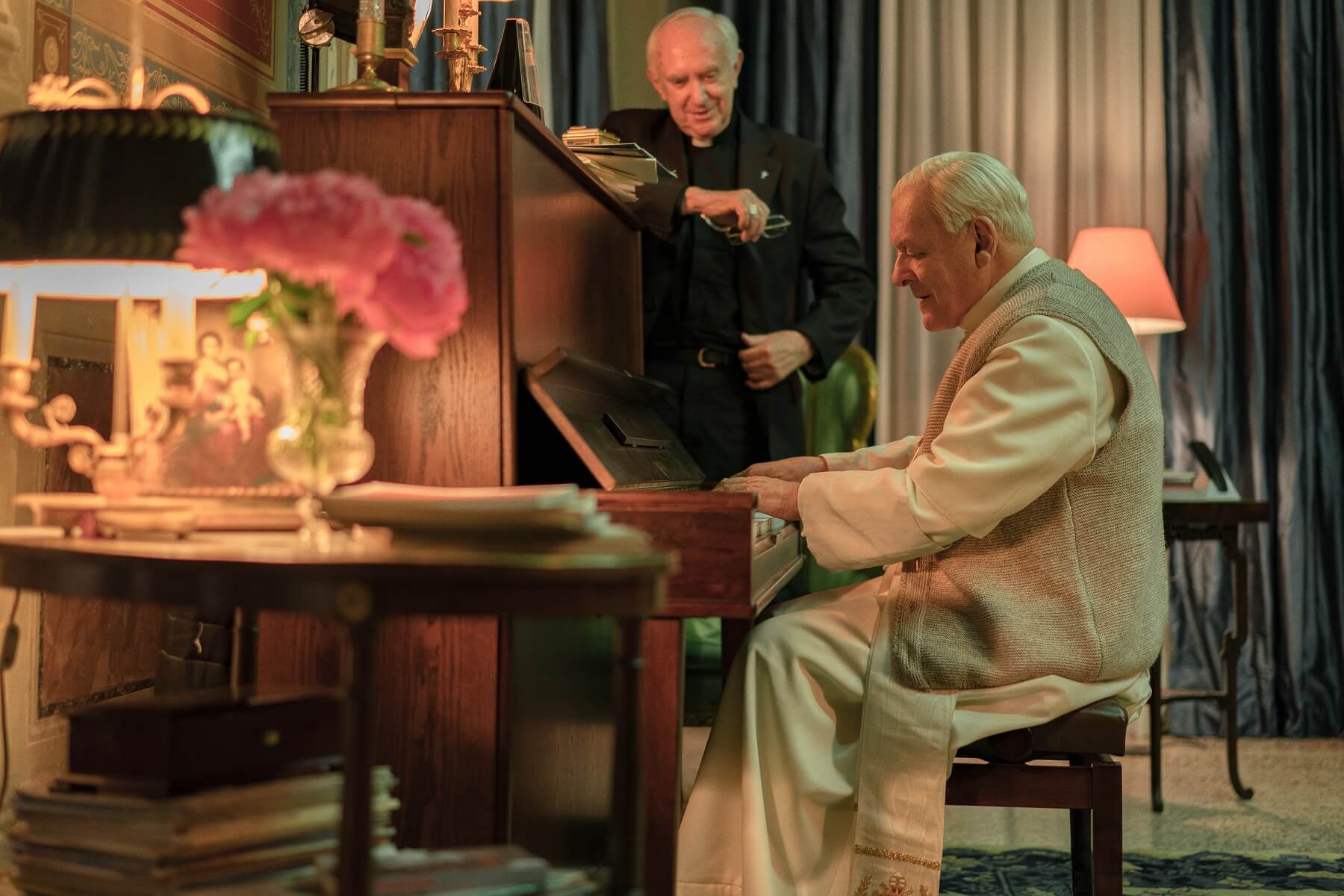 In recent years, we've witnessed a growing debate over artistic responsibility in storytelling—over whose stories get told, and from what angle. Here we have a film about two leaders of the Catholic Church, facing up to corruption scandals and widespread sexual abuse throughout the church's ranks. And while The Two Popes does humanize Pope Benedict with an amusing and sensitive performance from Hopkins, it's not actually a flattering portrayal. As well as being a staunchly conservative figure whose policies caused tangible harm, the film makes it clear that Benedict turned a blind eye to a plague of child abuse. His eventual resignation arrives in a flurry of financial and moral scandal. Pope Francis looks positively saintly by comparison, an uncomfortable creative choice that ultimately whitewashes the truth.
In moulding these two characters into a more digestible narrative about a "good" new pope replacing a "bad" old one, McCarten does something we frequently see in historical dramas and biopics of long-dead public figures. Real life doesn't always fit into a satisfying arc, and so The Two Pope gives us a nicer version of reality. But the stakes here are higher than a film about Henry V or Jimmy Hoffa. One of the two protagonists is the real, living figurehead of a massively powerful worldwide entity; the other now lives in luxury on the Vatican's dime. The fact is that while Pope Francis is more liberal than Benedict, the Vatican is still a homophobic and sexist institution, and Francis has presided over the same kind of sexual abuse scandals that we saw under his predecessor. He's also been accused of supporting cover-ups for alleged pedophiles and rapists, and the church continues to struggle with the fallout. Whether you can juggle this knowledge with enjoying the film on an artistic level is really a matter of personal outlook.
It's a bold time to release a smart-but-comedic pope drama, arriving right between seasons of Paolo Sorrentino's brilliant (but much more cynical) HBO series The Young Pope. Like The Young Pope, this film makes playful music choices, has a multilingual script, and juxtaposes the grandeur of the Vatican with the flawed humanity of its inhabitants. It also comes out right on time for awards season, putting both leads in contention for Oscar nominations—along with provoking some healthy debate about the film's more controversial topics.
The Two Popes comes out on Nov. 27, arriving on Netflix on Dec. 20.