This post contains spoilers for Narcos.
Over two seasons, Netflix's Narcos chronicles the rise and fall of legendary drug kingpin Pablo Escobar, as well as the men tasked with bringing him to justice.
Last summer's second season reached what would seem like a natural stopping point for the series—Escobar's death at the hands of the DEA and the Colombian National Police—but Netflix has renewed Narcos through season 4. Where does the show go from here?
Obviously, the war on drugs wasn't just a war on one man. While Narcos could easily have finished Escobar's story and then bowed out, there's plenty more real-world drama to be explored in our country's controversial and seemingly never-ending battle against narcotics.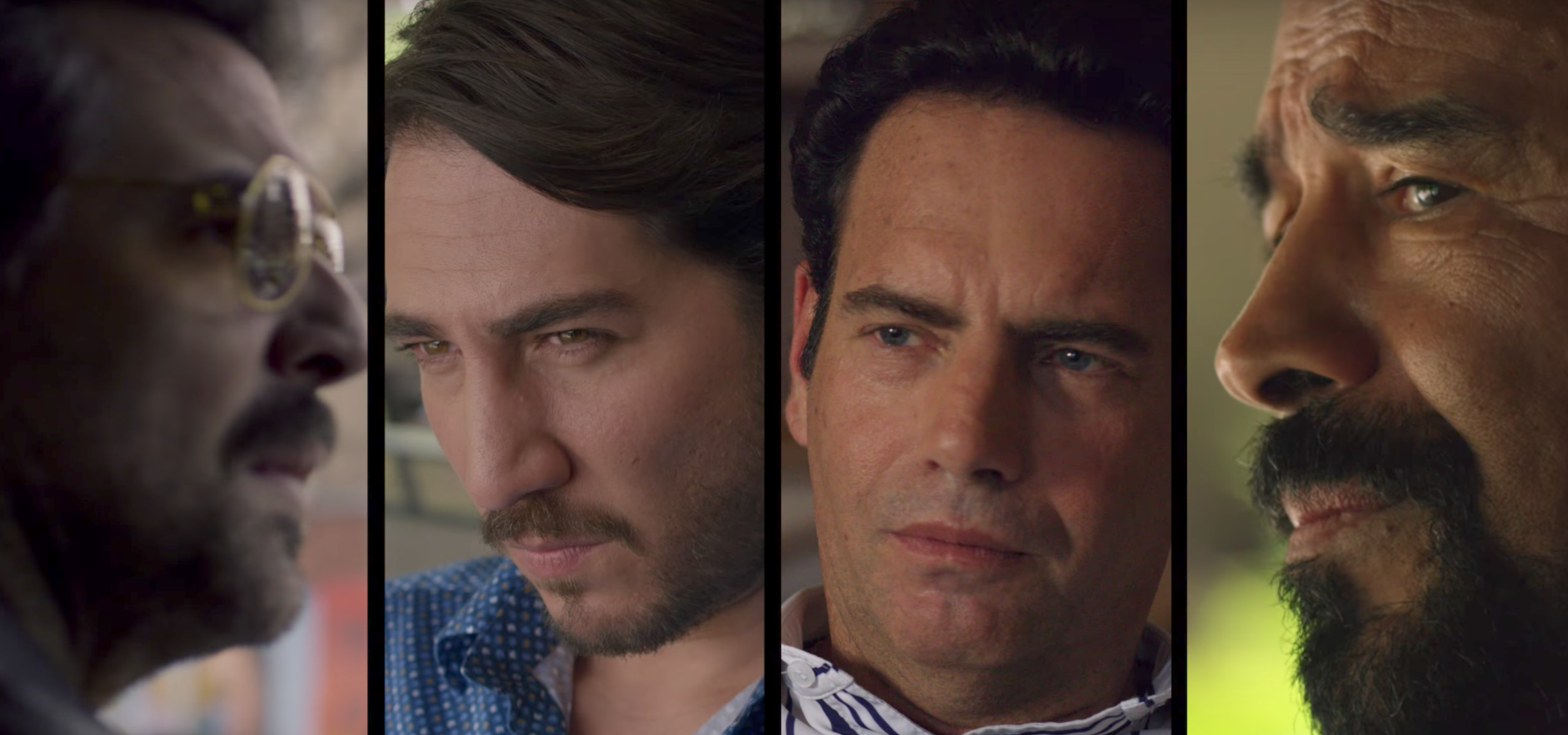 Narcos season 3 trailer
The Narcos season 3 trailer dropped Aug. 3, and it's every bit as intense as you would expect. And yes, that's Gabriel Iglesias in the opening barbershop sequence.
https://www.youtube.com/watch?v=Ory6b2EJ3Bk
On Aug. 22 we got an extensive look at the series behind the scenes. And oh boy, the Cali Cartel is going to be a nasty team for the feds to handle:
READ MORE:
Narcos season 3 cast
Escobar might be in the ground, but at least one of the men who helped put him there will soldier on. Pedro Pascal is confirmed to be returning as DEA agent Javier Pena.
Of season 3, Pascal told Jimmy Kimmel recently: "We go after the Cali Cartel: They were richer than Pablo. There were four of them. They took over Miami after Pablo was killed, and they already owned New York, so… there's a lot of cocaine in season 3."
Actor Boyd Holbrook recently said that he isn't involved in season 3. That makes sense on a couple of levels. For one, the real-life DEA agent Holbrook plays returned to the United States after taking Escobar down, so his part in this story has reached a natural exit point. From a more practical standpoint, Holbrook is busy on the movie side of things, with upcoming appearances in Logan and Shane Black's The Predator.
Netflix has announced several new additions to the Narcos cast for season 3. Both Michael Stahl-David (Cloverfield) and New Zealand actor Matt Whelan (Go Girls) have signed on as regulars. According to the Hollywood Reporter, Stahl-David will be playing Chris Feistl, a DEA agent who "sought out assignment to Colombia as the drug trade shifts to the Cali Cartel's takeover in the wake of Pablo Escobar's death." Whelan will play Feistl's DEA partner, Daniel Van Ness.
On the cartel side of things, Damian Alcazar will return as Gilberto Rodriguez Orejuela, Francisco Denis will play his brother Miguel, and Pacho Herrera will play Alberto Ammann.
Per Deadline, Broad City's Arturo Castro has joined the show as David Rodriguez, "Miguel's oldest son, although he is reluctant at first to take a leading role in the cartel structure, as his Uncle and Father are arrested, he must take over." Halt and Catch Fire's Kerry Bishé is also a new regular, playing an American woman named Christina. She's married to a Colombian man who gets involved in the cartel, forcing her to seek help from the U.S. embassy.

Narcos season 3 plot
The season 3 teaser above makes it clear that, with Pablo's death, Gilberto Rodriguez Orejuela and the Cali Cartel are set to become the new "big bads" of the show. All of this was strongly hinted at in the final episode of season 2—and, well, actual history—so there's no real surprise there.
This past September, Narcos showrunner Eric Newman told the Hollywood Reporter:
We don't want to replace Pablo Escobar. We are going to look deeper into the systemic effects within Colombia of cocaine and corruption. Unlike Escobar, who had positioned himself as an outlaw, Cali was very much a part of the system. They had bought their way in and they enjoyed a different kind of protection than Pablo did. Pablo was protected by the people who loved him and Cali was protected by a political and economic system that they had rather ingeniously built. It's a different kind of villain. While Escobar was a single-cell organism, they were a complex, multi-celled organism.
The producers have also hinted that the action will eventually turn to Mexico and another legendary drug kingpin: Joaquin "El Chapo" Guzman. The Cali Cartel helped spread the drug trade into Mexico, so it's a natural narrative turn. In January, the Narcos Twitter feed also hinted at El Chapo being on the horizon, so it's just a question of whether he'll show up in season 3 or season 4.
Narcos season 3 review
You can read our full report here, but here's how the Daily Dot's David Wharton characterized season 3:
This isn't a show that promises easy answers or happy endings. Every victory is wrapped in compromise and spawns three defeats. Good men do unforgivable things because they have to, or they think they do, or just to save their own skins. No one rides off into the sunset. Season 3 ends just as season 2 did, by introducing the next organization that's rising to fill the gap left by the one defeated this go-round. And the wheel keeps on turning.
Narcos season 4 premiere date
Fear not—Narcos has been renewed for season 4, the Hollywood Reporter confirmed last year. Since Narcos returned for its third season Sept. 1, 2017, we can expect that season 4 will air sometime in early September of 2018. The first three seasons are now available streaming on Netflix.
Editor's note: This article is regularly updated for relevance.