Once upon a time, clicking on Emma Watson was a surefire way to download a trendy celebrity virus. As often happens in Hollywood, though, one day you're in, and the next day you're out. Now a new actress has landed the top spot for most malicious Web search.
According to McAfee's 2013 "most dangerous celebrity " list, Lily Collins is now the most dangerous celebrity to search on the Web. Collins is the daughter of musician Phil, and stars in the recently released film The Mortal Instruments: City of Bones. The McAfee survey warns that a search for "pictures and downloads" of Collins increases your risk of "landing on a page that tested positive for spam, adware, spyware, viruses, or other malware" by 14.5%.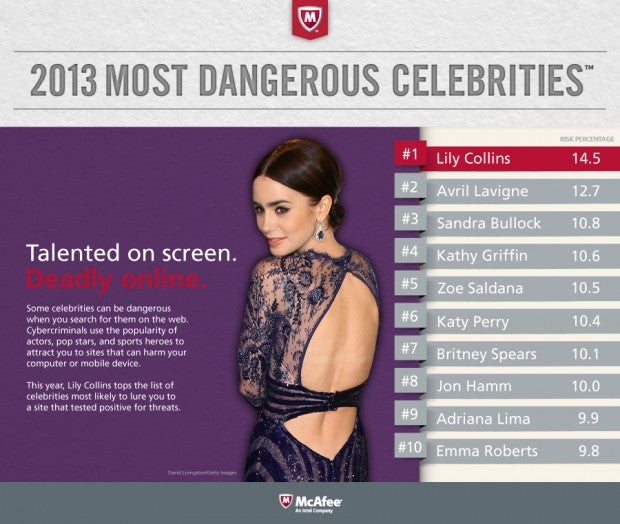 The rest of the top 10 list features exclusively women, with the exception of Jon Hamm, who comes in at number eight. Sandra Bullock, strangely enough, is number three. Avril Lavigne remains relevant at number two. It's interesting Collins and Watson, who've both starred in films with strong fandoms, hit number one. In 2011, Heidi Klum was the most virus-ridden.
Why is this list so female-heavy? Well, these malicious sites often include words like "nude" and "photos." One of McAfee's top tips for staying safe online: "Be wary of links to free content or too-good-to-be-true offers." McAfee also warns cybercriminals are keeping track of celebrity  trends like the rest of America. Cybercriminals: They're just like us.
Photo via Gage Skidmore/Flickr