Here at the Daily Dot, we swap GIF images with each other every morning. Now we're looping you in. In the Morning GIF, we feature a popular—or just plain cool—GIF we found on Reddit, Canvas, or elsewhere on the Internet.
Snow is unquestionably the most ethereal form that H2O can take, pace steam. There's a dreamy quality about it, and the hush that it brings over the landscape muffles contours and sounds with gentle relentlessness. Snow GIFs are a staple of the Internet for good reason, bringing infinite calm and resonant silence to a bustling, noisy realm.
The anonymous 16-year-old at Ütopia understands this, but brings his own unique stamp to today's GIF. He takes GIFs of all sorts and reverses them, inviting the viewer to fundamentally rethink what we often take for granted. The miracle of snow. The power of nature. Whether or not Lana Del Rey is a joke. You know, the big questions.
This GIF, with its small town architecture and quaint bridge, is reminiscent of the famous falling snow scenes in Frank Capra's It's a Wonderful Life, striking all the right nostalgic and contemplative notes. That the snow is flying up to the sky instead of settling down adds wonder to a scene already laden with layers of emotional meaning.
Uploaded Jan. 6, it has only 71 notes. Unless the note counter, too, is working in reverse.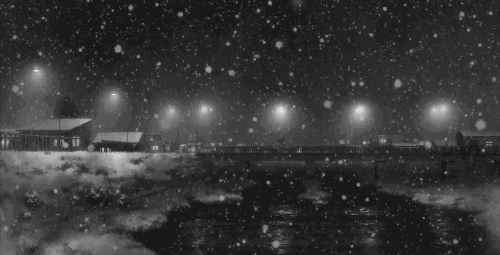 GIF via Ütopia/Tumblr