Here at the Daily Dot, we swap GIF images with each other every morning. Now we're looping you in. In the Morning GIF, we feature a popular—or just plain cool—GIF we found on Reddit, Canvas, or elsewhere on the Internet.
High-profile deaths draw conspiracy theorists like corpses draw flies, and in the world of fandom, there is no death with a higher profile than that of Sherlock Holmes. There is also seemingly no fandom with a greater predisposition to the belief that logic, however convoluted, can explain everything.
Which brings us to this GIF.
Was it indeed almost a year ago that Sherlock Holmes, as played by Benedict Cumberbatch, (SPOILERS!) lept to his death to save his friends from a terrible murder plot by the dastardly yet somehow compelling villain James Moriarty? It was indeed. And before the close of that day, the writer at rizplease had created this stunning masterpiece of explicatory art.
How could Sherlock have jumped from the top of that building and yet later been lurking behind a tree, looking at his own grave? We turn to convoluted conspiracy theories…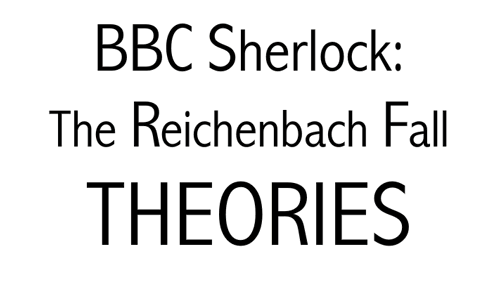 Yep, seems logical.