Here at the Daily Dot, we swap GIF images with each other every morning. Now we're looping you in. In the Morning GIF, we feature a popular—or just plain cool—GIF we found on Reddit, Canvas, or elsewhere on the Internet.
In a gray winter with considerably less range than 50 shades, it's sometimes hard to find a reason to perk up. That's something best left to spring, when the sap runs, the birds twitter, the worm turns … sorry, going emo again there.
The absurdist-inspirational Tumblr Un Gif Dans Ta Gueule has the cure to the winter blahs for you, in one sweet, simple, and resonant image. Color Pipes is a rainbow of pipes set against dull concrete against a blank sky. At first nothing seems to be happening. Then, suddenly, a burst of color, of inspiration, and then another and another. And suddenly out the top pops a multicolored confetti, a shower of chromatic joy.
A simple pleasure, perhaps, but a pleasure nonetheless!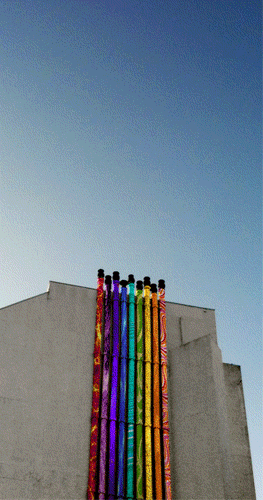 GIF via Un Gif Dans Ta Gueule/Tumblr