Tech

Tech

The gadgets, platforms, and software that make your digital life possible. if it bleeps, clicks or blinks, you'll find it here.

Internet Culture

Internet Culture

There's a community for everyone online.

Bazaar

Bazaar

The Bazaar specializes in the stuff you don't actually need…but you really, really want.
The Morning GIF: Mayor Bloomberg and Mr. Met
This GIF of the high-fiving mayor was a hit on Twitter and Tumblr last night.
Here at the Daily Dot, we swap GIF images with each other every morning. Now we're looping you in. In the Morning GIF, we feature a popular—or just plain cool—GIF we found on Reddit, Canvas, or elsewhere on the Internet.
"GIFs are like baseball pitchers. Both have their moments. The intervals are the tough things."
Okay, we may have slightly paraphrased Robert Frost (he said "poets"), but we're sure he'd agree. He'd also agree that this MLB GIFs moment has well and truly come.
New York City Mayor Michael Bloomberg is known for a lot of things, among them being intimidatingly smart, being intimidatingly rich, and being intimidatingly uptight. He is not particularly noted for his stylish way around the vernacular, either physical or literary. So it is with both delight and surprise that we present his tweet from Wednesday, containing both relaxed, slangy humor and an actual reaction GIF.
"When @MLB announced the 2013 All-Star game was going to be at Citi Field, I was like http://bit.ly/Jketv4" @MikeBloomberg tweeted.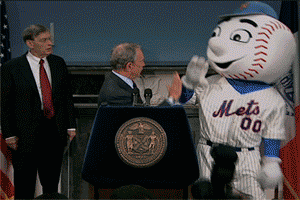 More than 265 retweets later, the gif of Mayor Bloomberg high-fiving mascot Mr. Met spread to Tumblr, where it garnered 194 notes and uncounted high-fives among baseball fans—which means all of us, amirite?
We, ourselves, were all like: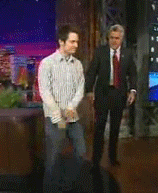 Lorraine Murphy is an Ottawa-based cybersecurity journalist and founding editor of the Cryptosphere. She has a keen interest in WikiLeaks and web culture, and her bylines have appeared in Salon, Vanity Fair, Serious Eats, and elsewhere.
© The Daily Dot, all rights reserved.
Represented by Complex Media, Inc. for advertising sales.