Here at the Daily Dot, we swap GIF images with each other every morning. Now we're looping you in. In the Morning GIF, we feature a popular—or just plain cool—GIF we found on Reddit, Canvas, or elsewhere on the Internet.
They came wearing face paint and spitting lyrics about hatchets, gangbangers, and "the mighty death pop." The higher the crowd's hands went, the more diet Faygo cola the Insane Clown Posse (ICP) and a cadre of masked cretins dumped on their heads. And when the horrorcore rappers from Detroit had dispensed with more than 200 bottles of cheap soda, ICP rushed off the stage and disappeared into the night aboard a Chrysler minivan.
This is how I spent my Cinco de Mayo, and it's one I will never forget.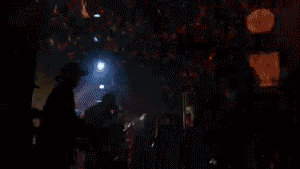 For as long as I've worked at the Daily Dot, ICP has never ceased to fascinate me or the world, for that matter. The group was founded in 1989 by friends Joseph "Violent J" Bruce and Joseph "Shaggy 2 Dope" Utsler. Since then, the duo has sold more than 7 million albums, been featured in a documentary and profiled in Wired magazine, and fostered the culture of Juggalos—that is, ICP fans who wear face paint and use phrases like "whoop whoop" to greet one another. Despite claims from Bruce and Utsler that Juggalos are good people who are just misunderstood, some fans have been linked to illicit activity. In 2011 ICP and its juggalos were classified as a gang by the FBI; ICP is suing.
And yet while a few Juggalos may have ruined it for the rest, that hasn't diminished the group's familial atmosphere. 
"It's great to see you guys," one random Juggalo in a ICP jersey told my friend Kenny and me as we rested against the wall of Poughkeepsie, N.Y.'s Chance Theater, waiting for the show to start. "Love the design."
He was referring to our black and white face paint we had donned in homage to Bruce and Utsler courtesy of Kenny's girlfriend: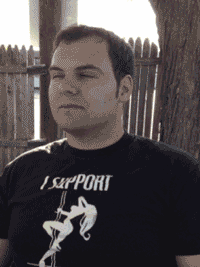 Other Juggalos with painted faces got a similar reaction—even from complete strangers. Some people even received hugs. Then the lights dimmed. 
"I'm scared man," Kenny said to me, as the crowd roared. "Faygo just doesn't sound right."
Kenny was correct. Over the next 90 minutes, two-liter bottles of Faygo smashed against the ceiling and speakers after being shaken by the band and its entourage. One bottle which was shaken by a roadie dressed as a demented clown crashed into the face of a fan near near me. The man grimaced in pain as he leaned over on his knees. As I approached to see if he needed help, he reached for the now dented bottle on the floor, and cheered before tossing it toward the stage. 
"This is f*****g crazy," Kenny told me as a stray bottle of Faygo sprayed us. "These people are crazy."
"No," I answered. "They're just Juggalos."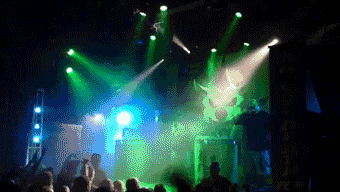 Images by Fernando Alfonso III