An artist hopes to take a Tumblr-based meme about a cute bear and a Canadian cop and turn it into a successful Kickstarter campaign.
Ami Guillen, known on Tumblr as Lemonteaflower,  and head writer and showrunner E.L. Zofchak are in the process of creating an animated series featuring a "female officer and her sentient bear, who solve cases and keep the peace within their small quirky town."
The show is called "Miss Officer and Mr. Truffles." The Kickstarter campaign will fund a seven-minute animated production short used to approach TV studios in the United States and Canada.
But the story of "Miss Officer and Mr. Truffles" began back in June 2011.
That's when Constable Suzanne Bourque was called to a Canadian rest stop because of reports of motorists feeding a bear. When she arrived, she sounded her horn, scaring the bear away. Bourque then spent the next 45 minutes talking to the people who fed the cub while waiting her colleague to arrive. By the time she did, the bear had returned looking for more food.
Bourque's colleague took the following photo of the two interacting: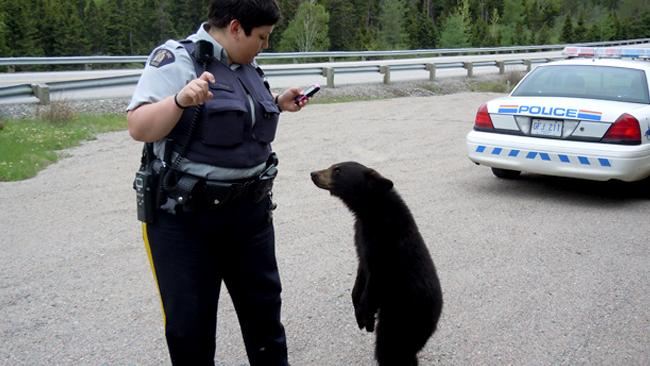 The photo existed in relative obscurity until January, when the following Tumblr thread inspired Guillen to transform it into some quick illustrations.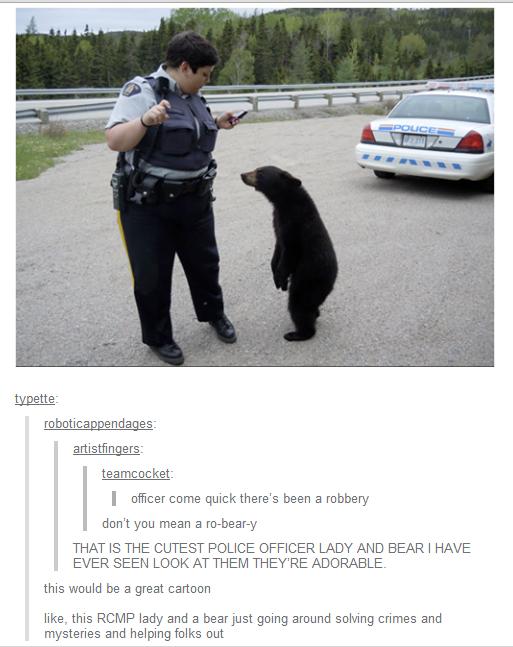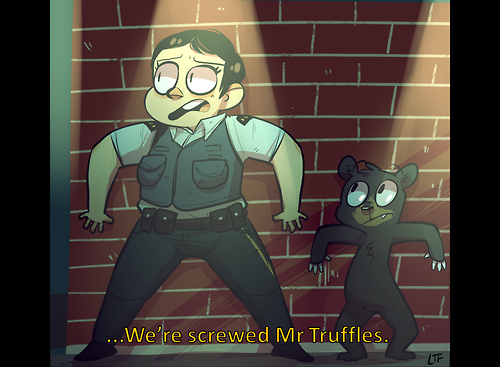 "I thought [the comics] were quite awesome," Bourque told me on Jan. 16. "She's quite talented. I don't know what caught her attention about it. I must say, I'd like to be in contact with her to see how she got it in her mind."
Keep an eye out on the Tumblr page Official MOAMT for more information on the "Miss Officer and Mr. Truffles" Kickstarter. The following are two more GIFs posted on Tumblr of the series in progress.
Photos and animations by Gus Sanchez, Avian Anderson, Marco Ibarra, and Mollie Boorman