At 17, rapper Lil Pump has charted on Billboard not once, not twice, but three times. His self-titled debut album premiered at the No. 2 position on Billboard's R&B/Hip-Hop album chart. Now, in perhaps his biggest achievement to date and the strangest crossover of 2018, he's linking up with Charlie Sheen.
Lil Pump posted an Instagram story video in May expressing his interest in collaborating with the Two and a Half Men star.
"Charlie Sheen I need you for my next video. I'll pay you all cash," the rapper said, flexing a massive stack of bills sprawled across a wooden table.
His dream finally came to fruition yesterday. He posted a series of videos featuring Sheen on the set of a new music video.
"We're about to make history," Sheen told Pump's followers in one of the videos.
Suited up in labeled "Doctor Pump" and "Doctor Sheen" costumes, the duo was seen draped in luxury. Between diamond chokers, glistening chains, and iced out Patek Philippe watches, Sheen and Pump appear ready to bring their swag to the screen. For Pump, "flexin' like ouu" isn't just a figure of speech—it's a lifestyle.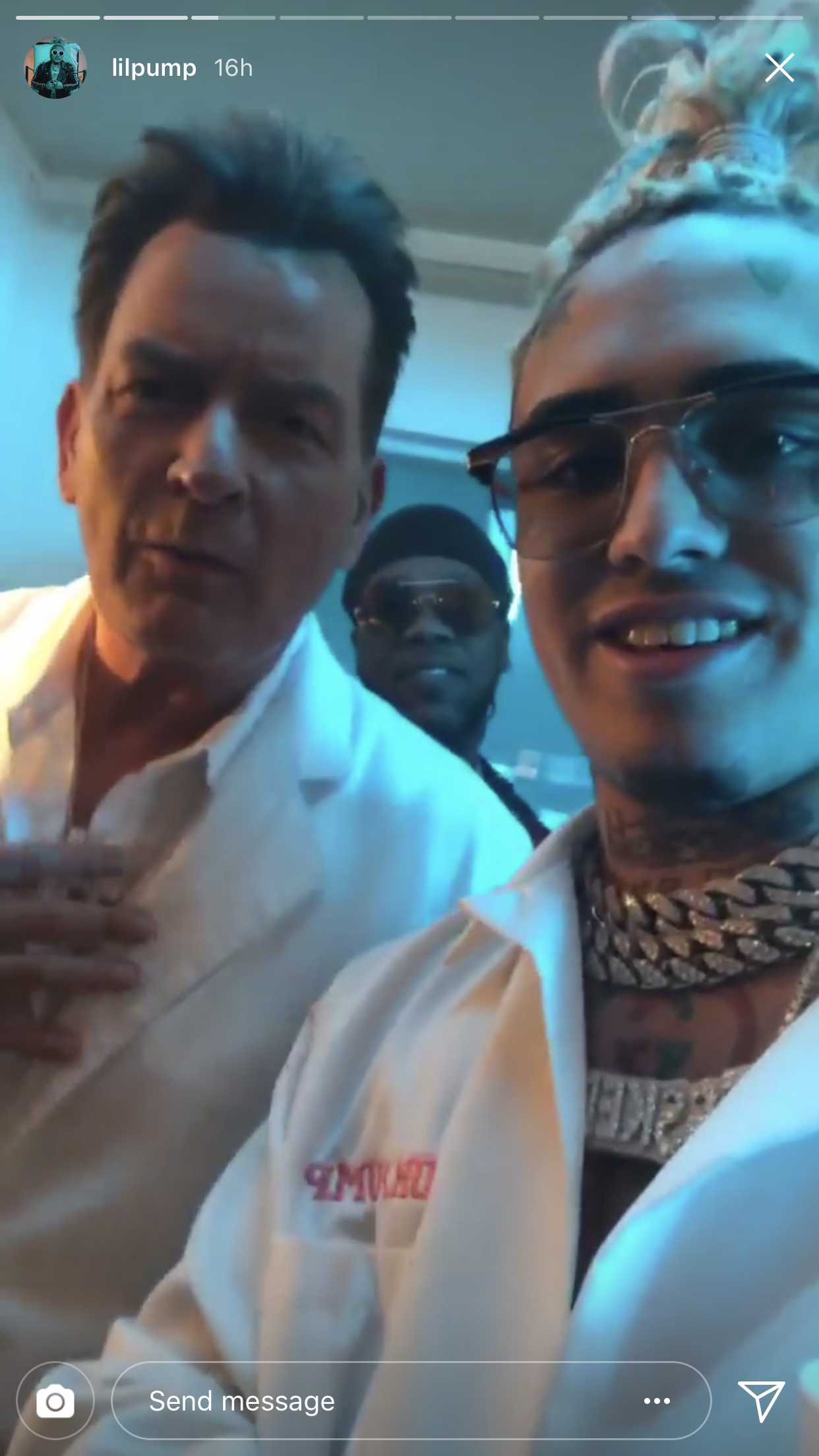 The visual will accompany an unreleased song titled "Drug Addict," TMZ reported. The cameo fits the bill, given Sheen's long history of substance abuse that has unfolded over the span of almost 20 years.
The collab video is destined for success if Lil Pump's track record is any indication. Within a month, the music video for his single "Esskeetit" surmounted over 189 million views on YouTube. Other videos like "Gucci Gang" and "Boss" also have hundreds of millions of views.
"No cap, Lil Pump has the best music videos, and that's no cap," the rapper said in another Instagram video.
He still has his critics. In April, Dreamville rapper J. Cole sent shots at Lil Pump on his latest studio release "KOD." The track "1985" brings light to the negative effects that Pump's "drug rap" may be having on a generation of young listeners.
ME & J COLE COOL NOW SO NOW ITS FUCK RUSS

— Lil pump (@lilpump) June 6, 2018
The two have since made amends, but clearly Pump is sticking to what he knows. He's bringing his own style to the table and doing it well. Pump didn't announce a release for the coming music video, but nevertheless, Lil Pump and Charlie Sheen are together at last.