On the podcast Raised by TV, Lauren Lapkus and Jon Gabrus are your guides to obsessing over '80s and '90s television, and they go deep.
The show is a loving review of TV shows you likely remember—Full House, Freaks and Geeks, Family Matters—but it also revisits series that have been lost to the sands of time and scripts from very special episodes. At the Moontower Comedy Festival in Austin, Texas, this weekend, they were joined by comedian Arden Myrin to dive into the episode of 90210 where the gang goes to an underground club and is offered a drug called "U4EA."
Lapkus (Crashing, Orange Is the New Black) says her favorite show growing up was probably Full House, but she hasn't felt as connected to its Netflix reboot, Fuller House. "That said, if they have any roles they want to throw my way, I'd be thrilled," she told the Daily Dot.  
In a December episode (the podcast debuted in November), Gabrus and Lapkus discuss a very special episode of the original Roseanne, in which Roseanne and Dan find out Jackie is being physically abused by her boyfriend. Asked about the reboot and the backlash that surrounded it, Lapkus says she's "able to separate my shows from the actors' politics for the most part. There are a lot of people I don't really agree with who I think are good actors or entertaining people. And I don't really think about that when watching them perform. But with that show, I think people were up in arms about it before even watching it. It wasn't so Trump-heavy or so supportive of one specific side that it was a turnoff to me. I thought it was really funny."
One series Lapkus thinks warrants a reboot—and holds up in a rewatch—is My So-Called Life, which was touched on during Moontower when Lapkus, Gabrus, and Myrin picked their dream friend "cliques" from classic sitcoms. "I feel like that was a show that didn't get to really, like, thrive," she told the Daily Dot, proposing that the reboot would feature the same characters (Claire Danes as Angela, Jared Leto as Jordan Catalano) but in present-day.
"And they'd have to have [Angela] have a teenage daughter," she adds.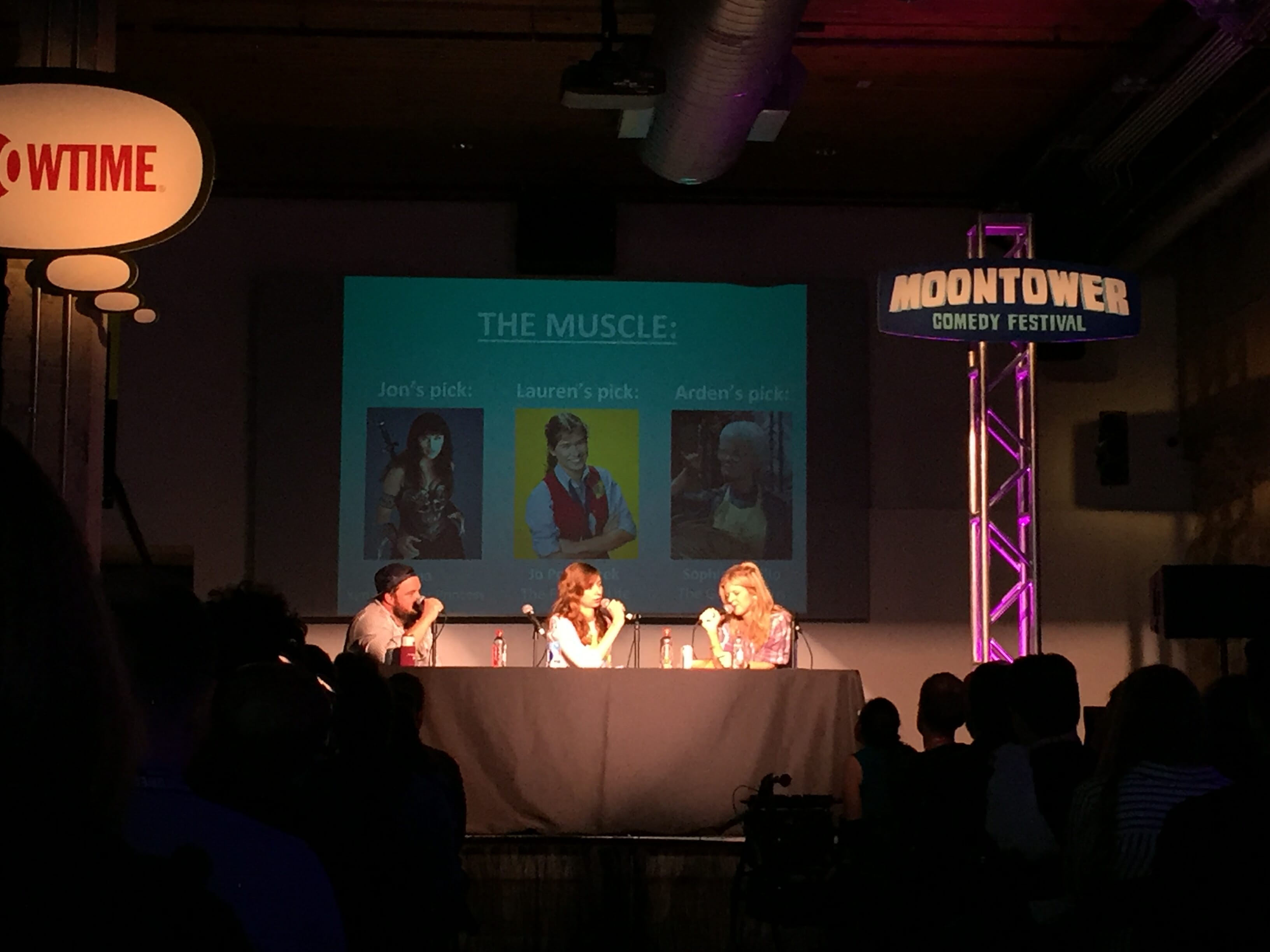 During the live show, there were discussions about the long-running conspiracy theory about Paul from The Wonder Years and Marilyn Manson, and fun facts, like Lapkus' admission that her cousin lives next door to Tootie from Facts of Life. On the podcast, the hosts marvel at shows like Teen Angel, which only ran one season and centered around a teenage boy who eats an old hamburger, dies, and returns as an angel. They recently revisited Nickelodeon, and rewatched a classic TGIF lineup to see if it holds up. Earlier this month they asked fans to create their own green-screen sitcom intros, and it got pretty intense. 
This was the most fun I've had on any project. Enjoy! #RBTV @earwolf @RBTVpod @Gabrus @laurenlapkus pic.twitter.com/RoBI8RrVAJ

— Krysten (@tenkrys) April 7, 2018
The show taps into TV kids' nostalgia brain and illuminates how certain markers of the era, like the very special episode, have largely disappeared from streaming TV. It's also a reminder that certain shows aimed at kids were kind of dark. Remember Zeke the Plumber from Salute Your Shorts? Or the refrigerator episode of Punky Brewster? 
But the show isn't all memberberries. Lapkus says Raised by TV also offers insight into how she and Gabrus (and other kids) consumed TV. "I think the funniest thing is just seeing the differences in what our families would allow us to do, or what brands our families would buy," she says. "His family would splurge and mine wouldn't. I think we've had a lot of fun moments discovering that."
Lapkus says she thinks people still find comfort in nostalgia TV because much of what we consume these days is "disturbing on some level."
"I think it feels really good to retreat into memories," she says. "Like, happier times. Even if you didn't have a totally happy childhood. I feel like some of my happiest memories involve watching something pleasant on TV."