Kim Kardashian is shutting down rumors following viral Twitter threads that suggested that she was the subject of one of Drake's songs and that the two had slept together.
The conspiracy theory, which appears to have been first posted by Twitter user @mdaixo__ (with a very similar thread from Tyler Morrison getting even more traction), breaks down what may have been going on between Kardashian and Drake while looping in recent feuds with Kanye West and Pusha T. It also argued that Kardashian was "Kiki" in Drake's song "In My Feelings" and pointed to the fact that Kardashian called herself Kiki as far back as 2010. (She also has a lipstick color named Kiki.)
GUYS IS KIKI (drake – in my feelings) KIM KARDASHIAN! Let's take a seat and break this one down! THREAD pic.twitter.com/sHDCzgK9T1

— mimi the blogger (@mdaixo__) August 30, 2018
Drake's been telling us for months now he slept with Kim K, we just haven't been listening

– a thread pic.twitter.com/YVCehJI5fQ

— Tyler Morrison (@tmorrison24) August 31, 2018
@mdaixo__ offered the possibility that Drake alluded to Kardashian as a response to his feud with West and highlighted several examples of Drake referencing or naming the partners or exes of other rappers with whom he's feuding in songs. Morrison even brought in the close proximity of Kardashian and Drake's homes as potential evidence and that their relationship might've been why Drake and West were fighting in the first place.
The conspiracy theory was given even more leverage by Nick Cannon, who told Complex on its show Everyday Struggle that the rumor of Drake and Kardashian sleeping together "ain't that far off of a concept."
But after the theory was highlighted on the Shade Room's Instagram account, Kardashian disputed the theory in a comment.
https://www.instagram.com/p/BnPtvt5FNEs/
"Never happened," she wrote. "End of story."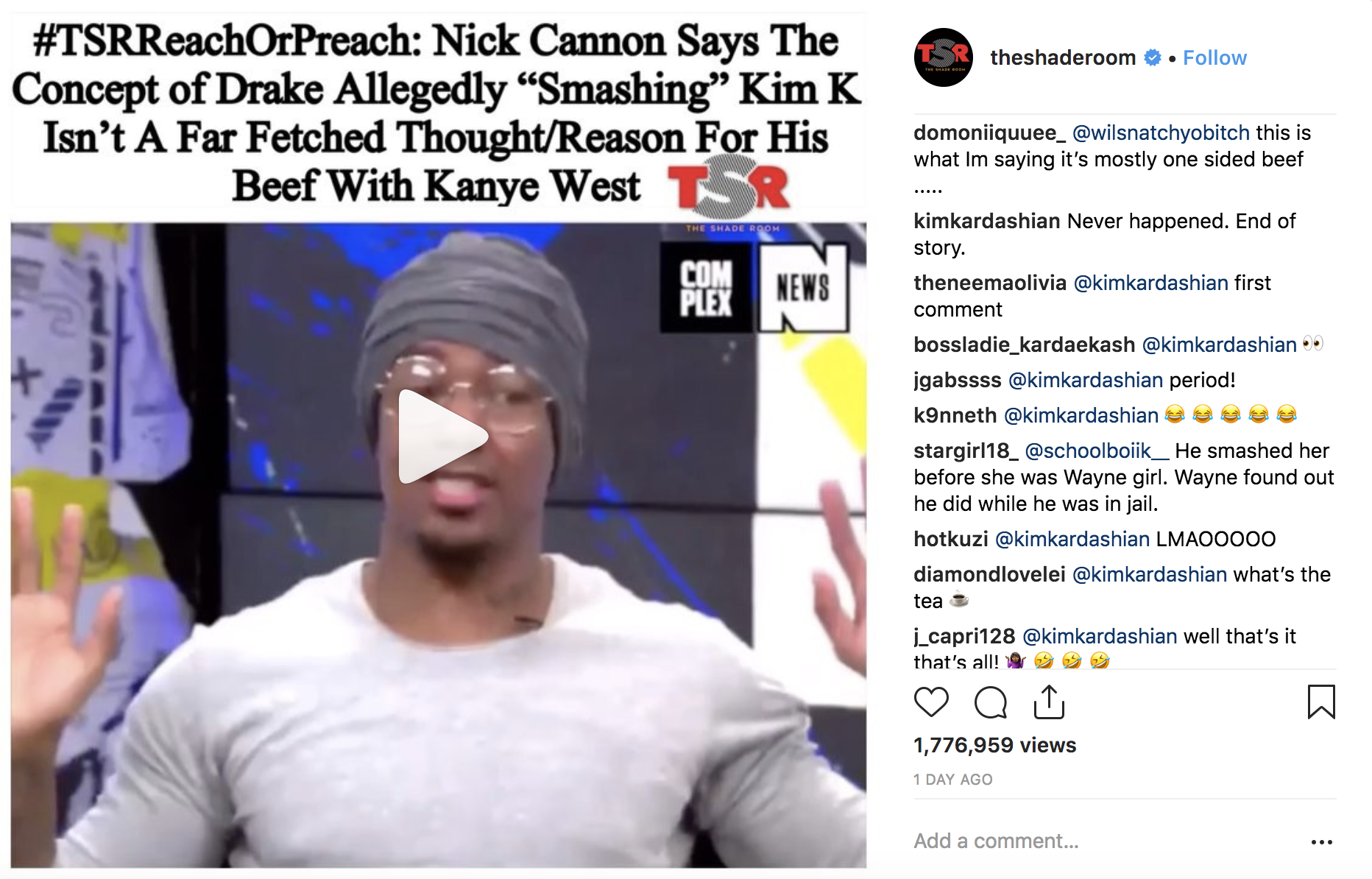 And now Kardashian's had her say—sans diss track.