Tumblr's stable of deranged GIF artists just got a new addition.
Kevin Weir is a New York-based art director and illustrator whose three-year-old GIF project Flux Machine has captured the Internet's attention.
Flux Machine features an assortment of creepy GIFs created from still photos and videos, like this one he did for A&E's Bates Motel.
"I started out making GIFs as a way to burn time and sharpen up on Photoshop at a summer internship," Weir told the Daily Dot. "At some point along the way, I kind of fell in love with animation and the project became a super fun/rewarding learning process."
One of Weir's favorite, and one of the most Photoshop-intensive, animations is called "Princess Juliana." It was submitted on Tumblr a year ago and has since collected more than 1,000 notes.
"It combines some of my favorite techniques: Taking pictures of my own hand, using random video snippets, and filming my own scrappy videos," he said. "Also, I nearly set the fire alarm off and probably breathed some terrible photo-paper fumes. All around a good time."
Weir's latest GIFs are similar to those from Colin "zbags" Raff and  Milos "sholim" Rajkovic, who have become Tumblr famous thanks to their GIFs of bulging eyeballs and mechanical faces.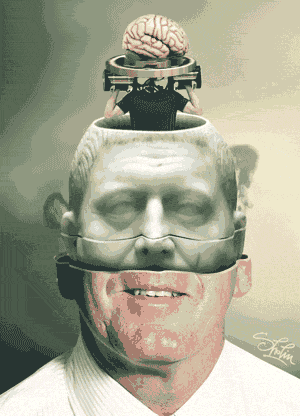 Weir is also the man behind sites like nyanwaits.com (featuring the Nyan Cat theme sung in the style of Tom Waits), sassybirds.tumblr.com (GIFs of birds being sassy), loudportraits.com (a photography project), and breadskins.com (an alternative naming proposal for the Washington Redskins).
Check out more of Weir's weird GIFs below.
Photos and animations by Kevin Weir