John Oliver's gay bunny book has found an audience.
On Sunday, the Last Week Tonight host spent a good part of the show taking shots at Vice President Mike Pence and his list of hypocrisies and then pivoted to the Pence family's new children's book about his rabbit, Marlon Bundo's Day in the Life of the Vice President. The book was released on Monday, but Oliver and his team already had their own book waiting in the wings: A Day in the Life of Marlon Bundo, in which the titular rabbit falls in love with another boy rabbit.
Oliver has done this kind of marketing before, but the gay Marlon Bundo book is currently the top-selling children's book on Amazon, with Pence's in the No. 3 spot.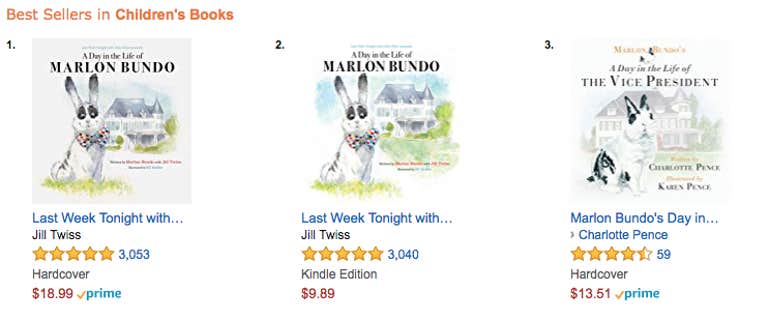 The book's villain, a stink bug, looks a lot like Pence, and proceeds will go to LGBTQ organization the Trevor Project or AIDS United. For those thinking this will start a war of words, the Marlon Bundo Instagram account is apparently on board with all of this.
H/T Huffington Post