The late entertainer Joan Rivers was nothing if not a workaholic. In every profile and interview that was released after her untimely death, friends and family commented on Rivers frenetic energy and constant need to work, even at 81 years old. That's why it should come as no surprise that the one-woman empire continues to post to social media from beyond the grave.  
On Friday, a post appeared on Rivers' still-active Facebook fan page that announced that she would be retiring her iPhone 4s, which served her faithfully for four years, in exchange for a shiny, new iPhone 6. The post, which went on to drag about Apple's "Great achievement in design," was removed shortly after it was posted, and we're assuming a social media intern is now on the job hunt.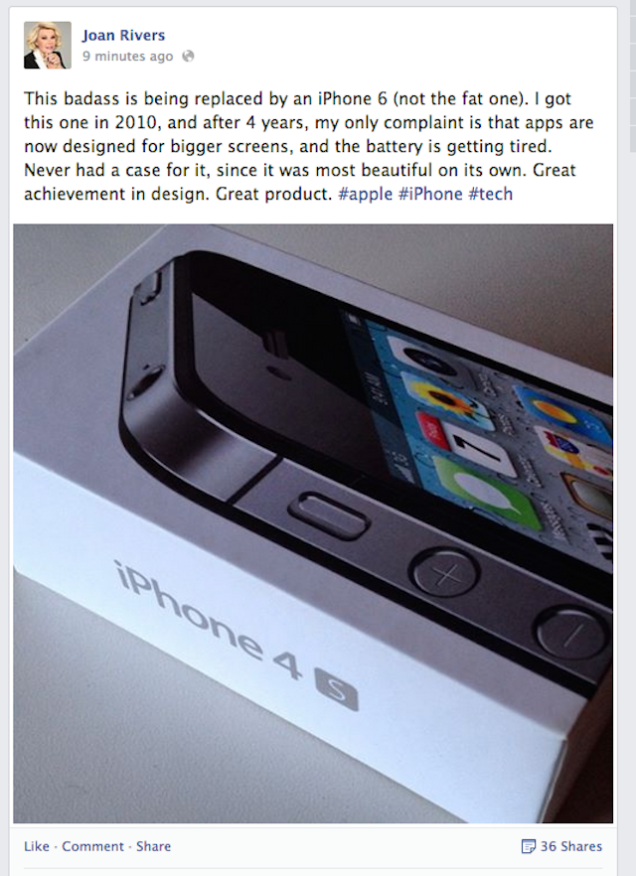 While it's no secret that celebrities hire out teams to schedule their social media postings well in advance, the announcement of the iPhone 6 didn't come until Sept. 9, five days after Rivers passed. Chalk the whole thing up to Joan doing a little bit of afterlife ass-kissing, hoping to get on Steve Jobs' good side.