INTOUR wasn't the only tween game in town in Pasadena, Calif., over the weekend. Just a few exits away, One Direction had taken up residence for a three-night string of shows. Many of the predominantly young women attending INTOUR, multichannel network Fullscreen's version of a YouTube and Vine star live event, had either gone to One Direction the night before, or were heading there after the daytime festivities came to a close.
"Our parents took us from San Francisco for One Direction last night, and InTour was our surprise gift," one 12-year-old told the Daily Dot as she and her friends waited outside the Pasadena Convention Center the day before the event, hoping for a glimpse of one of their favorite stars. They'd realized the group was rehearsing because Jc Caylen, of vlogging supergroup Our 2nd Life, posted a Snapchat story for his followers. Eventually Viner Alx James came out and posed with the girls, even picking up one of the youngest ones for an extra adorable snap.
That's the defining factor that sets INTOUR apart from the stereotypical teen entertainment complex. Harry Styles won't be popping out for impromptu photo session any time soon, and most of the traditional teen media empire doesn't allow the fans a chance to come up on stage and eat a Nutella taco with their favorite stars, let alone craft an entire entertainment experience around that level of interactivity.
•••
"As talent managers, we've gone to a lot of these events," explained Daniel Rosen, a Fullscreen talent manager and production manager of INTOUR. "We really wanted to build a premium experience for fans and the creators we represent. We have a really unique perspective being talent managers because we really know the unique needs of our talent and the unique needs of our fans. We partnered with Second City to create really unprecedented, amazing programming, and we partnered with Kevin Lyman to make this as logistically sound as possible. "
Rosen emphasized the time Fullscreen put into making its live offering distinct from other moments for fans and digital creators to come face-to-face, from staples like DigiTour and VidCon to the many fan conferences that are popping up across the country.
"We've put a lot of time, energy, and resources to blowing INTOUR out," he said. "The experiences fans and creators are going to have with the stage programming are completely unprecedented. We've engaged and involved fans in the stage performance in ways that haven't been done before. We looked at what works really well for the talent online, and we tried to translate that into content that works really well on stage. We spent time figuring out what is the unique, live experience for these fans and creators."
"Fullscreen reached out to me as they started to shape the event and asked me to come in and work directly with the talent to assist … in developing the acts for the stage," explained Second City's Marc Warzecha. "I really immersed myself in this emerging genre and … I got really well educated on it online. I think it's going to be a very special event for the fans. They're not only going to get to see the talent; they're going to see the talent doing engaging, entertaining things that they don't get to see the talent doing online. We want the live experience to be special and unique for them."
•••
Ultimately, INTOUR was YouTube come to life, the four-hour equivalent of zipping through related videos on a YouTube binge. And that's only taking the stage-show into consideration. There was a morning meet-and-greet for select ticket holders that snaked through two rooms at the convention center and saw fans snapping selfies with their favorite creators. Most fans weren't there to see just one act, instead rattling off a laundry list of names of who they cared about most, and the entire event played to that mentality in the spirit of YouTube's collaborative nature. 
Aside from solo moments on stage and limited meet-and-greet lines, the creators also mixed and matched different games in front of the cheering crowd. They lip-synch battled, with singers like Sam Tsui being a standout. They had dance-offs that were dominated by Anthony Quintal, better known as Lohanthony, and his twerking abilities. They conducted a water war where Jc Caylen and Dylan Dauzat pulled cards from a deck and the one with the lower number was doused in increasingly larger amounts of water, until the boys stripped their shirts and threw them to the crowd, inciting a frenzy to claim a piece of the immediately shredded garments. There were two female creators taking part in the event in addition to the gaggle of boys—Jenn McAllister, also known as Jennxpenn, who shared a Top 10 Ways to Get Ready for INTOUR multimedia countdown, and Charity Vance, who wowed with her American Idol-trained voice.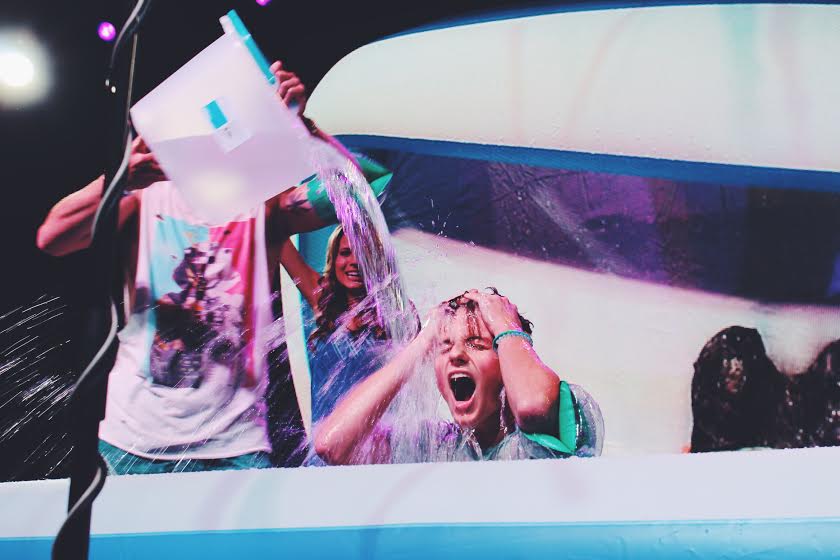 The only two acts who stood alone were Connor Franta, who appeared for a Q&A moderated by McAllister where he told the screaming fans he prefers bagels over pancakes. Headliners Jack and Jack, the duo of 18-year-olds Jack Johnson and Jack Gilinsky who've spent considerable time on the DigiTour, also didn't appear in other skits, but closed the event with a six-song set that could have easily been an opening-act for the boy band down the block. While Franta and the Jacks' fame quotient may be slightly higher than the other participants, it was hard to discern based on how much the crowd cheered on each and every act who took the stage. 
Way at the back of the performance space sat weary parents. The event supplied a quiet, parents-only lounge with a cash bar, but it was barely full. Most guardians claimed the colorful bean bag chairs throughout the center, waiting out their kids' enthusiasm.
"I didn't realize it would be such a long day," said Samantha, who'd driven with her 14-year-old daughter from San Diego for the event (she declined to give her last name for this article). Other pairs of moms had bonded during the day, one having come from as far as Dallas as a special trip for her 11-year-old who was a big fan of O2L member Ricky Dillon. They knew in general which stars their daughters were biggest fans of, but had opted to leave their kids to the excitement of the afternoon. One had even snuck off for a movie at the theaters across the street, unnoticed by her daughter. Fathers lounged too, guarding charging cell phones until they dismissed by their daughters to head off to the gym, only summoned later for a ride home. 
The event wasn't girls only, but boys were few and far between. One of the few young men in attendance was Jordan Dowodzenka, who was stopped often for photographs despite not being part of the performance. He's a Viner himself, with a respectable 63,800 followers on the platform. A college student from Michigan, he's spending the semester in Los Angeles as an intern while he continues to work on his digital career, and in the woman's world of INTOUR, he couldn't have gone incognito if he'd tried. INTOUR went to lengths to keep the performers from moving among the crowds to avoid mobs, containing their interactions with fans in controlled spaces and keeping focus on what was happening on stage, where the event served as a chance for the creators themselves to stretch their talents. Fresh Big Mouf, who felt like one of the elder statesmen, debuted a live version of his beat scouting that earned him digital fame. It veered from the more relaxed, sleepover-style entertainment of the rest of the group. Jc Caylen trained with a choreographer to debut a dance number, something he's never done before.
"I literally just jumped into it," Caylen told the Daily Dot, citing films like You Got Served and the Step Up franchise as inspiration for his newfound passion. "It's completely new. It's kind of out of my comfort zone, but I think that's good. I always wanted to dance. This is the beginning to my whole dancing career, if I wanted to ever take up dancing. For now it's only for fun."
•••
Fun wasn't in short supply at the event, and fans left with not only memories, but tangible displays of their fandom, from shirts and bags to increasingly personalized and inventive photos with the stars. Performers were game for all sorts of snaps with the fans, ranging from faked marriage proposals to forehead-touching embraces that would be too much PDA for the middle school dances these tweens attend. If it's something that would probably get you kicked out of a One Direction meet-and-greet across town for being too inappropriate with the celebrities, it's fair game at INTOUR, where the line between fan and creator is murky at best.
The afternoon ended as Fresh Big Mouf spun pop tracks, weary staff munched on nachos, and photobooth GIFs were projected on the otherwise blank conference center walls during the Taco Bell-sponsored after party that gave lucky VIP fans a chance to interact with the 15 celebrity guests in a more laid-back setting, questing to get a selfie with each in a collect-them-all fashion. When the doors had opened to the afterparty, the talent had been lounging together on bean bags in one corner, and fans crowded near, waiting for their moment with the stars. Quickly everyone began to spread out, until it was hard to differentiate the event from any teenage party, or identify where the creators ended and fans began. 
Photos courtesy of Danielle Jaime