Is the actor John Cusack a graffiti artist obsessed with Tupac Shakur and Macaulay Culkin? Probably not. But this Instagram account that he's denying is his might say otherwise.
Cusack, an 80s heartthrob known for movies like Say Anything and High Fidelity, was reportedly behind the surreal Instagram account @CusackShakur, a bizarre photo hub of videos of former child star Culkin eating pizza, walls tagged with "John Cusack," photos of the actor with L.A. artist David Choe, and photoshopped mashups of Cusack, drugs, sex, and the rapper Tupac. A frequent hashtag used is "#dontfuckwithme."
On Twitter this week, Cusack denied the account belonged to him after a site called Slam X Hype wrote about it in an article called "What Has John Cusack Been Up To?" Other sites also picked up the story that the Instagram belonged to Cusack. He'd previously denied being behind the "John Cusack" graffiti tag in August, but had never addressed whether @CusackShakur was really him.
wasn't me! 'John Cusack' on a graffiti tagging spree across east Vancouver: So who's really the culprit? https://t.co/iyIllYgiam via

— John Cusack (@johncusack) August 1, 2013
In the SXH article, the site says the account does belong to Cusack, "It's unclear whether he's doing this stuff as a performance art thing a la Joaquin Phoenix in I'm Still Here, but everything's there on his IG, so follow him @CUSACKSHAKUR and take an adventure through the mind of 2013 Cusack below."
The graffiti, mostly done in the Vancouver area, includes the name "John Cusack" or tags including "Don't Sleep On John Cusack" and his name mocked up like the Wu-Tang Clan symbol cleverly changed to say, "Cu-Sack." The graffiti tag also often references Shakur, connecting the IG account to whomever is doing the tagging.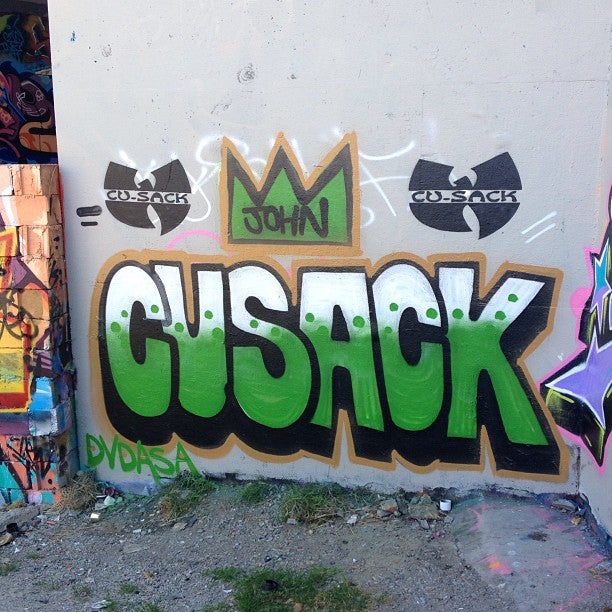 Cusack, on Twitter, again denied that either tag belonged to him, though he did admit to creating graffiti with his friend Choe, some of which includes Culkin.
The account also alleges (truthfully!) that Cusack is obsessed with imagery showing Culkin as a Christ-like figure. Cusack claimed on Twitter that the Instagram is a "creepy fake account" but then confirmed that he did indeed make the picture of Culkin as Jesus behind him in one of the photos.
"Yeah we did that – @azmatthews: @Lucky1Amore I couldn't see you doing the Culkin halo thing either.."

— John Cusack (@johncusack) December 31, 2013
There are also other photos of Cusack posted to the account, so if it doesn't belong to him how is whoever runs it getting these pictures? Most of the photos of Cusack on the site include Choe, and some on Twitter speculate that Choe is behind the Instagram, but Cusack quickly shot down that theory.
No he's not like that – good guy "@Sadiesniece: @Lucky1Amore There is a rumor going around that David Choe is behind that account. True?"

— John Cusack (@johncusack) December 31, 2013
So what is going on? On Twitter, Cusack denies the account @cusackshakur is his, but the pictures and videos on it are not fake. He says he does not have an Instagram. Who is behind @CusackShakur? How are they getting this information and these photos? Best guess is that it's indeed David Choe, but Cusack called the account "creepy" and cleared his friend's name. So basically, what?
Photos via CusackShakur