Longtime sexual assault activist and Law and Order: SVU star Mariska Hargitay told Vanity Fair recently that she's received countless letters from survivors over the years from women who connected with her fictional series lead, the social justice-minded Olivia Benson. She explores these legal failures in HBO's I Am Evidence, a harrowing documentary in which she serves as executive producer.
It's hard to watch any stretch of the film and not have your blood boil. The film opens with security camera footage of women being attacked in the streets and in homes. Text punctuates this opening by telling the audience that someone is sexually assaulted every two minutes in America. So, statistically speaking, someone has been attacked during this prologue. As this text comes on-screen, the weight of it hits you full force. That sets the stage for the film, which looks at the way sexual assault cases are investigated across the country. More accurately, it looks at how many of these cases are not investigated.

Through the lens of victims and police, directors Trish Adlesic and Geeta Gandbhir bring a measured approach to the material. The film focuses on the backlog of untested rape kits stored across the country. This issue first came into the public consciousness in 2009 when thousands of untested rape kits were found in a Detroit evidence room. County Prosecutor Kym Worthy, based out of Wayne County, Michigan, has led the charge in having these kits tested and pursuing criminal cases where possible.
But the problem wasn't isolated to Detroit. Per the film, there are over 200,000 untested rape kits collecting dust in storage rooms across the country. Not only has the system failed the victims, but the failure is so pervasive that it created more victims. Take the cases of Helena and Amberly, two survivors whose stories are prominently featured. Helena reported her rape to authorities and did everything she could to bring a rapist to justice. But the authorities let her case die on the vine. That neglect left a rapist on the streets and left him free to assault Amberly. The two women live in different parts of the country and share no other connection. Amberly's case was similarly disregarded.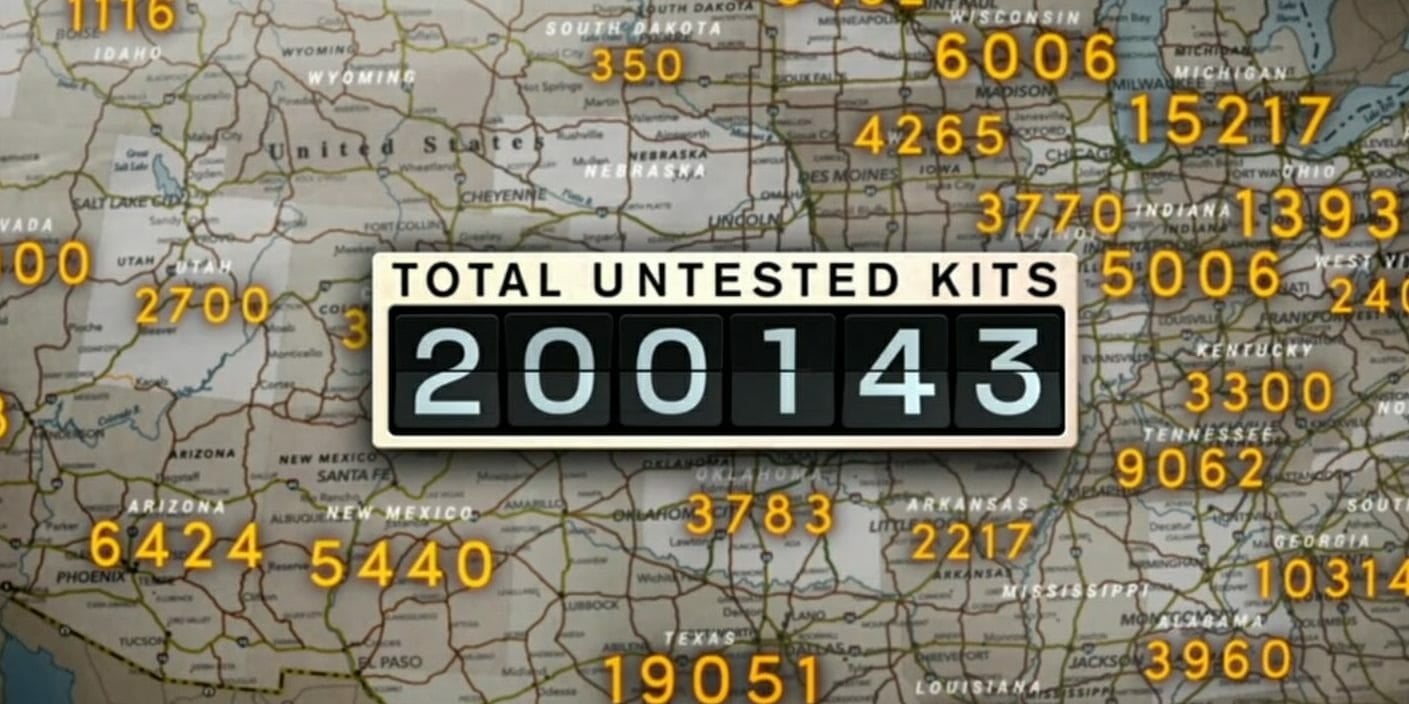 The failure of the justice system in the cases of Helena, Amberly, and so many others is the heart of the film. Adlesic and Gandbhir are shining a light on the systemic and societal inequality and misogyny coursing through the country. In these #MeToo times, every person and system must be held accountable for their actions.
"Nobody cares about women in this country," Kym Worthy says less than 10 minutes into I Am Evidence. Kym's matter-of-fact tone when she says this can only come from someone with firsthand experience. It's sobering. Between the stories of women brutalized by men, then victimized again by lazy, uncaring investigators, you can't disagree with Worthy. There is a moment in the film that shows a trial. There is a woman, the victim of a rape, on the stand and the defense is questioning her. This older man stands there and peppers the woman with questions about what she was wearing when she was attacked. Or why she didn't run, despite her explanation that the man had a gun and she didn't want to die. It's one of many moments in the documentary that encapsulates everything that is wrong with us as a society.
I Am Evidence is more than just a damning condemnation. It's a call to action. In its closing stretch, I Am Evidence finds hope and gives the film's title an optimistic tenor. Kym, Helena, Amberly, and too many others are living proof that we can, and must, be better. I Am Evidence doesn't exactly say anything that we don't already know, but it makes clear the cost of this dereliction of responsibility. It also makes clear the importance of continuing to fight for a better way. Men have created and perpetuated this unequal and unjust mess, and we are the ones who must take heed of stories like this and work with the Kym Worthys of the world to rectify it.
If you are a victim of sexual assault or want more information on sexual assault, contact the Rape, Abuse & Incest National Network at 1-800-656-HOPE (4673).