Michael "Venom" Page (15-1) is the kind of fighter promoters dream about at night. He has all the makings of a marquee star. He's got charisma and talent and he's daring in the cage, with a gif-ready, highlight-reel style made for the YouTube era. He throws wild tornado kicks and leaping-knee knockouts and does mocking dances when he wins. He has a nearly perfect record, a quick mouth, and the kind of cockiness you either love to hate or hate to love but can't turn away from. And he's only 32. All he has to do is move up the ladder and beat better and better competition and the whole world will reveal itself to him. Which is why, for the next chapter in his illustrious career, Page will be fighting … Giovanni Melillo.
If you've never heard of Melillo (13-4), who will face Page in a fight you can live stream on the Bellator app, you're not alone. Before getting the call from Bellator two weeks ago, the 34-year-old Italian was toiling in semi-obscurity on the European regional circuit, fighting one fight for Superior FC then another for ACB and then Babilon and Venator and Fighting Club and back to Venator again, etc., etc.
Normally such a scenario—a star fighting a minor player in a main event for a big promotion—wouldn't be anything unusual. After all, Bellator only had two weeks to replace Page's original opponent, Derek Anderson—who was injured in training—and it's hard to get fighters to commit on such short notice.
For many big names, it's not worth the risk, either to their bodies or their records, to fight without a full camp and a carefully orchestrated weight cut. But such last-minute scrambles can provide opportunities for lesser-known fighters stuck in smaller promotions, fast-tracking them into bigger and better things. Many mixed martial artists over the years have made their careers by taking last-minute fights against superior opponents. Some, like former two-division UFC champion Daniel Cormier, have even made legendary careers that way. As for the more well-known member of such a pairing, occasionally fighting beneath your level is just the cost of doing business.
The problem is that the Melillo situation doesn't feel like the exception in Page's story but the rule. Now seven years and 16 fights into his professional career, Page has developed a reputation as a "can crusher." The kind of talented fighter who routinely accepts fights with lesser opponents and handily beats them. The last man Page faced, Richard Kiely, had fought only six times before they met, and two of those were amateur bouts, both losses. Page's Bellator record is full of guys like Kiely and Melillo: gatekeepers, journeymen, men without prospects or even Wikipedia pages. Which has been bad for the Englishman's reputation. Once famous, even feared, for his acrobatic striking and flashy behavior, he's now better known as a coddled fighter, cherry-picking little-known opponents to pad his record and fill his Instagram feed.
This is the second-worst reputation you can have in MMA. Only quitters are looked upon with more scorn than can crushers.
The one thing saving Page is that his career trajectory may not be entirely his fault. No promoter wants to see a telegenic star get beaten, and Bellator may simply be protecting one of its biggest assets from the supposed indignity of defeat. Which is ridiculous. In MMA, losses are far less damaging to a fighter's reputation than the belief that he dodges dangerous fights.
Unlike in boxing, where a defeat or two can be fatal, MMA fans will forgive a fighter any number of losses if they believe he's fighting the best competition available. Nate Diaz and Jorge Masvidal, arguably the two biggest stars in the sport, have 25 defeats between them, but fans excuse those losses because they see them not as blemishes but as evidence of lives nobly lived.
If Page hopes to become the fighter he assures us he is, he needs to take a chapter from the Masvidal-Diaz playbook: He needs to beat Giovanni Melillo on Saturday in London soundly and then never ever fight anyone like him again.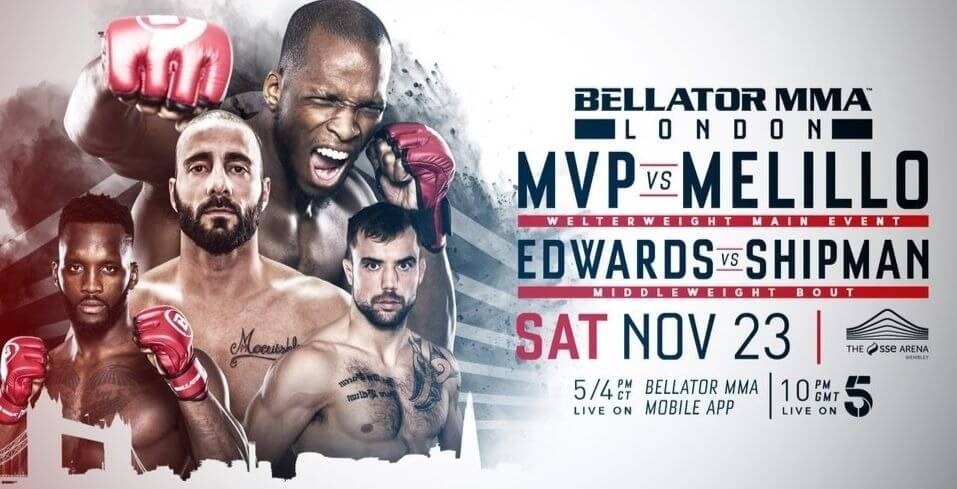 Bellator London: Michael 'Venom' Page vs. Giovanni Melillo
When: Saturday, Nov. 23, at 5pm ET
Where: SSE Arena in London
Streaming: Bellator app
Page vs. Melillo live stream: How to watch without cable
Normally, Bellator events are shown on either the DAZN streaming service or, for U.S. audiences, on the Paramount Network. But in this case, the only way to watch the fight card is on the Bellator app.
It's available for iOS and Android users, and it's free to download. All you need to do is verify you have a satellite or cable subscription to begin watching Bellator MMA. As the organization notes, the app allows fans to "view original content, watch live prelims … explore fighter stats, and much more."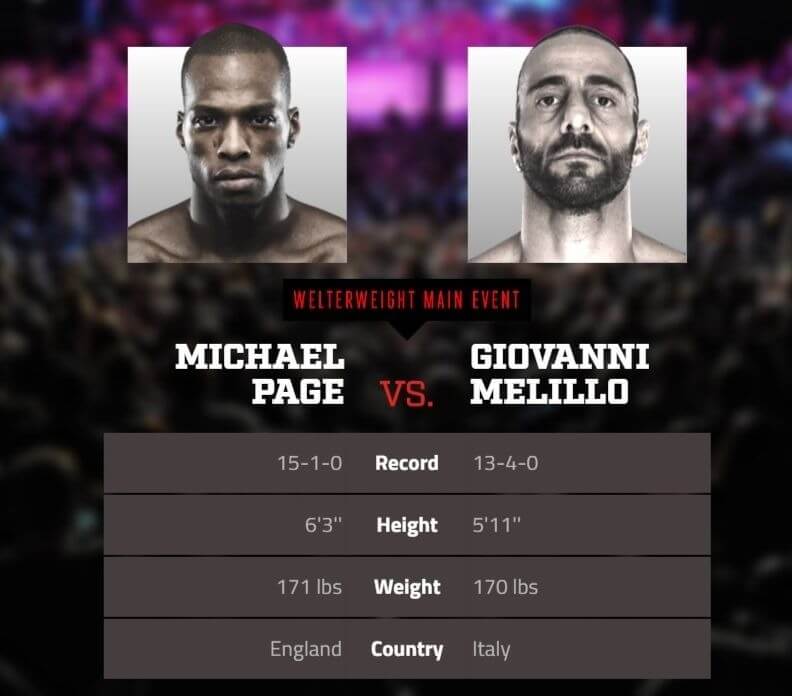 Bellator London live stream schedule
All times ET.
Main card | 5pm on the Bellator app
Michael Page vs. Giovanni Melillo
Fabian Edwards vs. Michael Shipman
Terry Brazier vs. Soren Bak
Prelims | 11:30am on the Bellator app
Charlotte McIntyre vs. Josie Blaber
Raphael Uchegbu vs. Shane Campbell
Akonne Wanliss vs. Tim Barnett
Nathan Rose vs. Harry Hardwick
Jeremy Petley vs. Tom Mearns
Aiden Lee vs. Damian Frankiewicz
George Tokkos vs. Kevin Fryer
Alfie Davis vs. Alessandro Botti
Kent Kauppinen vs. Andy Manzolo
Chris Bungard vs. Benjamin Brander
Walter Gahadza vs. Lewis Long
Robert Whiteford vs. Sam Sicilia
Charlie Ward vs. Pietro Penini
Charlie Leary vs. Tim Wilde
Denise Kielholtz vs. Sabriye Sengul
For a year-round sports fix, sign up here and check the "sports" box to receive our weekly boxing newsletter. You'll hear about all the biggest fights and best knockouts from the Daily Dot's streaming sports guru Josh Katzowitz.
The Daily Dot may receive a payment in connection with purchases of products or services featured in this article. Click here to learn more.