In the world of Los Espookys, HBO's new Spanish-language series about a band of horror-making outsiders, people have normal jobs like being a valet or dental hygienist. They are also heirs to chocolate fortunes who were imbued with mysterious powers as orphaned children.  
The Chile-filmed Los Espookys—created by Fred Armisen, Julio Torres, and Ana Fabrega—is a horror-comedy telenovela about people with a talent for scaring. Armisen is the good-natured valet, Uncle Tico; Torres plays the otherworldly chocolate heir, Andrés; Fabrega plays the high-strung Tati, while Ursula (Cassandra Ciangherotti) is her more chill hygienist sister. Bernardo Velasco plays Tico's nephew Renaldo, who's spurred to form Los Espookys after Tico asks them to perform a fake exorcism.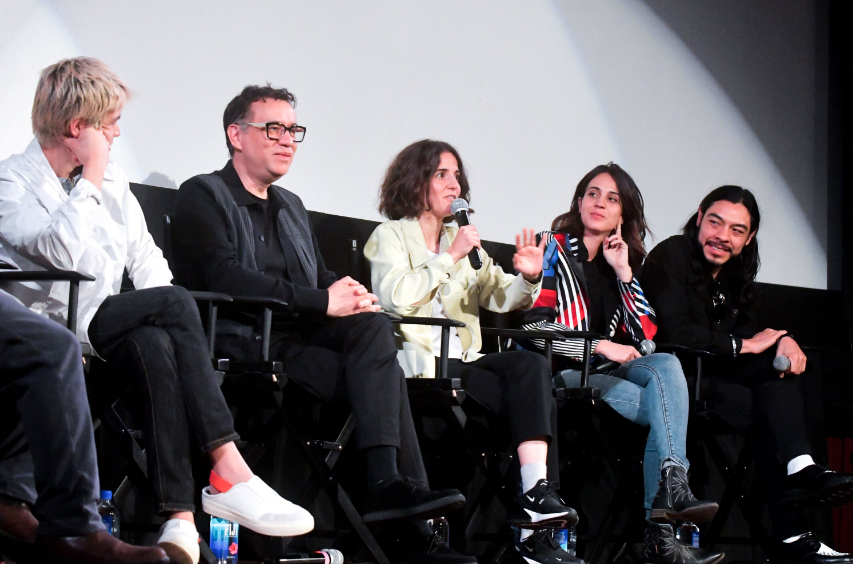 The pilot is soapy and absurd, and a bit adjacent to What We Do in the Shadows. But it's not something HBO has really ever put forth. Armisen, in a post-screening Q&A at the ATX Television Festival, said he'd always had the idea for a Spanish-language show about people who like to scare, and a trip to Mexico City helped solidify the show's more "goth" look. The series is "the other side of Scooby Doo," Armisen said, though the gang's missions here are surreal and witchy, and become more advanced as the series goes on. Torres, a writer for SNL, described his character as "half vampire, half C-3PO," and clarified that it's "horror in a warm, cartoony sort of way." He also referenced the Brazilian telenovelas his mother would watch that had more "magical realism" and high concepts, like a man who was in love with the moon.
From just the pilot we don't get much of a sense of what life is like in an everyday way, besides the undercurrent of Catholicism. The series actually doesn't feel like it's from any specific time period until it gets to the scenes shot in L.A. Velasco and Ciangherotti come from more dramatic acting backgrounds, so it balances out the show's jokes and gags. For example, there's a bit about "Charles Boingo," the owner of airport wifi, or even a sight gag involving Tati spinning a fan as a form of employment. Only the pilot was screened, but the second episode, "The Inheritance Scare," alludes to a more elaborate affair. 
Fabrega said she wants both Spanish-speaking viewers and non-Spanish speakers to enjoy the show–the subtitles don't distract from the narrative. Los Espookys wasn't alone at the festival, either: Hulu's upcoming Into the Dark episode "Culture Shock" is half in Spanish and was directed by Gigi Saul Guerrero. One Day at a Time, Vida, and Alternatino were also represented.  
Los Espookys debuts June 14 on HBO.