Girls have more rules than you think. Especially when it comes to GIF animations.
A new Tumblr from HBO called "What Should We Call Girls" (WSWCG) is the official home for GIF animations for the hit TV show. Fans of the show, which follows four women as they navigate relationships and jobs in New York City, are also encouraged to submit their own, only there's a catch.
The blog's right hand column features the "GIF (SPIRIT) Guidelines," a list of requirements that must be followed when submitting animations gleaned from the Golden Globe-winning show, including "All GIRLS content in GIFs must be obtained from authorized sources of HBO programming."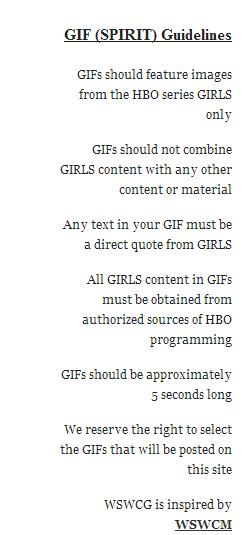 "What Should We Call Girls" borrows its name from a meme, and its format from other successful single serving blogs like  #myfriendsaremarried, which feature funny GIFs with funny phrases above them. But in this case, each funny phrase must be "a direct quote from GIRLS."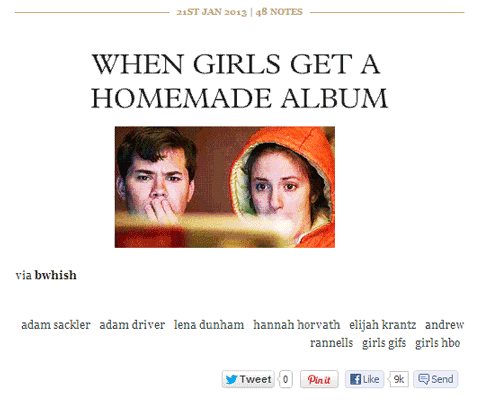 Despite the strict GIF rules, WSWCG has published more than 100 animations, averaging around 100 notes each. But that hardly compares to unofficial Girls-related Tumblr blogs like Fuck Yeah Girls HBO and Girls Caps, which are stocked with random GIFs and images that have collected thousands of notes.
Such restrictions on how content is shared or interacted with are nothing new for HBO.
Over the past year, HBO has refused to offer its beloved HBO Go streaming service to people who do not have a cable subscription. Currently, HBO Go is free with the purchase of an HBO subscription, but many people are willing to pay between $4 to $40 a month just for the
streaming service.
The restriction inspired the poll Take My Money, HBO! in June where people could vent their frustrations and share how much they would pay for HBO Go. The Girls Tumblr blog has not caused any sort of outrage (yet) but has made GIF artist collective Mr. GIF question HBO's intentions.
"It is pretty funny that they put so many constraints on what you can submit," Mr. GIF told the Daily Dot. "It looks like its a legal thing. I mean it seems like a odd barrier for entry though. You would imagine that the goal is to get as many people as possible to submit."
Images via What Should We Call Girls