It's been two years since we last saw Larry David in the world of Curb Your Enthusiasm. While shorter than the five years between seasons 8 and 9 of the hit HBO sitcom, these past two years were different. Season 9 took place during the first year of the Trump presidency, when the country, and viewers, were still new to it. Now, three years in, the question must be asked: Are the adventures of a spoiled millionaire who always says the cruelest thing he can think of regardless of who gets hurt still funny? The answer, it turns out, is yes, provided they don't have nuclear weapons. 
Curb Your Enthusiasm, Season 10 Ep. 1
RELEASE DATE:
Jan. 19, 2020
CREATOR:
Larry David
STREAMING:
HBO
As it embarks on a 10th season, Curb Your Enthusiasm refines its approach.
In fact, for Larry, as is true for most millionaires under Trump, nothing has changed: He and Cheryl are still separated, Jeff's still his manager, and he's still hanging out with Leon. Most importantly, Larry is still a horse's ass to everyone he comes in contact with. 
Season 10 opens with Larry and Leon walking down the street, having a lively discussion about whether they like the color of their skin. They're oblivious of everyone around them until a selfie-stick-holding couple gets in their way. Larry reaches out, breaks the stick, hands back the phone, and goes along his way. This is still the man we love to cringe along with. 
In many ways, Curb Your Enthusiasm never needs to reestablish itself because it's never been anything but precisely what it is. That's a blessing and a curse for viewers because while no one makes an awkward situation worse than Larry David, it can be easy to tire of misanthropy. To combat viewer exhaustion, season 10 doesn't so much reimagine what Curb Your Enthusiasm can be as it does refine its approach.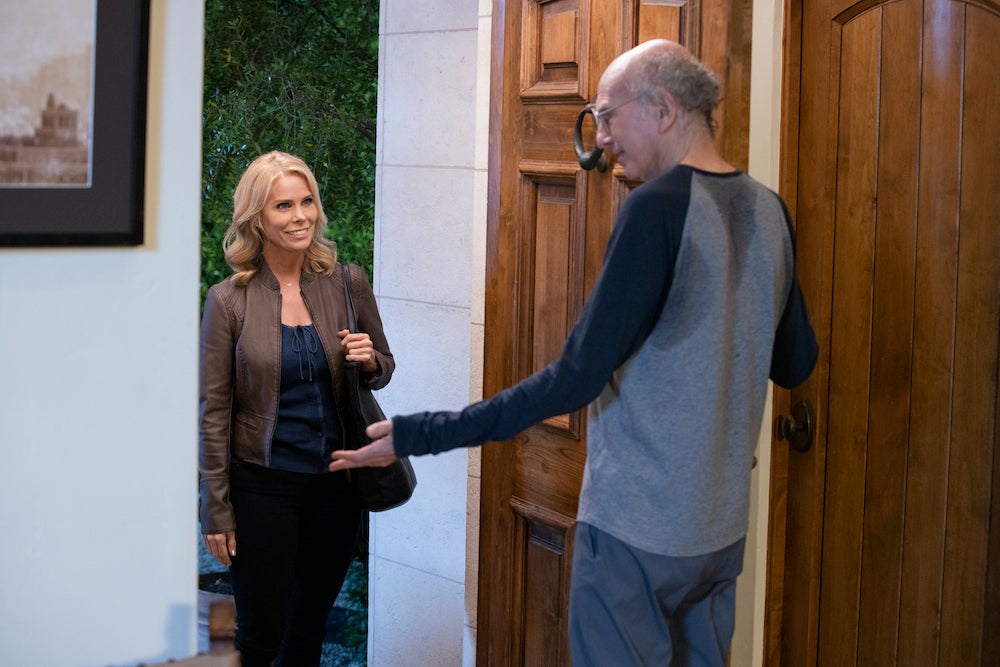 While previous seasons have relied mainly on stand-alone stories with a few random throughlines, season 10 appears to be setting Larry up for a host of problems for the coming episodes. He's cheating with his ex-wife, accidentally involved in sexual harassment, feuding with a coffee shop, and creating enemies by jokingly aligning himself with Trump.
The biggest laughs in the first episode come when Larry realizes he can get out of awkward social situations by wearing a MAGA hat. Of course, our laughs are sure to come back to haunt Larry later on when word gets out he's a Trump supporter. For Larry, there's nothing like a sure-fire way to get people to leave him alone. We see him use the hat to keep people from sitting next to him at lunch, to get out of a meeting early, and to soothe an angry biker he cuts off in traffic. The hat becomes a blunt-force weapon to drive people away, something Larry could previously only rely on his personality to do. 
It's possible to Curb… will discard these pieces as the season continues, though it'd be a damn shame. After nine seasons, it's become easy to guess the show's moves, even as the jokes continue to deliver uproarious laughs. Season 10's first episode promises not an overhaul but incremental change. 
Hopefully, these threads provide a chance to look deeper into Larry David, even if only to find new ways for him to let us down hilariously. For now, this is the same Curb Your Enthusiasm viewers have grown to love, just with the suggestion that something a little deeper might be waiting around the corner. It just might come wrapped in a running Harvey Weinstein joke and a MAGA hat that will haunt us all by the time the season wraps.