Andre the Giant was larger than life. He was one of pro wrestling's biggest stars—literally and figuratively—and though he died in 1993, his presence still looms over the industry. He's remembered for his massive size, massive popularity, and ability to drink massive amounts of alcohol.
But Andre the Giant's life, in many ways, was a tragedy. His body produced too much growth hormone, resulting in a condition called acromegaly. He had a daughter he knew he couldn't effectively raise. And his feelings were constantly hurt because people couldn't stop gawking at him.

The new HBO documentary, Andre the Giant, explores his life before he was the most famous wrestler in the world, and it shows how and why he eventually became exactly that. The documentary might not break much new ground about one of the most famous wrestlers in history—though the fact that director Jason Hehir tracked down the doorman of the Paris hotel where Andre the Giant died was impressive—but the insight provided by his famous peers is captivating.
Particularly when WWE CEO Vince McMahon talks about how Andre's flatulence was an "event" or when Arnold Schwarzenegger tells the story of Andre making him feel like a "little doll" or when Princess Bride director Rob Reiner talks about working with a happy, drunken giant.
Though Andre the Giant, born Andre Roussimoff, isn't around to talk about his life, the filmmakers tracked down his family members in France to discuss his childhood, how he began to grow nonstop as a teenager, and how that affected the family.
"He was a beautiful baby," Antoine Roussimoff, Andre's older brother said. "He was normal."
Interspersed with old interviews of Andre and clips from how he learned the craft in the 1960s, this film provides a complete story about how he rose to prominence in the industry and how he helped christen Hulk Hogan as the major star to replace him. Hehir also interviewed his daughter, Robin Christensen, to talk about how he was an absentee dad but how she forgives him because she thinks he was a good person. It's a fascinating look at the man who had so much fame but who couldn't, as Christensen said, "be the father he probably wanted to be."
Hehir explores Andre the Giant's early career when he was named Jean Ferré and was billed as a lumberjack. The vintage clips of him performing in the late 1960s and early 1970s show he was a star in the making. Even in the 1980s, when many of the top stars were using outlandish, cartoonish gimmicks, Andre's size and his athleticism (not to mention his charisma) could draw more money from just about anybody else on the scene.
Retro wrestling has seen a renaissance on the internet in recent years. The Something To Wrestle With Bruce Prichard podcast has a major audience of revivalists, and the ESPN documentary on Ric Flair in November drew rave reviews.
If you're a wrestling fan, especially the kind who loved Hulk Hogan's Hulkamania in the 1980s or the WWE's Attitude Era of the 1990s, you'll probably love this documentary, especially since filmmakers interviewed McMahon, Hulk Hogan, Ric Flair, Schwarzenegger, most of the major characters from The Princess Bride, and Jerry Lawler.
But Andre the Giant wasn't always such a friendly giant. He could help your career by making you look good in the ring. But if he didn't like you in real life, there could be a price to pay.
Said Hulk Hogan: "If he decided that he was not going to get picked up or you were not going to throw a punch or you weren't going to put a wrestling move on him, it didn't happen. He was stronger than all of us. He was bigger than all of us. He kept everybody in line."
Yes, Andre the Giant could play the babyface role—the good guy, in wrestling parlance—and that has continued to grow since his death. But this documentary gives us a more well-rounded view. Andre the Giant—and Andre Roussimof—could be a heel. Or he could be the sensitive guy who is sad that people see him as something different. Or he could be the actor who warmed Robin Wright simply by grasping most of her head in his hand.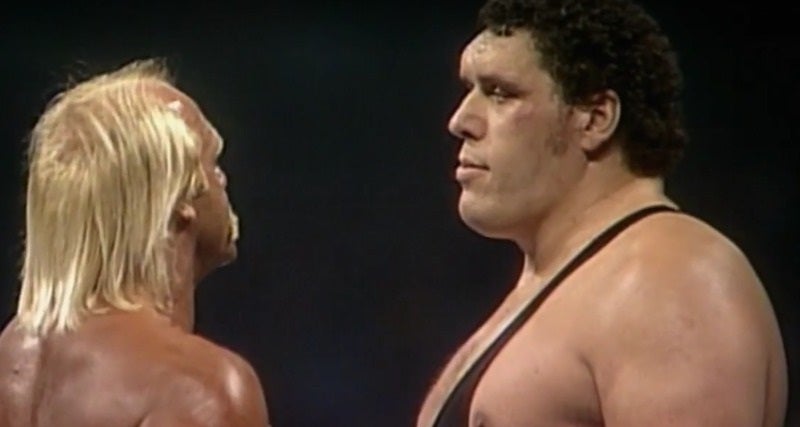 Like wrestling itself, Andre the Giant is fun. I laughed out loud during much of the commentary and stories about his life inside the ring and out, and as the Wrestlemania III match between Andre the Giant and Hulk Hogan gets built up in the film, it'll make your heart beat just a little faster. Most of all, it'll make you miss the Eighth Wonder of the World.
As journalist Terry Todd said in the documentary, he was "a man who's living in a world not made for him." But Andre the Giant shows how lucky the world was to have him.
Still not sure what to watch on HBO? Here are the best movies on HBO, the best HBO documentaries, and what's new on HBO Go this month.