From placing Lady Gaga on its cover wearing a meat suit to turning photos of beefy models into animated GIFs, Vogue Hommes Japan pushed the fashion limits.
The publication headed by fashion director Nicola Formichetti ceased publication in November after four years. Its GIFs, on the other hand, will live on.
The animations were created by fashion GIF expert Greta Larkins after Formichetti discovered her popular Tumblr FashGIF, a place where she turns the beautiful people and clothing into the strangest GIFs around.
"I was very surprised! And then anxious to produce GIFs to their taste and quality," Greta told the Daily Dot in an email from Australia, where she works in fashion and product development.
"They provided all the finished images and I worked on the GIFs from there. Some of the ideas definitely came quicker than others as sometimes a GIF just jumps out at you but at other times a bit of patience and brainstorming is involved."
True to FashGIF form, the animations for Vogue Hommes Japan feature surreal elements like a coat sleeve being pulled up to reveal a robot arm, a jean jacket collar flapping, and a bare-chested model with pulsating abs. One of the most memorable, and time consuming GIFs of the set was for the cover of the 2013 Spring preview. It features a tattooed male model smiling. Then, after a second or so, a tattoo of a fish on his lower left arm comes to life, swimming up toward his neck, across his collarbone, and eventually into Vogue's iconic masthead.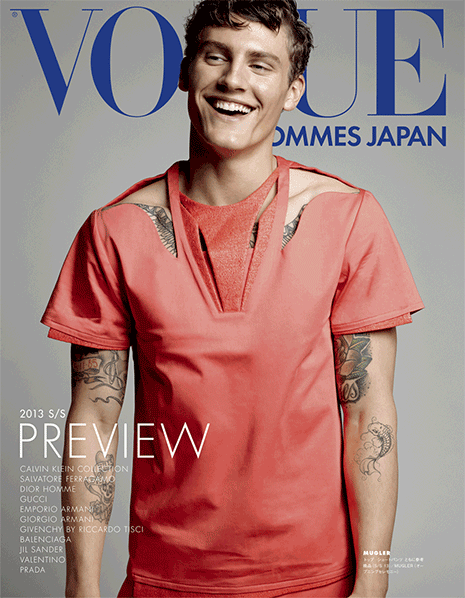 "I recognised the top instantly as a Mugler piece and I also knew that collection was about the ocean and exploring under the sea. Then I decided I wanted to play with the model's tattoos and suddenly the idea of adding and animating a fish tattoo popped into my head," Larkins said. "Originally the fish just swam around his torso but they suggested that it interact with the word 'Vogue' thus why it leaps from his body and into the 'o!' That GIF took about an hour to produce, once I worked out the concept and logistics."
Despite the shuttering of Vogue Hommes Japan, Larkins hopes more magazines begin to use GIFs more often. It helps combine a physical product with the digital and "encourages the audience to revisit a piece of editorial that they've already viewed but in a new light."
"I really think the viewer enjoys the charm of animated GIFS so I like to think we'll see them used more and more online," Larkins added. "Plus from a simple statistical point of view, they increase dwell time on a site and are less hassle than a video or a Flash page that takes ages to load."
All GIFs by Greta Larkins