Gigi and Bella Hadid are facing backlash after their nude photo shoot for British Vogue's upcoming March issue.
Posing with nothing but wet hair, commenters on social media are pointing out how the sisters look almost unrecognizable and are claiming that the sisters are digitally altered to the point of being unrecognizable to their audience. "They photoshopped Bella's beauty out of her face," wrote one Twitter user.
https://twitter.com/nationalslut/status/958207296613449728
Bella is unrecognisable. "New Vogue" same old beauty standards.

— Natalie B (@NatalieBinns) January 30, 2018
Amid Photoshop allegations, the photo is also making some people very uncomfortable due to its sexual nature, which captures the sisters (Bella is 21, and Gigi is 22) posing nude beside each other.
Although receiving praise from much of their audience, the sister's joint photo is causing a stir in the comments of Vogue's editor-in-chief, Edward Enninful's Instagram and Twitter. People have a problem with the sister's positioning in the shot, which shows Gigi's bare legs, wrapped around Bella's body, almost straddling each other.
https://twitter.com/mutantpasta/status/958215128025108480
Some are calling Vogue out, claiming the magazine is sexualizing the sisters' relationship. "Would two brothers pose this way?" one user asks. "Let's try to not make women into such sexual objects…" they comment. "I thought we were getting away from sexualizing young women," another Twitter user wrote. Many are calling the photo just flat-out "weird" and "creepy."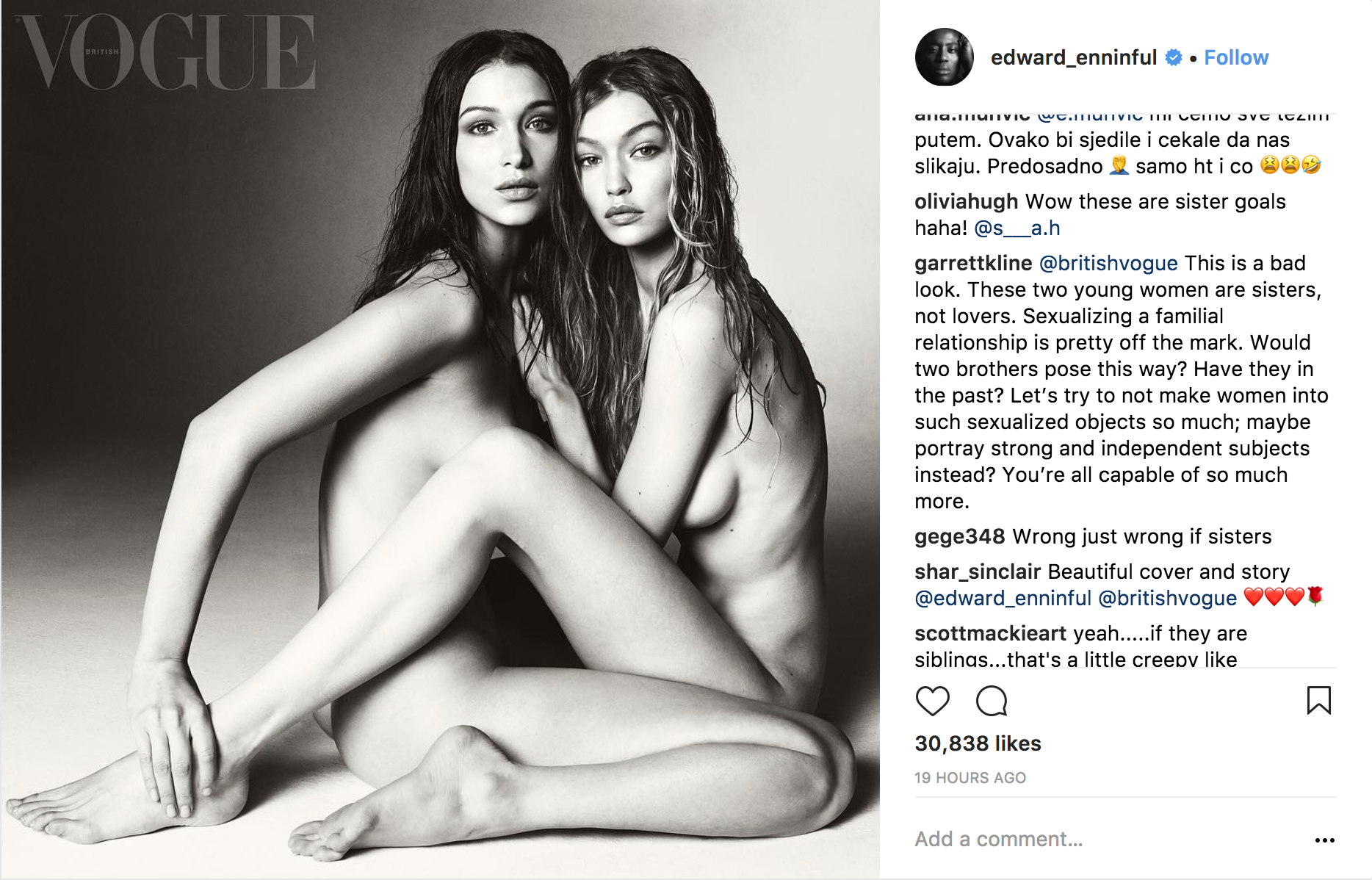 I thought we were getting away from sexualizing young women..

— DS (@DsJetskifast) January 30, 2018
Bella and Gigi have not voiced concerns yet about the photos. Gigi wrote via Instagram on Monday that she was, "Very honored to be your March cover girl, Thank you thank you thank you."