Star Trek star George Takei has just beamed over to Tumblr.
The Facebook and Twitter favorite joined the microblog Saturday and has since filled up his blog with his favorite memes and personal photos.
"My nephew asked why I don't have a Tumblr account, given my love of goofy pics. So here it is!" Takei wrote in a post Sunday promoting Humans of New York's Hurricane Sandy fundraiser. (It has since collected more than 6,700 notes thanks to a promotion on Tumblr's Radar, a curated tool used to highlight and introduce original and interesting content to all its users.)
The fundraiser has collected $218,000 since Nov. 11.
Takei's Tumblr has been met with unanimous praise, with his 15 posts collecting about 9,000 notes combined.
"HE'S HERE HE'S HERE MY LIFE IS COMPLETE HALLELUJAH," spookilyagreeingwithyou commented.
The move to Tumblr appears to be a solid right fit for Takei, who has been outspoken against Facebook's new Promoted Posts feature that allows brands and celebrities to asks fans to pay to see certain content. With 2.9 million followers on Facebook, Takei balked at the idea of having his fans have to pay to see his content.
"I understand that FB has to make money, especially now that it is public, but in my view this development turns the notion of 'fans' on its head," Takei added on Facebook in June.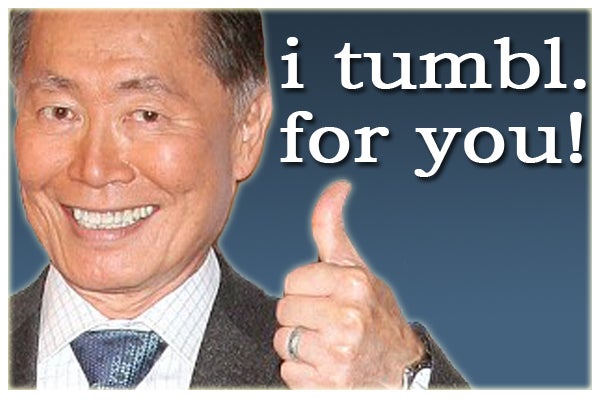 Photo via George Takei/Tumblr