This article contains spoilers for Game of Thrones. 
The Game of Thrones cast members know how to keep themselves busy when they aren't filming or promoting the show.
While more than a dozen Game of Thrones cast members have budding music careers along with acting on the show, plenty of the actors take on other projects when the show is on hiatus—or when their characters meet a grisly and inevitable end. Some of the actors, like Sean Bean, already have a long career of acting (or in his case, dying) under his belt, others, like any of the Stark children, are just starting to expand their acting beyond the world of Westeros.
It's certainly fun to dig into the YouTube digital graveyard of their early work, but it's just as fun to see what they've got coming up next, especially with recent movie trailers featuring both Sophie Turner and Rose Leslie in recent days.
With much of the cast descending onto Comic-Con and season 5 filming under way, there's plenty for the rest of us not down in San Diego to add to the DVR or start planning to preorder tickets for.
1) Sean Bean
The show's first star (as well as the first to go) also has the most on his plate. When he's not speculating about popular theories involving Jon Snow, he's been promoting his new show, Legends, which is set to premiere Aug. 13 on TNT. Oddly enough, TNT has latched onto the fan-held belief that Bean will die in everything he's cast in by making a commercial stating that he will live—at least for this season.
Just because he's going in TV doesn't mean he's abandoned movies. He's set to appear in Jupiter Ascending, which was delayed until 2015 and Caesar—and that Macbeth Kickstarter he's attached to with Charles Dance (more on him later) got funded back in April.
2) Sophie Turner
Sansa Stark might've just officially entered the game, but Turner is already testing the waters of the acting world. She's starring in Another Me with Jonathan Rhys Meyers and Rhys Ifans, and it's a psychological thriller where she's haunted by a doppelganger who wants to take over her life.
And now Turner has also joined the likes of many of her costars who've also starred in music videos. She's also front and center in Bastille's latest music video for "Oblivion," where she lip-synchs the entire song in the middle of a demolition derby.
3) Maisie Williams
The show's Arya Stark has been keeping busy when she's not crossing names off her hit list. Gold hit the Seattle International Film Festival a few months back; the indie Irish comedy portrays a family turned on its head after an estranged father turns back up years after disappearing.
Heatstroke, in which a family trip becomes a nightmare after a father is murdered by arms dealers, looks absolutely terrible, but at least it's a chance for Williams to test out her American accent.
4) Kit Harington
Pompeii may have been a major flop, but after voicing a character on How to Train Your Dragon 2, Harington is stepping back into film with the fantasy film Seventh Son, which is based on the novel The Spook's Apprentice by Joseph Delaney. Jeff Daniels and Ben Barnes take up of most of the trailer, but keep an eye out for Harington in the full cut, set to open next year.
5) Gwendoline Christie
Brienne of Tarth is about to make her mark on science fiction. In April, Lionsgate announced that Christie would be replacing Lily Rabe as Commander Lyme in The Hunger Games: Mockingjay Part 2, and if she wasn't already, she became an international name after being cast in Star Wars: Episode VII, bringing some much-needed female presence to the film. Details about the role are scarce, of course, but if leaked rumors are true, fans have plenty to be excited about.
But we don't need any trailer to see what Christie would look like with a lightsaber. The pristine editors on YouTube already did that for us.
6) Natalie Dormer
Christie isn't the only one going to Panem. Dormer joined the Mockingjay cast as Cressida, and while very little has gotten out about her character, fans do know one thing: Dormer first debuted her shaved head earlier this year, and she's been rocking it ever since.
7) Emilia Clarke
The Mother of Dragons is in one of the most anticipated films of 2015 playing an iconic character in science fiction, yet we don't know that much about it. Hopefully, that may change soon with any possible reveals regarding Terminator: Genesis during the Paramount panel at Comic-Con.
8) Peter Dinklage
Having already wowed audiences in X-Men: Days of Future Past, Dinklage will next appear in Pixels with Adam Sandler, Kevin James, Josh Gad, and True Detective's Michelle Monaghan. The sci-fi comedy won't come out until next May, but Entertainment Weekly has the first look at the film.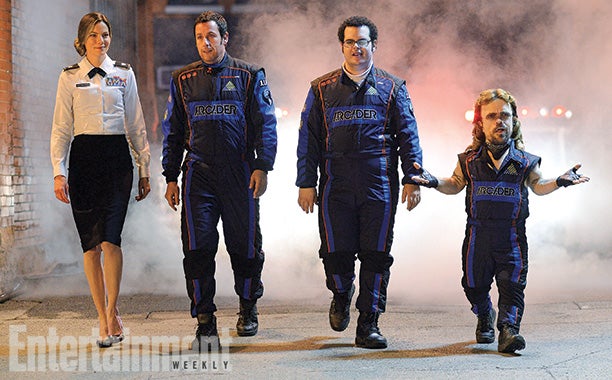 9) Richard Madden
Soon after Robb Stark met his demise on Game of Thrones, it was announced he would play Prince Charming in a live-action adaptation of Cinderella. There aren't any glimpses of Madden in action in trailers or posters, but you can watch the slow-motion shot of that famous glass slipper that's bound to give Cinderella life-long foot problems again.
10) Rose Leslie
Jon Snow knows nothing, but Ygritte knows even less about going to an isolated cabin in the middle of nowhere (hint: you don't). Yet, her character does in Honeymoon, a horror film alongside Penny Dreadful's Harry Treadaway.
11) Pedro Pascal
Not over Oberyn Martell's death? Neither are we. Soon after his on-screen demise, Pascal was cast as one of the leads of Narcos, a new Netflix show focusing on Colombian cocaine kingpins Pablo Escobar and Javier Pena. It's not premiering until 2015, but if past shows are any indication, it'll be one to watch. Unless it's one of these shows.
12) Charles Dance
Tywin Lannister died on the privy and went back to World War II. With a trailer just coming out this week, Dance is taking a turn in The Imitation Game, a film based on the life of Alan Turing starring Benedict Cumberbatch. Almost all eyes will certainly be on him, particularly with awards season around the corner, but as Dance proved on Game of Thrones, he can steal any scene he's in.
13) Michiel Huisman
Huisman already pulled double-duty with Game of Thrones and Orphan Black last season (and looks to be doing the same thing next season), but he's also starring alongside Reese Witherspoon in Wild later this year.
14) Mark Addy
Addy had a memorable and important role on Game of Thrones, but he lasted only seven episodes (shorter than Bean, even) before dying. But nowadays, he's occupying the fictional world of Atlantis in the popular BBC show that jumped across the pond and playing Hercules as you've never seen him.
Photo via Fresh Movie Trailers/YouTube