It's been four months since R&B stunner Frank Ocean turned to Tumblr to reveal that he'd once loved a man and three since he used the blogging platform to release his sensational sophomore album, Channel ORANGE. Since then, he's risen to massive modern indie music fame, toured the world, and hung out with John Mayer and Jay-Z.
But what has Frank Ocean really been up to? And more importantly, what's he about to do?
On Tuesday, Ocean took a break from posting unquantifiable equations and goofy pictures of Lil B on the local news to update his adoring fanbase on his matters and methods, both past and present.
"I want to write a novel about twins," he writes at the top of a post titled "Thank You's." It's all really cute and adorable and just another few reasons to take interest in Frank Ocean's music if you haven't yet done so.
Problem is, he dissolved the whole update into one paragraph and forgot to turn the caps lock off. So what we're left with is a hodgepodge collection of silky smooth musings pieced together with all the attention to paragraphs and syntax as a page out of On the Road.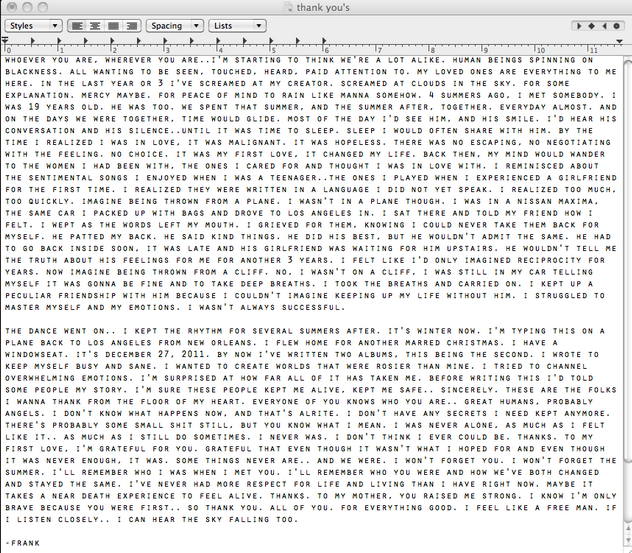 We thought we'd help by splitting the whole post up and itemizing each item by object of affection. Here's what Frank Ocean's been doing for the past three months.
1) He's abandoned all religion.
Or at least that's how we're reading it. He writes: "I've sunken into passivity in certain areas of my life.. All while being the honest opposite of others. The number one rule in relationships, from what I hear, is to never just leave."
OK, Frank, whatever that means.
2) He's considering some type of move.
Ocean, who's from New Orleans but currently makes his home in Los Angeles, writes that he's thinking about heading for something a bit more bright.
"Sort of like my potential relocation to NYC or Tokyo," he projects. "Or some place very far ahead from the coasts of California."
3) He bought a dog.
Fact, and apparently he misses Frank. "He's so big now. Damn," Ocean writes. "He knows about as much as me, as to what the fuck is going on."
4) He's hanging out with the Pharrell a whole bunch.
And apparently Frank Ocean thinks Pharrell Williams looks 19 years old.
"They seemed like old friends," he said of the great Neptunes' producer and rapper Jay-Z. "I wonder how many trophies are lodged in their minds. I wonder why they still build."
5) He flew all around the world.
"Had a special time," he added. "I had brunch at the rooftop restaurant from 'Lost in Translation.' Like 9 times. I found absolute silence in a meditation session in that house in the hills."
6) He was briefly in love again.
No word on the gender of the affectioned this time, however.
7) He's somehow managing to maintain all sorts of interesting hobbies.
Ocean said that he wants to start a car club and had plans for an arcade. He's eating steaks again, and he's looking to make a change in his imbibement of milk.
"Oreos don't work with almond milk like regular milk," he writes. "That just came to mind. Not sure why."
8) He's writing more music.
"I have to write a song for someone now because they paid for my ticket and my hotel. And I let them," he writes.
Hey, at least it's something.
"I'm working on a lot of music," he mentions again later in the passage. "I'm gonna get back to that now. Good night, moon."
Thanks, Frank. Thanks for checking in. Goodnight to you, too.
Photo via Frank Ocean/Facebook