If there's one thing you can predict about men's figure skating, it's that it will be completely unpredictable. 
In our guide to figure skating fandom, we already discussed this sport's penchant for drama, and how the men's competition is likely to be the most dramatic of all this year. And oh boy, did it already deliver. Three of the world's top skaters have already been beset by catastrophe, and there's still a whole day of competition left to go. 
Evgeni Plushenko, Russia
In one of the most shocking events at the Sochi Olympics so far, Russian megastar Evgeni Plushenko withdrew from the competition just seconds before he was scheduled to skate.
Plushenko's path to a fourth Olympic medal had already been fraught with setbacks, after he was defeated by 18-year-old Maxim Kovtun at the Russian National Championships this year. With only one spot on Russia's team for a male singles skater, Plushenko asked to skate privately in front of Russian Olympic officials, in the hopes of proving himself to be Kovtun's superior once again. 
But regardless of what went on behind closed doors, a barely-known teenager could never measure up to Plushenko's cred as a Russian celebrity and three-time Olympic medalist. Kovtun stayed home and Plushenko went on to help Russia win gold in the team skating event last weekend, but rumors immediately began to spread about him possibly withdrawing from the singles competition. The fact that he showed up at all was enough to make headlines, but not long after he took to the ice, he was seen on camera to fumble a practise jump during warm-ups. This immediately had fans on edge, because he was known to have injured his back the day before.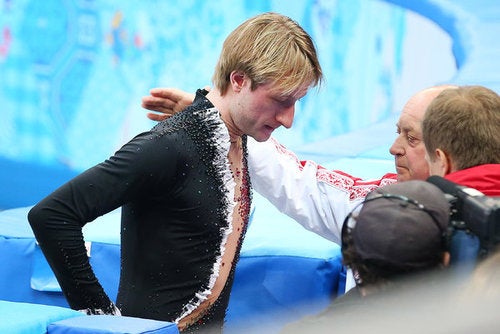 Photo via papaplush/Tumblr
Visibly in pain, he skated around the rink a few times until his name was called to compete. Then, just a few seconds before his music was due to begin, he skated over to the judges and pulled out of the competition, causing Sochi's Iceberg Stadium to fall silent. Many of the Russian spectators, who were only there to see him skate, simply walked out of the arena. 
In an interview afterwards, Plushenko told NBC, "I am normal people like you, I am not robot," a reference to the many jokes figure skating fans have made, comparing him to the Six Million Dollar Man or Terminator. Plushenko has been through twelve separate back surgeries over the course of his career, the most recent of which included inserting metal screws into his spine. It's no real surprise that following his withdrawal from the competition, Plushenko then announced his official retirement.
Jeremy Abbott, USA
The big shock for American audiences was a disastrous fall by US national champion Jeremy Abbott, who was previously a strong contender for a bronze medal. Skaters fall over so often during competition that it's sometimes easy to forget how painful it is to hit the ice, but unlike every other skater who fell during the men's short program, Abbott didn't pick himself up at once. Instead, after making a brutal fall that ended with him slamming against the walls of the rink, he lay motionless on the ice for several agonizing seconds. 
GIF by rippedonmytoepick/Tumblr
This is Abbott's last season as a competitive skater, but after winning gold at US Nationals, fans were beginning to hope that he might have a chance at Sochi. Unfortunately, Abbott has a habit of succumbing to nerves during the Olympics, and his subpar performance at last week's team event looked like a bad sign. In the hopes of keeping his head in the game, Abbott actually moved out of the Olympic Village and into a hotel, where he has been Skyping daily with his sports psychologist in the hopes that he could avoid another fatal mistake. 
To everyone's amazement, Abbott went on to skate well for the rest of his program today, but that fall cost him a lot of points. Barring an act of God, Team USA has now lost any chance of getting on the podium for men's figure skating, but judging by the audience reaction, most people were just glad Abbott made it out alive. 
Daisuke Takahashi, Japan
Olympic veteran Daisuke Takahashi has become embroiled in a pretty weird scandal over the past couple of weeks, thanks to his choice of music for the short program competition. He picked a Sonatina by Mamoru Samuragochi, a famous Japanese composer who is often compared to Beethoven thanks to his early-onset deafness. It should have been a controversy-free choice, but in the week leading up to the Olympics, Samuragochi was revealed to be a fraud.
It turns out that over the course of a twenty-year career, Samuragochi had hired a ghostwriter to compose most of his music, and even faked his own deafness to inspire comparisons to Beethoven. The news broke too soon before the Olympics for Takahashi to change his music, and in a sport as superstitious as figure skating, many fans were concerned that this would affect Takahashi's performance. Fortunately, his performance was good enough to still leave him with a chance at the bronze, depending on how well he scores on Friday.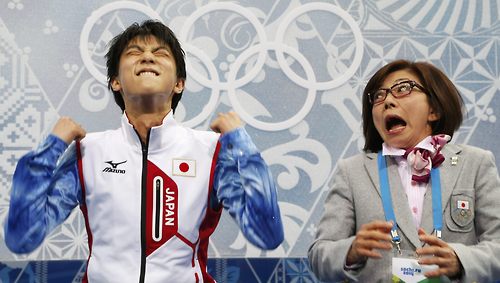 Photo via ohtheseskaters / Tumblr
As it stands, Japanese teenager Yuzuru Hanyu and Canadian powerhouse Patrick Chan will be vying for the gold during the final half of the competition. But although Hanyu just broke Chan's world record score in the short program, he still somehow feels like the underdog. While waiting for his scores Hanyu hugged a Winnie the Pooh bear, grinning adorably and freaking out when he found out he was in the lead. It probably won't come as a surprise to hear that he, along with crowd-pleasing American teen Jason Brown, are the two skaters that the sport's Tumblr fandom have fallen in love with this season.
Chan, on the other hand, is responding to his second-place finish by going on the offensive, already doing interviews where he describes his upcoming long program as an "arsenal" of points-scoring moves. Dogged by accusations of "Chanflation" (judges unfairly inflating his scores), he isn't hugely popular outside of Canada, and in this competition he'd do well to tone down his usual habit of trash-talking his opponents in the press. This was OK when he was up against terrifying Russian cyborg Evgeni Plushenko, but it seems less funny when his main rival is an adorable 19-year-old who hugged a teddy bear for comfort while waiting for his scores.
With Plushenko out of the competition, the bronze medal podium is wide open for Friday's free skate. All we can do is keep our fingers crossed and hope that Jeremy Abbott doesn't freak out again, and as always, to expect the unexpected. 
Photo via hist8ry/Tumblr