It's hard to imagine any aspect of long-running animated sitcom Family Guy having an impact on the cultural landscape of 2013. Yet somehow, against all odds and common sense, an Internet grassroots movement has emerged to demand the resurrection of Brian Griffin, the show's wiseacre, martini-swilling dog, who died in Sunday night's episode.
Brian, who walked upright and was generally a cultured, "highbrow" counterpoint to the Griffin family's barrage of idiocies, was struck by a car and replaced with a new dog, Vinny, in a production move intended to "shake things up." Problem is, die-hard fans tend to prefer the status quo—and they let Family Guy creator Seth MacFarlane, already a punching bag for the rest of the Internet, know it, often with the unequivocal hashtag #BringBackBrian but rarely with anything like tact.
#BringBackBrian I'm considering never watching family guy again as Brian was my favorite character. Dumb move FG. #RIPBrianGriffin

— Mike Pantelakis (@mpantelakis) November 25, 2013
I AM SO UPSET THEY KILLED BRIAN IN FAMILY GUY. KILL MEG!!!! NO ONE LIKES HER! #BringBackBrian

— Josh Stump (@JoshStump) November 25, 2013
Dafuq is your problem @sethmacfarlane? #BringBackBrian

— Jonesey (@Suns6thMan) November 25, 2013
Wtf even is Vinnie nobody wants to listen to an Italian American get rid of it #BringBackBrian #briangriffin @SethMacFarlane

— name cAnnot be blank (@SPEAKACHUU) November 25, 2013
A cartoon has pissed me off and made me cry as a 30 year old. So long #FamilyGuy im done. No brian, no viewer's here. #BringBackBrian

— Nikki Lynn (@nikkilynn4) November 25, 2013
If they're going to kill off one of the best characters they might as well just end the show #RIPFamilyGuy #BringBackBrian

— Jimbo Slice (@jmerksisabeast) November 25, 2013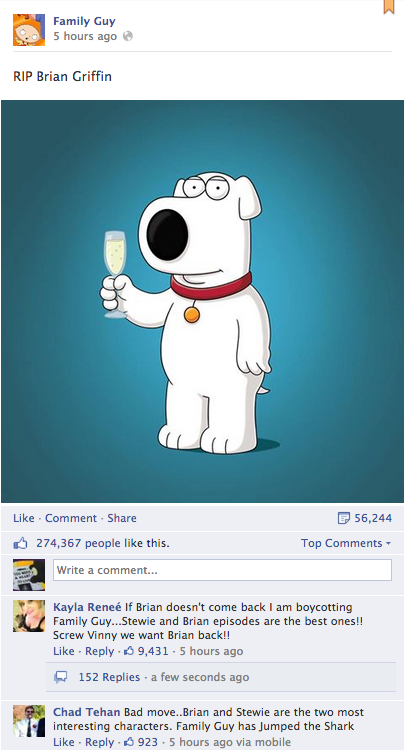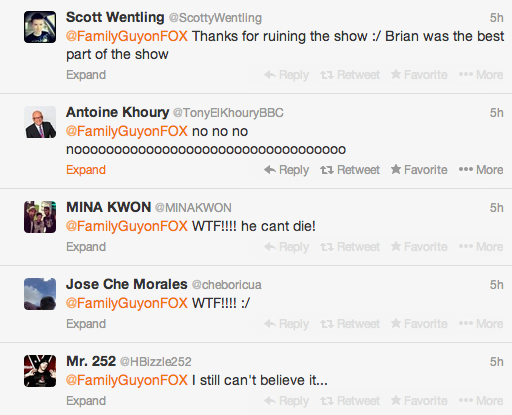 As with any Family Guy development, one could also instantly draw an analogy to a far superior episode of The Simpsons—in this case, "The Itchy & Scratchy & Poochie Show," where a tone-deaf canine character, voiced by Homer, is added to a slumping cartoon-within-the-cartoon, only to be killed off to great acclaim when he fails to impress the show's loyal viewers.
the fan's have spoken. how date you kill off our favorite dog #familyguy #BringBackBrian #SaveBrian @SethMacFarlane pic.twitter.com/OgJYeRYEdu

— Virgil Thankful (@virgiltexas) November 25, 2013
Incredibly, several petitions with the aim of reversing the creative decision to touch upon the realistic heartbreak of pet ownership have surfaced, most notably at Change.org. "Brian Griffin was an important part of our viewing experince," wrote TV activist Aaron Thompson. "He added a witty and sophisticated element to the show. Family Guy and Fox Broadcasting will lose viewers if Brian Griffin is not brought back to the show." 
More than 3,000 fans have registered their support so far, perhaps aware that in another era, public outcry brought the once-cancelled Family Guy itself back to Fox. Short of some horrible zombie or Frankensteinian contrivance, however, they're not likely to get their way this time. Truly, if there's anyone who'd mock so-called grownups for throwing tantrums about what happened on their favorite well-past-its-prime-if-it-ever-had-one cartoon, it's Brian Griffin.
Update: While most fans continue to mourn their favorite collared cad, others have found hope in a countdown website, briansannouncement.com, unveiled some time after Sunday's fateful episode. While the site appears to tease a a Brian-centric prequel series, producers have confirmed that the site is a hoax. 
Photo by "N."/Flickr