A website promising the release of stolen nude photos of actress Emma Watson is a hoax—and 4chan is not behind it.
Emmayouarenext.com is the work of SocialVevo, a team of social media pranksters who previously preyed on NASA during the government shutdown, took emotional advantage of Family Guy fans following the "death" of a beloved character, and sent the Daily Dot a wave of bogus Twitter followers in a spam attack.
Now it appears that SocialVevo has again duped some of the world's top news organizations into falling for its shenanigans.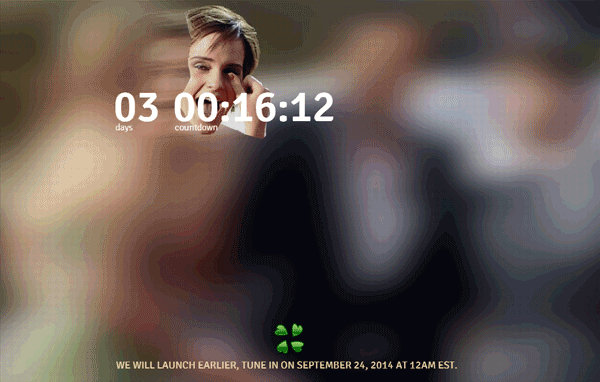 Because of 4chan's celebrated seedy side, and its ephemeral nature, nearly every single burp or whisper surrounding Celebgate has been blamed on the notorious imageboard. 
Its bad reputation is compounded by the fact that, unlike Reddit, 4chan does not employ a public-relations professional to fact check the media. The only official 4chan "employee" is Christopher "moot" Poole, the site's founder, administrator, and muse. And unless he's called into court, he's not one to discuss 4chan drama openly.
The Emma Watson-branded website was created in the wake of the second round of leaks in Celebgate (or "The Fappening"), the release of hundreds of nude photographs of celebrities, such as Jennifer Lawrence, Kaley Cuoco, and Hayden Panettiere. The first round of leaks originated on an obscure NSFW imageboard known as AnonIB but quickly gained traction on 4chan's /b/ board, notorious for its pornography, pranks, and love of animals. 
Following the initial round of celebrity leaks on Aug. 30, news organizations like Vox, the International Business Times, the Washington Post, and the New York Times parachuted into /b/ to try to make sense of the community and gulp down that delicious traffic nectar. 
This has resulted in a massive spike in 4chan popularity, according to Google: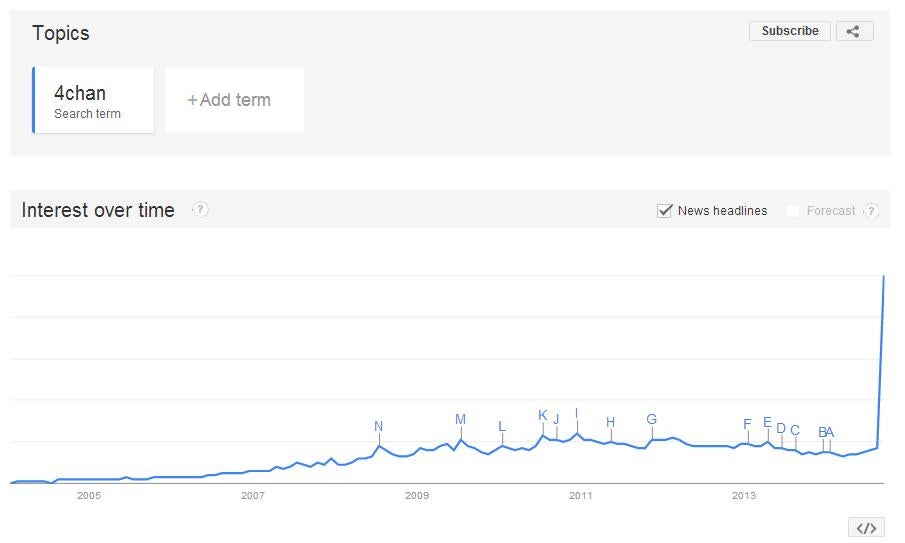 It's also resulted in a lot of misreporting. 
On Monday, Business Insider, the Washington Post, the Belfast Telegraph, the BBC, and others ran articles claiming that 4chan was behind emmayouarenext.com. The Daily Dot also reported on the countdown. (Editor's note: James Cook, the author of the Business Insider article, is a former staff member of the Daily Dot.)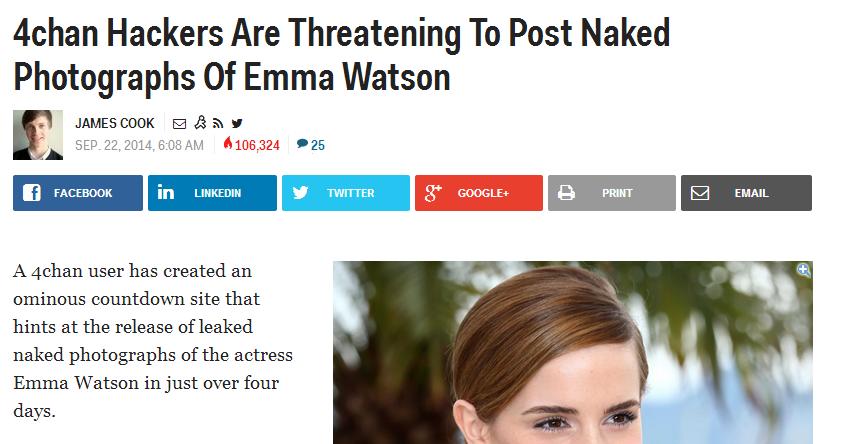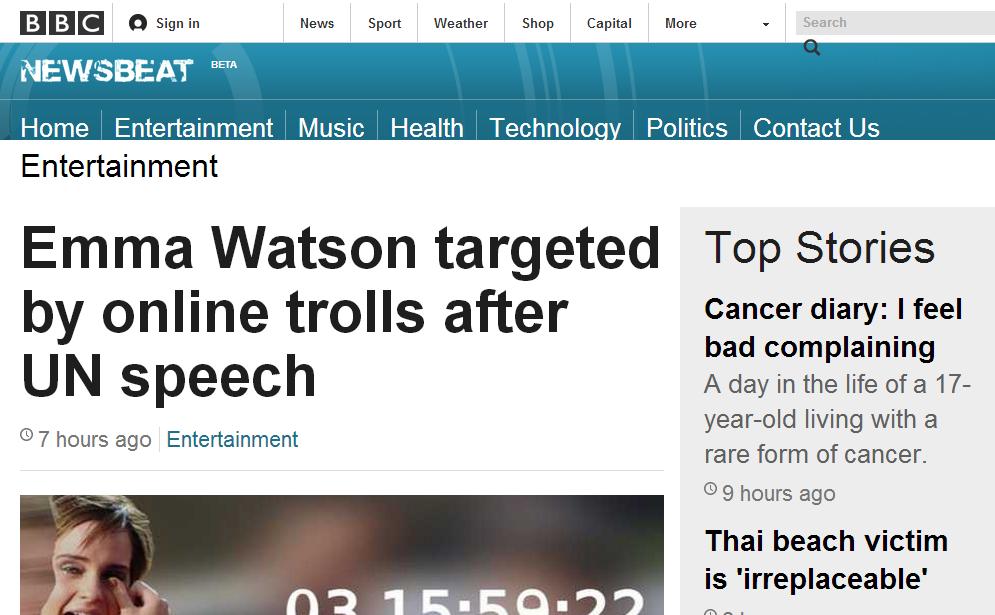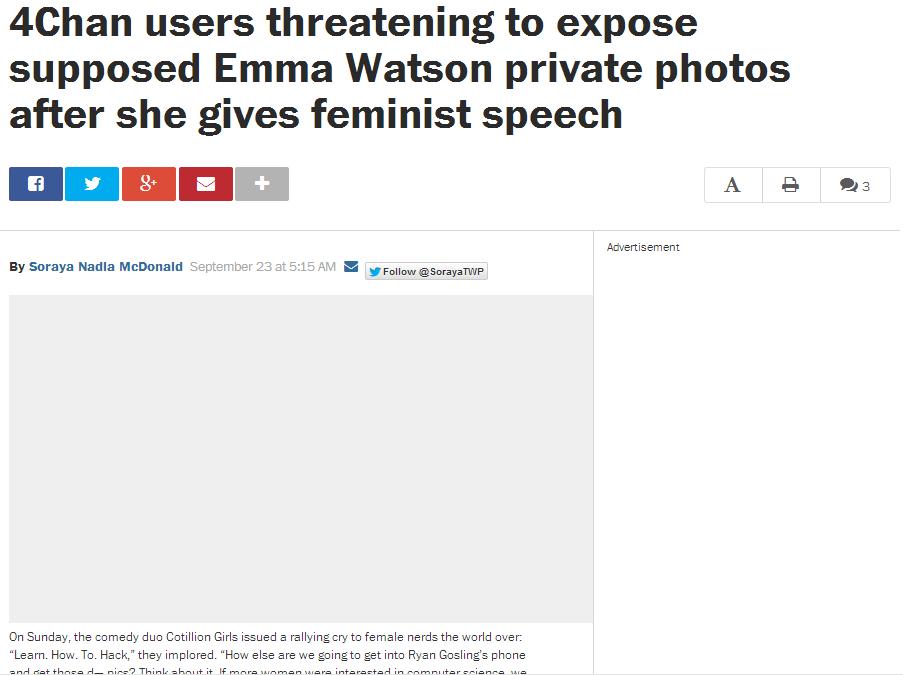 None of these stories provide any proof that /b/ was actually behind this. Not one screengrab from /b/ discussing the prank is included. The only thing these organizations cite as proof of the imageboard users' involvement is the 4chan logo featured on the countdown site.
What all four of these news organizations and others failed to realize—or at least fail to mention in their articles—was a report from a shady blog called FoxWeekly, published a day earlier, alleging 4chan's connection to emmayouarenext.com.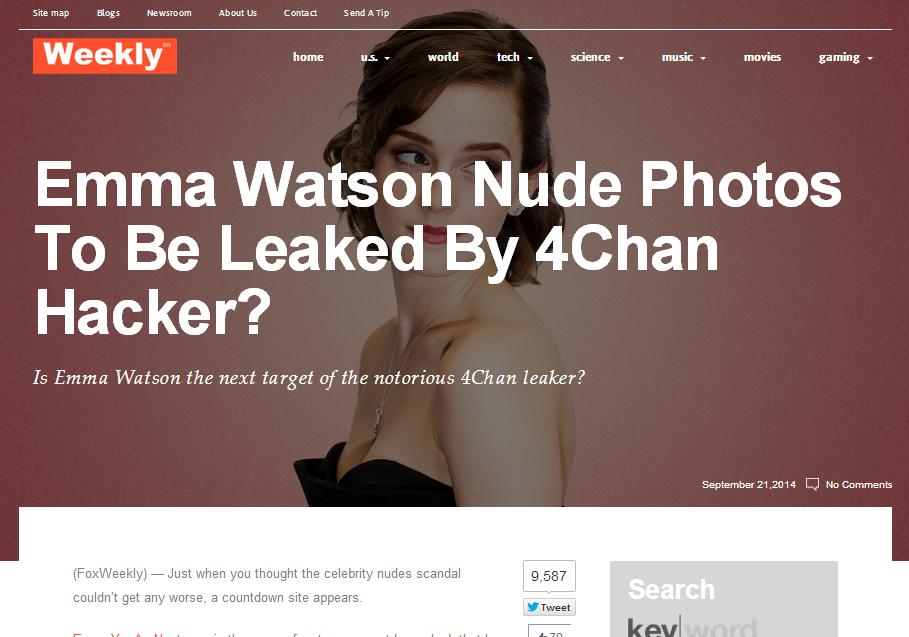 This lack of evidence connecting 4chan to the Watson site led redditors, 4chan users, and folks from 8chan (a 4chan clone) on a massive quest that connected FoxWeekly and emmayouarenext.com to SocialVevo.
For starters, the Internet sleuths pieced together evidence that shows emmayouarenext.com is hosted on the same server as a company called Rantic Marketing.
In summation: Rantic Marketing is pretending to be 4chan threatening to release @EmWatson photos. @nero #GamerGate pic.twitter.com/zXJrEgUmBS

— Mr. Universe (@Memnix) September 23, 2014
A search for Rantic turned up its website and Twitter account. On its site, Rantic claimed to have worked with almost the exact same list of companies as SocialVevo. And on Twitter, hundreds of fake accounts that tweeted links to emmayouarenext.com are following Rantic's Twitter handle, @RanticMarketing.
On @RanticMarketing is where these sleuths found a now-deleted tweet praising FoxWeekly for its 4chan coverage:
FoxWeekly has, for the past six months, lifted dozens of copyrighted articles from the BBC, the New York Times, CNN, and the Associated Press. The site was founded by someone who calls himself Joey, joey b, and juice7292—the names used by SocialVevo's founders.
A small group of Internet marketers, SocialVevo (also known as Swenzy) capitalizes off of trending topics and major news events by manipulating social media and creating prank websites that it uses to sell YouTube views, Facebook likes, and Twitter followers. 
During the Oct. 2013 government shutdown, for example, SocialVevo built a site called rememberte13th.com, which featured a rocketship and a countdown that alleged NASA planned to release the "biggest discovery that will shake the Earth" on Nov. 13. The top-left corner of the page displayed the official NASA logo.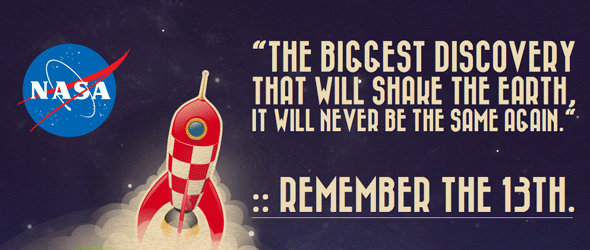 Once Reddit users discovered that the site was a hoax, SocialVevo moved up the release date which turned out out to be a lousy music video from an artist named Beeki Vendi. 
Since its NASA hoax, SocialVevo's pranks have followed a similar pattern. Each one has involved exploiting some pseudo-national news item, the creation of a countdown site promising to release some sort of scintillating information related to the news event, collecting mass media attention, a revision to the countdown because of people snooping around, and wrapping up the countdown with resulting links to one of SocialVevo's sites or social media accounts.
Below are some other examples of SocialVevo's countdown sites from the past year or so: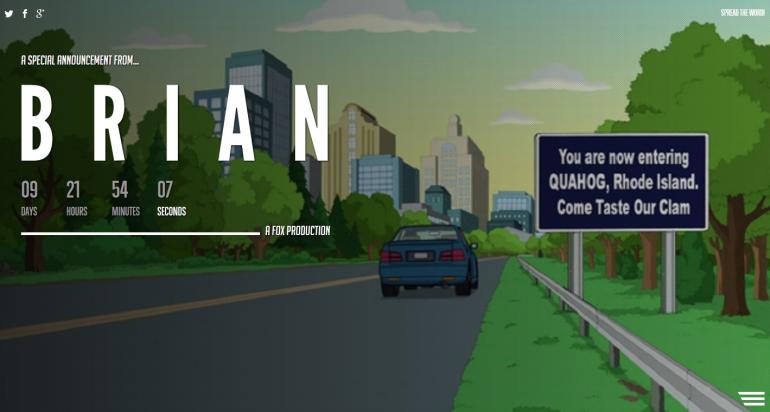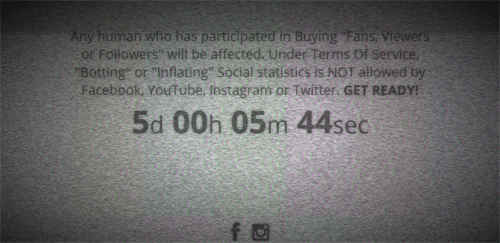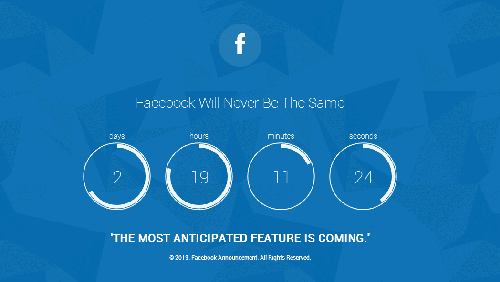 After having looked over all this information Tuesday, the connection between Rantic, FoxWeekly, and SocialVevo wasn't strong enough. So I reached out to "juice" (one of the SocialVevo founders) to find out if any of it was true. He denied having any part of emmayouarenext.com.
"[T]hose 4channers are just eating on that article you published about the fox site," he told me via Skype chat. "[M]e and simon [one of the other alleged founders of SocialVevo] are trying to find out who owns the countdown too. [I]t started in 4chan. [W]e keep getting our emails hacked by 4chan users and ppl emailing us about the countdown its [sic] annoying as fuck."
Hours after this conversation, Rantic completely overhauled its website (the original site can be seen here) to reflect the alleged drama with 4chan. This is what Rantic's site looks like now: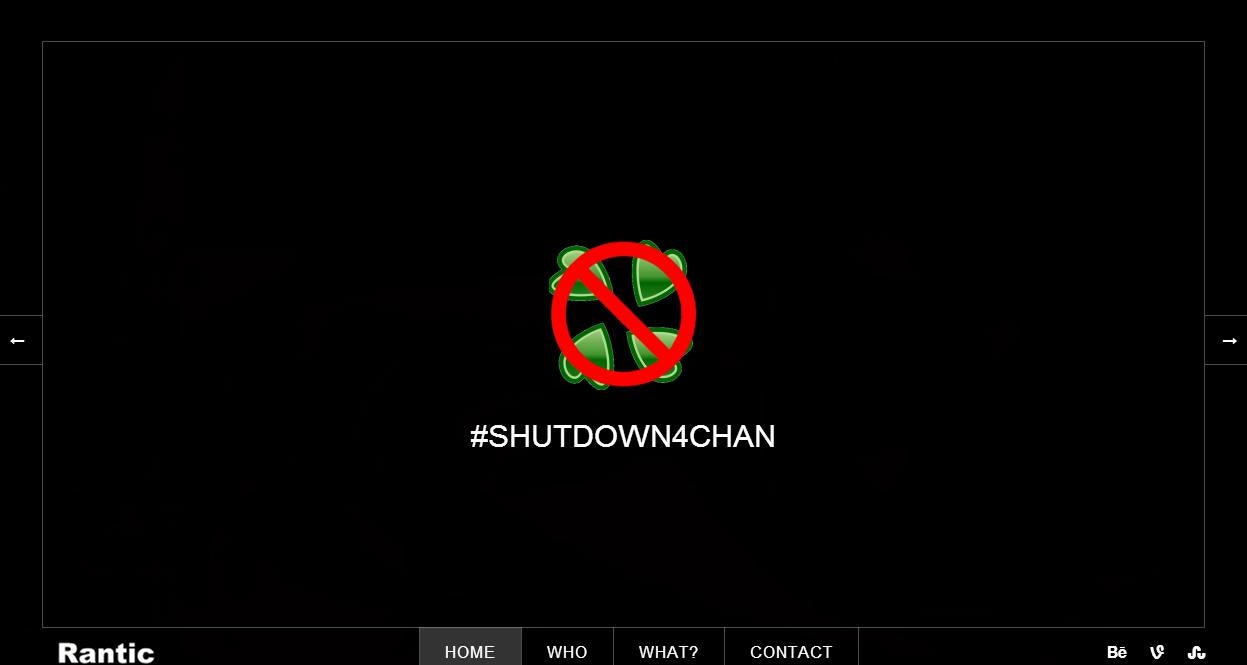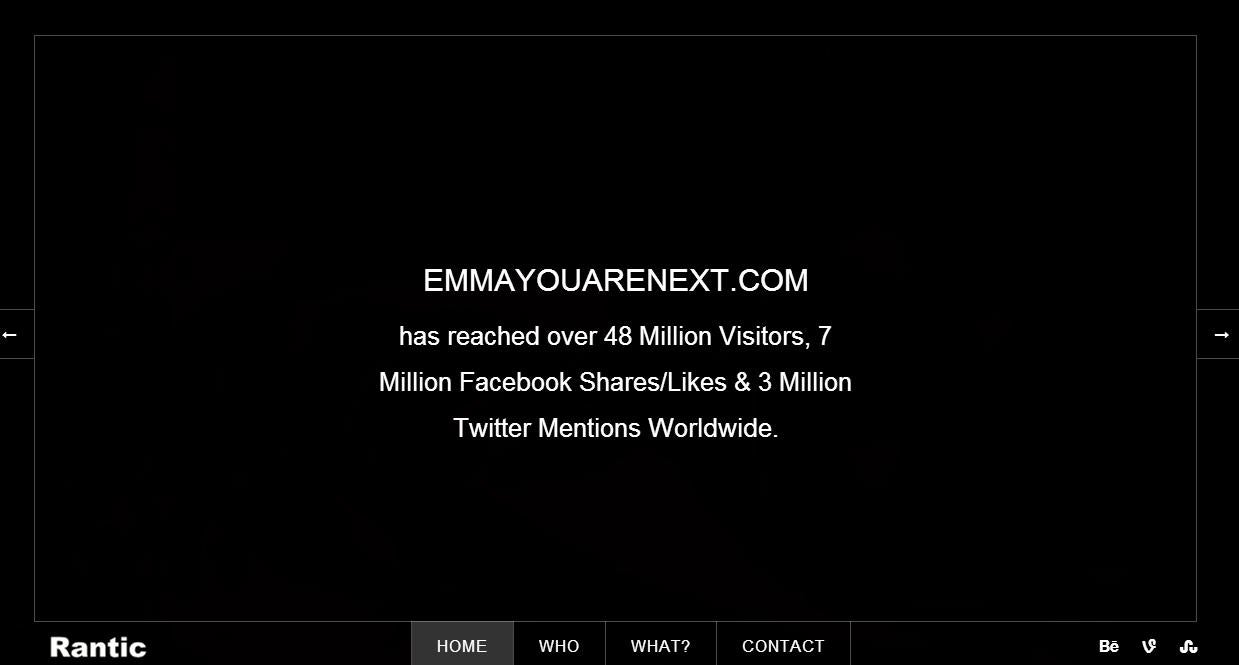 So when the timer on emmayouarenext.com runs out, will it reveal some nudes of Watson? Not likely—especially since, as of midnight Tuesday, the site now redirects to rantic.com. 
Photo via David Shankbone/Flickr (CC BY 2.0) | Remix by Jason Reed