Anya Taylor-Joy is hilarious and heartfelt in this new adaptation of Jane Austen's Emma, playing a catty but well-meaning 19th-century Mean Girl. Directed by first-time filmmaker (but longtime photographer) Autumn de Wilde and written by Man Booker Prize-winning author Eleanor Cotton, it's a sweeping rom-com about class and privilege in the English countryside. Many viewers will also know it as the inspiration behind Clueless.
Emma
RELEASE DATE:
2/21/2020
DIRECTOR:
Autumn de Wilde
Anya Taylor-Joy displays fantastic comic timing in this rather traditional adaptation of Jane Austen's iconic novel, a romantic comedy about class and privilege in 19th century England.
Emma Woodhouse is famously introduced as "handsome, clever and rich." With no financial pressure to marry, she amuses herself by meddling in the love lives of her friends and family, wrongly convinced that she's always right. One of her early matchmaking efforts (her governess and a friendly widower) goes well, but things get complicated when she takes a naive lower-class girl, Harriet Smith (Mia Goth) under her wing, hoping to teach her about high society and find her a good match. Harriet's prospective fiancés include the unctuous local vicar Mr. Elton (Josh O'Connor) and Emma's neighbor and longtime frenemy Mr. Knightley (Johnny Flynn), who—and this really shouldn't count as a spoiler—is Emma's own eventual love-interest.
This new Emma is terribly funny and beautifully shot, although it's also much more conventional than you might expect from the trailer, which suggested a similar vibe to 2018's historical hit The Favourite. It's a straightforward adaptation with minimal artistic experimentation and an all-white cast, an almost surprising choice compared to this year's brilliant David Copperfield starring Dev Patel. There's nothing intrinsically wrong with a more conservative spin on Jane Austen, but one particular scene really should've been rewritten for modern audiences.
A certain subplot requires one character to be "set upon by gypsies," a combination of racial slur and damaging stereotype that felt jarringly out-of-place in an otherwise lighthearted movie. Britain's conservative government is currently targeting the Roma community in a series of transparently racist crackdowns, and this kind of casually negative media representation helps to bolster public support. This detail felt especially thoughtless in a film that's otherwise very smart about the British class system. Like Crazy Rich Asians and other rom-coms about absurdly privileged people, Emma has to tell a relatable story about someone whose daily life is fundamentally unrelatable. Emma and her hypochondriac father (the ever-amusing Bill Nighy) live in a colossal mansion, waited on hand-and-foot by a phalanx of silently watchful servants. She's a true product of her upbringing: a spoiled snob who pressures her friend Harriet to marry a rich man instead of a poorer one who she might actually love. The film pokes fun at Emma's luxurious lifestyle and the class divides within the main cast, while also displaying real warmth toward what could be a thoroughly unlikeable heroine. Emma's character arc is all about her learning to be more compassionate and acknowledge her own fallibility, which is where Mr. Knightley comes in.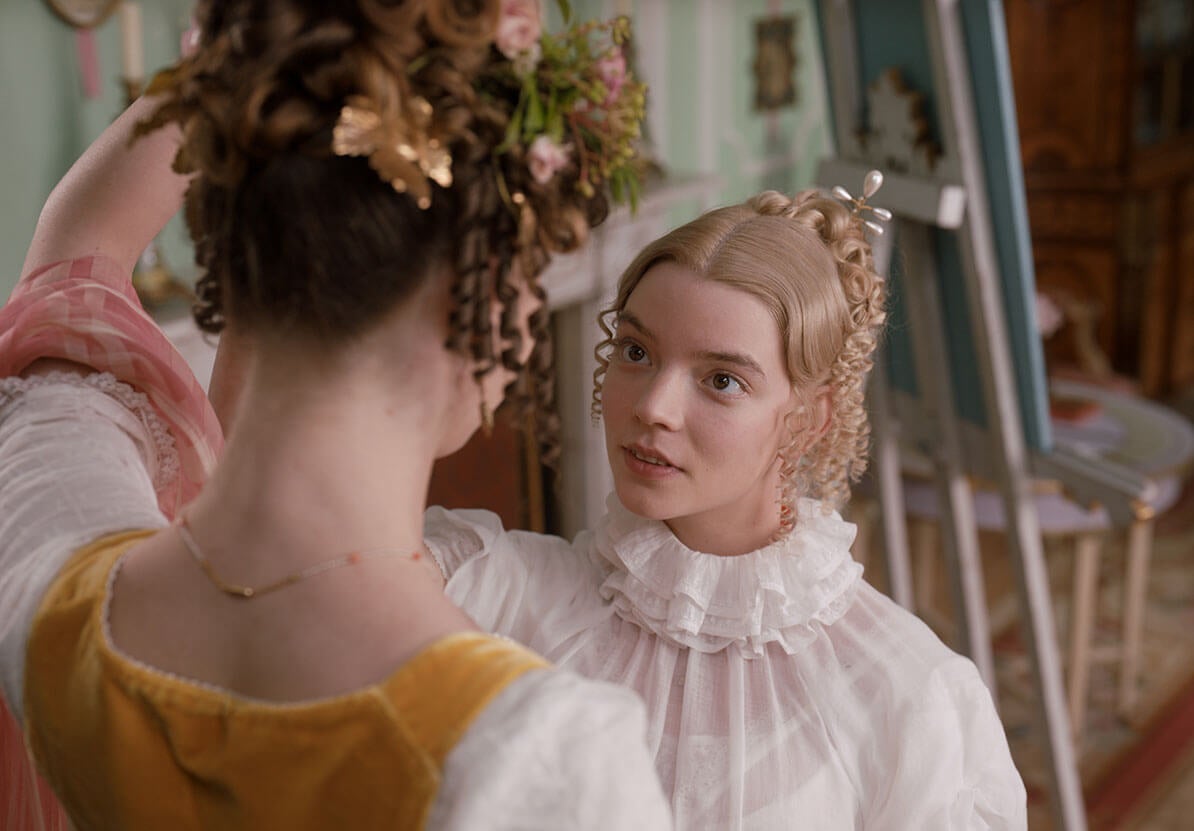 Knightley is Emma's lifelong critic, a role that verges on mansplainer territory. He's the only character with the aristocratic clout and the personal motivation to correct her behavior, critiquing her more foolish schemes. Of course, Emma remains unfailingly confident in her own judgement, unused to accepting unsolicited advice. But Knightley wants her to become a better person for her own sake, rather than trying to mold her for his own consumption.
Emma offers everything you'd hope to see in a classic Regency romance: gorgeous English countryside, comedic misunderstandings, witty dialogue, and a romantic ballroom scene. However, it falters slightly in its casting choice for the leading man. Johnny Flynn isn't actively disappointing, but he's not as compelling as he should be. Anya Taylor-Joy (who viewers may know from the cult horror movie The Witch) arguably has a much trickier role, playing a spoiled, manipulative snob who must also be charming and emotionally layered. She carries the role with aplomb, with fantastic comic timing. Meanwhile, Johnny Flynn's Knightley is… acceptable. By the end of the movie, I was rooting for the main romance, but there was a period in the middle where I kind of hoped Emma and Harriet would hook up. Flynn really doesn't measure up to the lofty standards of Colin Firth or Matthew Macfadyen as Mr. Darcy, or Richard Armitage's Mr. Thornton in North & South. He doesn't have what rom-com expert Alanna Bennett describes as The Look, a crucial skill for any romantic lead. We need to see Mr. Knightley's suppressed passion emanating out of him like radio waves. He has to emit a tangible sense of frustrated pining. Flynn manages this in a couple of scenes, but The Look's energy should really be present for the entire second half of the film.
With sumptuous costumes (Alexandra Byrne), snappy dialogue, and a brilliant leading lady, Emma is a satisfying return to familiar Regency romance territory. I doubt this film will reach the same iconic status as Joe Wright's Pride & Prejudice, but you're guaranteed to have fun.
Emma comes out in the U.S. on Feb. 21.