Turns out Microsoft wasn't the only company paying YouTube personalities to promote its content.
Video game company Electronic Arts (EA) has its own program that pays content creators to promote games like Battlefield 4 and Need for Speed: Rivals in their videos, according to documents published on NeoGAF.
The program is called Ronku, and under the agreement, content creators earned extra money by following specific instructions for promotion. EA paid out $10 for every thousand views on a maximum of three videos. The view cap was 20 million views, or about $200,000.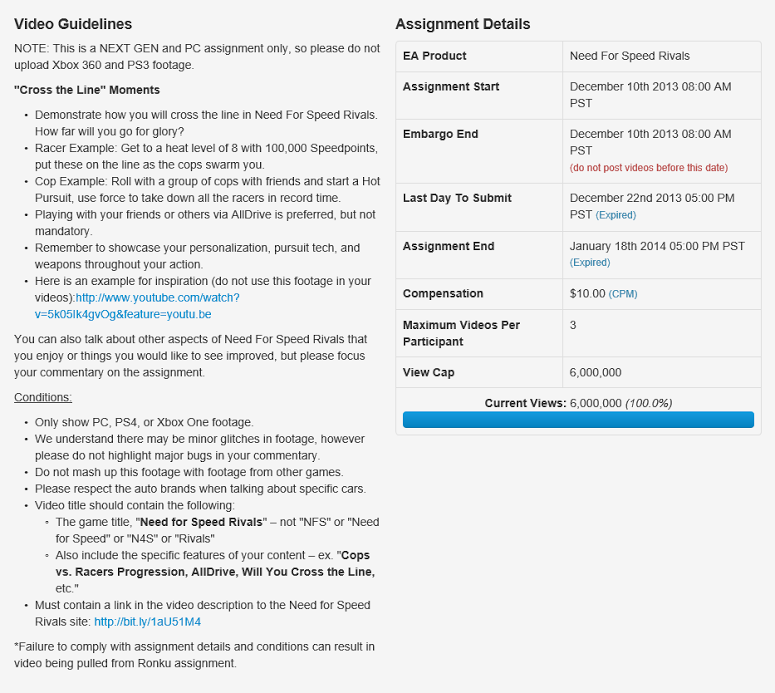 The documents suggest that EA, like Microsoft, might not be informing content creators that they have to disclose that they're getting paid to mention the games. Failure to disclose could violate requirements set by the Federal Trade Commission (FTC). 
According to the alleged agreement, EA seems to have required YouTubers to keep the relationship a secret: 
[QUOTE] You agree to keep confidential at all times all matters relating to this Agreement and any Assignment including, without limitation, the Details and Compensation listed above.
You understand that You may not post a copy of this Agreement or any Assignment or any terms thereof online or share them with any third party without EA's prior written consent. You agree that You have read the Nondisclosure Agreement (attached hereto and marked as Exhibit A) and You understand and agree to all of terms of the Nondisclosure Agreement, which are incorporated as part of this Agreement. [/QUOTE]
While EA confirmed Ronku's existence, it said that its Terms & Conditions state that videos must comply with FTC's Guidelines.
"Through EA's Ronku program, some fans are compensated for the YouTube videos they create and share about our games," an EA spokesperson told The Verge. "The program requires that participants comply with FTC guidelines and identify when content is sponsored. User-generated videos are a valuable and unique aspect of how gamers share their experiences playing the games they love, and one that EA supports."
This comes just days after news came out that Microsoft offered Machinima partners $3 per thousand views to promote the Xbox One and its games.
H/T Polygon | Photo via Doug Kline/YouTube