I found a Public Enemy cassette behind the Dumpster of my Catholic school when I was in eighth grade, which opened up a whole new world of music and reminded me that it does, indeed, take a nation of millions to hold us back. A lot of people have a similar story, but not everybody wrote about it in their diary.
When Taylor-Ruth was in 5th grade, she apparently found a Dead Kennedys album at the library. She wrote about it in her diary, as many grade schoolers did. The 20-year-old artist posted the entry to her Tumblr in February 2013, but musician Jason Isbell retweeted it last week, introducing thousands more to the entry, which looks to be from the George W. Bush era. It eventually ended up on Reddit.
In the entry, Taylor-Ruth details checking out CDs from the library in fifth grade, and flexing her punk muscle by lying to the librarian and saying she was 15 in order to check them out. The epiphany moment: 
I have listened to all of them by now. I have noticed in a LOT of the CDs that the singers do not like the man.
This is a pretty progressive perspective from a fifth grader, and the closing line of the entry is perfect, especially juxtaposed with the blue butterfly and letters dotted with cartoon hearts: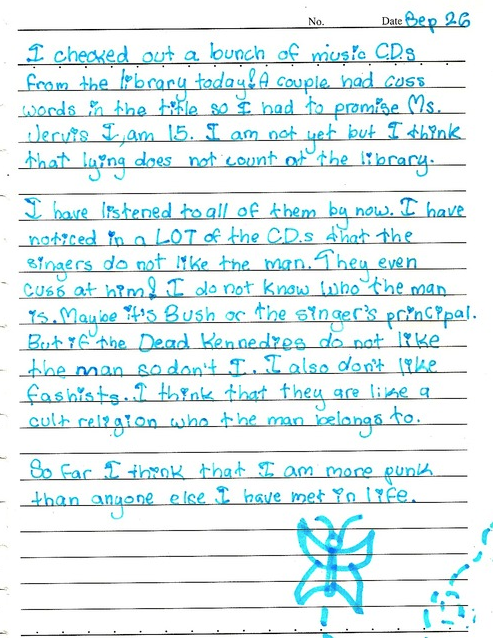 There's been a lot of debate as to whether this entry is real, but regardless,Taylor-Ruth has become a folk hero on Twitter.
lying doesn't count at the library – Taylor Ruth

— ALIG (@aligomio) September 19, 2014
Hopefully this entry will expose a new generation to Dead Kennedys, whose catalog is criminally missing from Spotify. C'mon. Don't be fashists. 
H/T Vanyaland | Photo via Kevin VolVaneille/Flickr (CC BY-SA 2.0)