27-year-old San Antonio Spurs shooting guard Danny Green is catching heat for an insensitive Instagram he posted from the Holocaust Memorial in Berlin Wednesday. Posing in front of the memorial, Green flipped his phone, snapped a selfie, and uploaded the picture—along with the caption "You know I had to do it one time lol #Holocaust."
He's since deleted the post.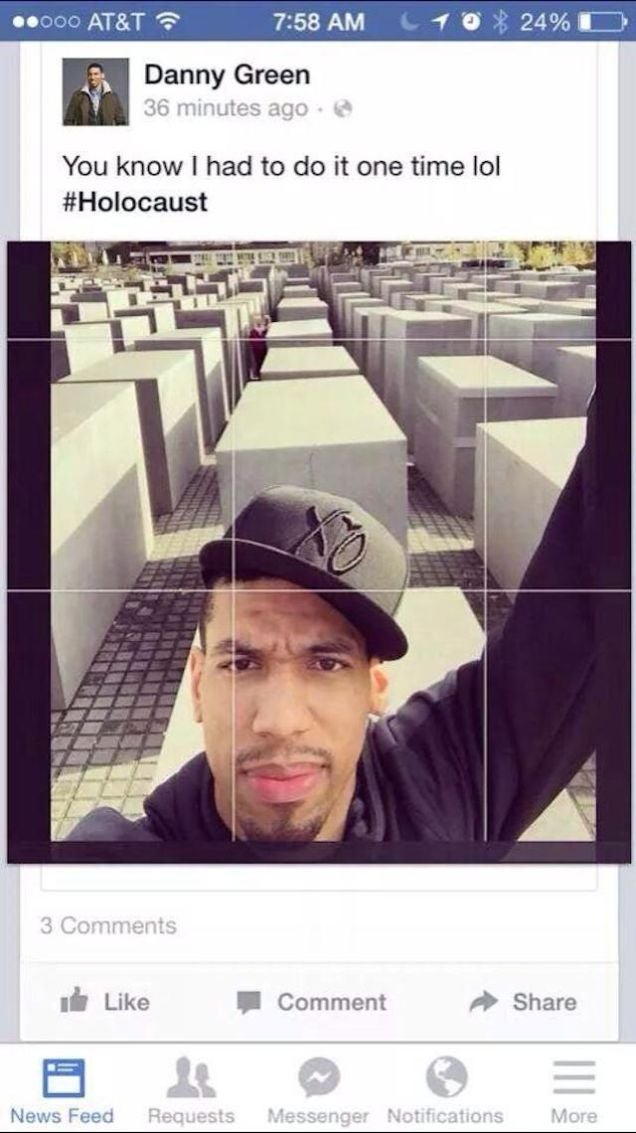 Screengrab via San Antonio Current
 
The Spurs were in Berlin for a preseason game against German hoops club, Alba Berlin—billed as goodwill ambassadors for the NBA. The Spurs lost Wednesday night, 94-93. Green has since apologized for being "insensitive."
Yes, mistakes do happen

— Danny Green (@DGreen_14) October 8, 2014
 
I want to sincerely apologize for the insensitivity of my post!

— Danny Green (@DGreen_14) October 8, 2014
 
I have great respect n understanding for this country's history n wanted to continue chronicling my experience in Berlin

— Danny Green (@DGreen_14) October 8, 2014
 
But showed poor judgement…sorry once again

— Danny Green (@DGreen_14) October 8, 2014
Thing is, the photo itself wasn't bad. He was stoic and obviously excited to be there. Holocaust selfies might be tone deaf, but they're rarely intentionally disrespectful. As Angela Serratore wrote recently:
Whether taken at work or school or in the vicinity of One Direction or at the funeral of a loved one, it's nothing more than a new way to do what we've always been doing—asserting that we are here despite every effort of the universe to make it the opposite.
Green was there, had to do it one time, and it was sincere and exuberant. And as one of his apologists pointed out, it's not like he said Anne Frank would have probably been a fan of his.
Photo via Mark Runyon / Flickr (CC BY 2.0)